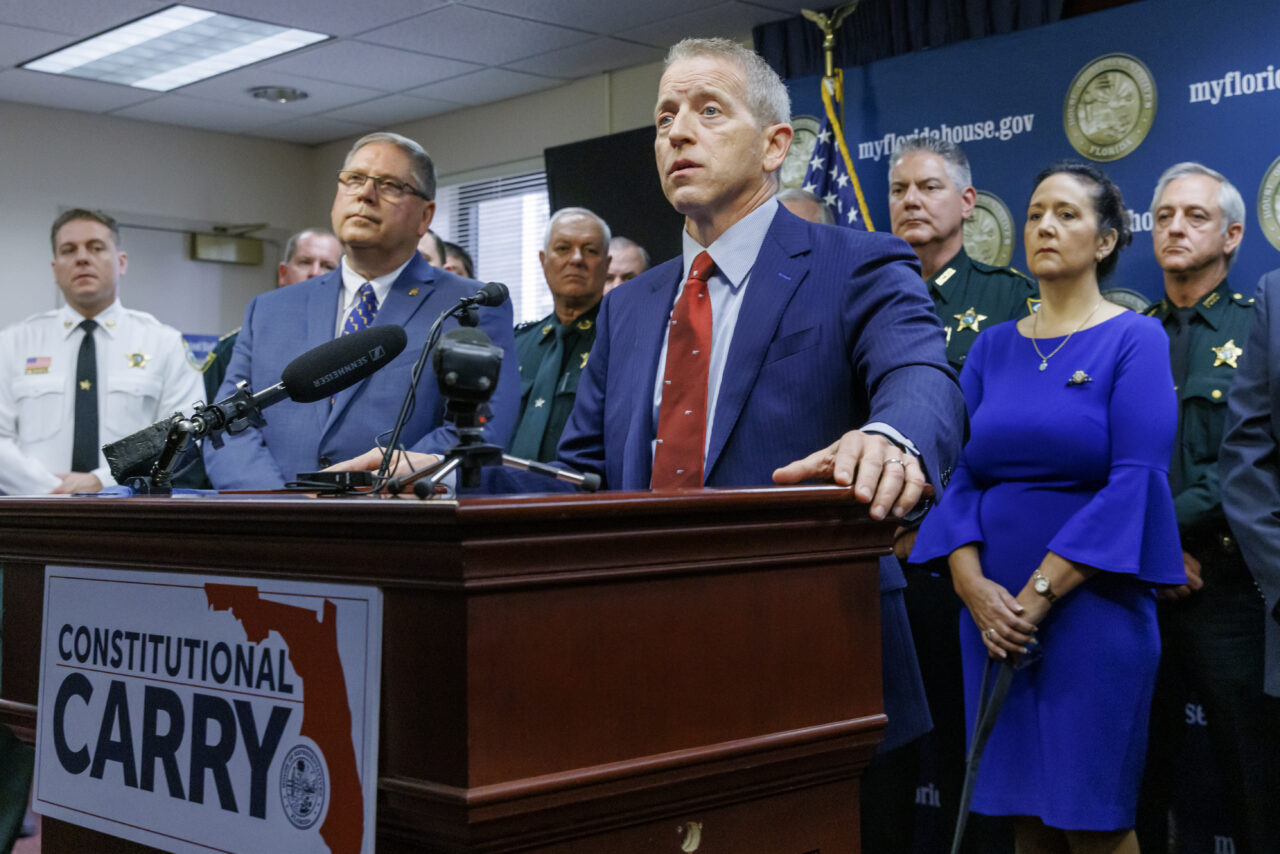 'Criminals don't go get a permit.'
Floridians could soon be able to carry a concealed firearm without a permit, under legislation backed by House Speaker Paul Renner and the Florida Sheriffs Association.
"What we're about here today is a universal right that applies to each and every man and women regardless of race, gender or background," Renner, a Palm Coast Republican, told reporters. He added the bill will "remove the government permission slip to require a permit to exercise a Constitutional right."
Similar bills, known as "constitutional carry" to supporters, have been filed in recent years but failed to make it into law, despite GOP control of the Legislature. Now, with the backing of Renner and Senate President Kathleen Passidomo, a Naples Republican, the measure has more momentum ahead of the 60-day Regular Session that starts March 7.
Gov. Ron DeSantis has previously said he would sign such a bill if it reached his desk.
The endorsement from the Florida Sheriffs Association could also help move the bill that had previously stalled in part due to concerns from some sectors of law enforcement.
"Criminals don't go get a permit," said Brevard County Sheriff Wayne Ivey, one of more than a dozen Florida Sheriffs who flanked Renner at the Monday press conference. "They don't care about obeying the law."
The bill is also backed by the National Rifle Association, which had seen its influence in Tallahassee wane somewhat since the Marjory Stoneman Douglas High School massacre in Parkland in 2018 that left 17 dead, including 14 children.
"Half of the country currently recognizes the fundamental right of law-abiding gun owners to carry a firearm for self-defense as enshrined in our Constitution," said Art Thomm, NRA Florida state director, in a released statement. "The NRA is proud to have led this effort across America and looks forward to welcoming Florida into the fold of freedom that constitutional carry provides."
There are 26 states that have some form of permitless carry, although some states restrict to whom it applies. In Louisiana, only military and former military members can carry a firearm without a permit and in North Dakota that is only offered to its residents.
Rep. Chuck Brannan, a Macclenny Republican, is sponsoring HB 543 and Sen. Jay Collins, a Tampa Republican, is spearheading the measure in the upper chamber, although the bill hasn't been filed yet as of Monday afternoon.
Democrats bashed the bill as opening the door for more violent crime and noted it would remove the firearm training requirements now in place for residents to get a permit.
"This is not constitutional carry, this is untrained carry," said Rep. Christine Hunschofsky, a Democrat who was Mayor of Parkland when the massacre took place. "There is not a groundswell (among residents) to remove training for those who wish to concealed carry."
Although the bill would get rid of the permit requirement, the Division of Licensing within the Department of Agriculture and Consumer Services, which processes permit applications, would still exist. Brannan said residents can still get a permit if they choose, which can help them get a permit in other states that still require it.
After the Parkland mass shooting, the Legislature passed a large bill that included a series of gun control measures and provisions aimed at strengthening school safety. Bump stocks were banned, the minimum age to buy a gun was moved up from 18 to 21, and lawmakers imposed a three-day waiting period for the purchase of all long guns.
Renner said he didn't like the gun control provisions in the bill but didn't regret voting for it because it also eliminated "gun-free zones."
"I don't regret the vote, but it was a difficult vote because there were a lot of other pieces in the bill that basically restrict the rights of law-abiding people," Renner said. "That bill, however, did some other good things. It ended gun-free zones, which is where we see time and time again these mass shootings happen where they know people are vulnerable."