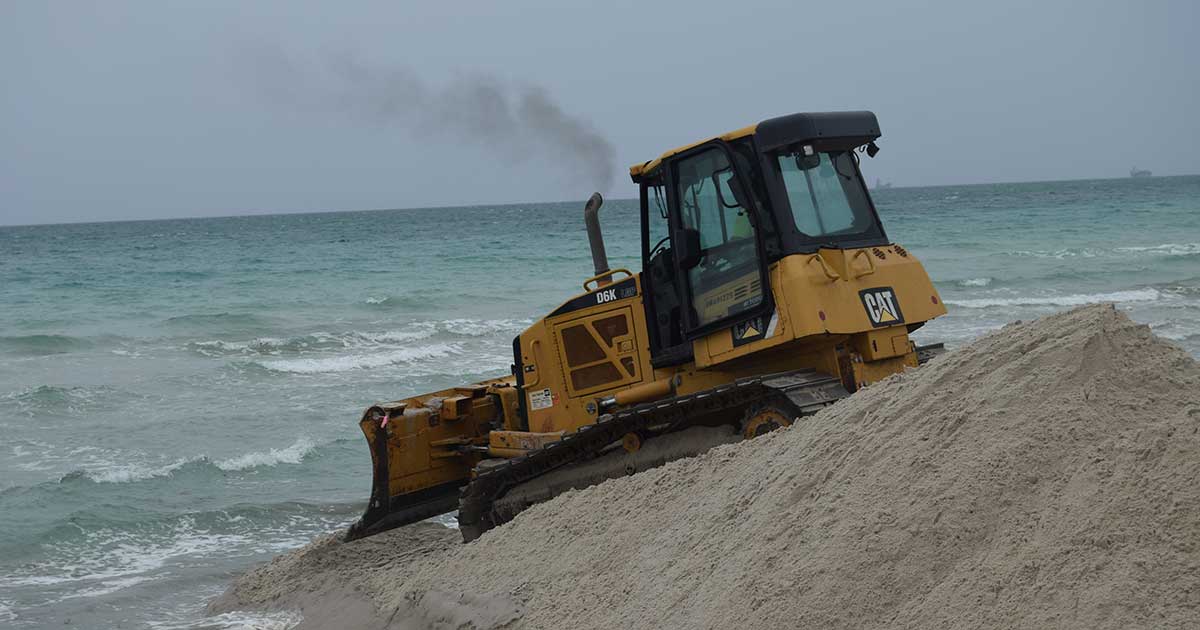 'A beach that's covered by homes and hotels, and retreat is simply not possible.'
A document setting out federal fishery managers' opposition to beach renourishment and, should it occur, best management practices is headed back to an advisory panel after concerns about how it would affect Florida.
The policy document begins, "In general, frequent and widespread beach renourishment projects (dredge-and-fill) occurring in the United States southeast together may cause measurable impacts to (essential fish habitat) under the jurisdiction of the (South Atlantic Fishery Management Council). 
"Coastal communities are strongly encouraged to evaluate the full range of alternatives, including retreat, to these types of projects when addressing erosion and sea level rise."
The Council governs federal saltwater fisheries from the North Carolina Outer Banks to the Florida Keys. Members of the SAFMC Habitat Protection and Ecosystem-Based Management Advisory Panel (AP) worked on the document last year. They will get another shot at it after the decisions this week.
The latest language notably differs from the stronger words in a previous draft.
"Approximately two years ago, as part of the Habitat AP, we identified the need to go in and revise that 2015 beach policy statement to reflect the state of activities going on in the Southeast," said AP Chairwoman Cindy Cooksey, a fish biologist in the Habitat Conservation Division of NOAA Fisheries' Southeast Regional Office.
"That was just an acknowledgment that over the course of the last few decades, there has been a dramatic increase in the number of beach renourishment activities going on in the Southeast, along with the frequency of which those activities are occurring."
A 2019 study, she noted, found that three-quarters of the Atlantic seaboard is within 16 kilometers (about 10 miles) of a beach renourishment activity.
Jessica McCawley, an SAFMC member and Director of the Division of Marine Fisheries Management for the Florida Fish and Wildlife Conservation Commission, said she was not ready to approve the policy as written.
"I do think it's improved since the December meeting when we saw it the last time, but I would like to see it go back to the AP," McCawley said, "and maybe they can talk to somebody at the Florida Department of Environmental Protection — I can get a name for them — to try to kind of hone in on some of these issues that are happening in Florida, and just make sure those types of things are covered."
She spoke at the Council's quarterly meetings on Jekyll Island, Georgia.
Part of the issue is ensuring the best and most recent available science is included.
The document contains several options to dredge-and-fill. One of the options listed in the policy is to let nature take its course and allow for the coastline retreat.
"Retreat is simply impossible," said Council member and seafood restaurant owner Laurilee Thompson. "On the Space Coast, our benthic nest spawning … organisms are protected because we can only do renourishment during non-sea turtle nesting season, so that opens spring and summer for benthic organisms to … have a chance to spawn. A beach that's covered by homes and hotels, and retreat is simply not possible."