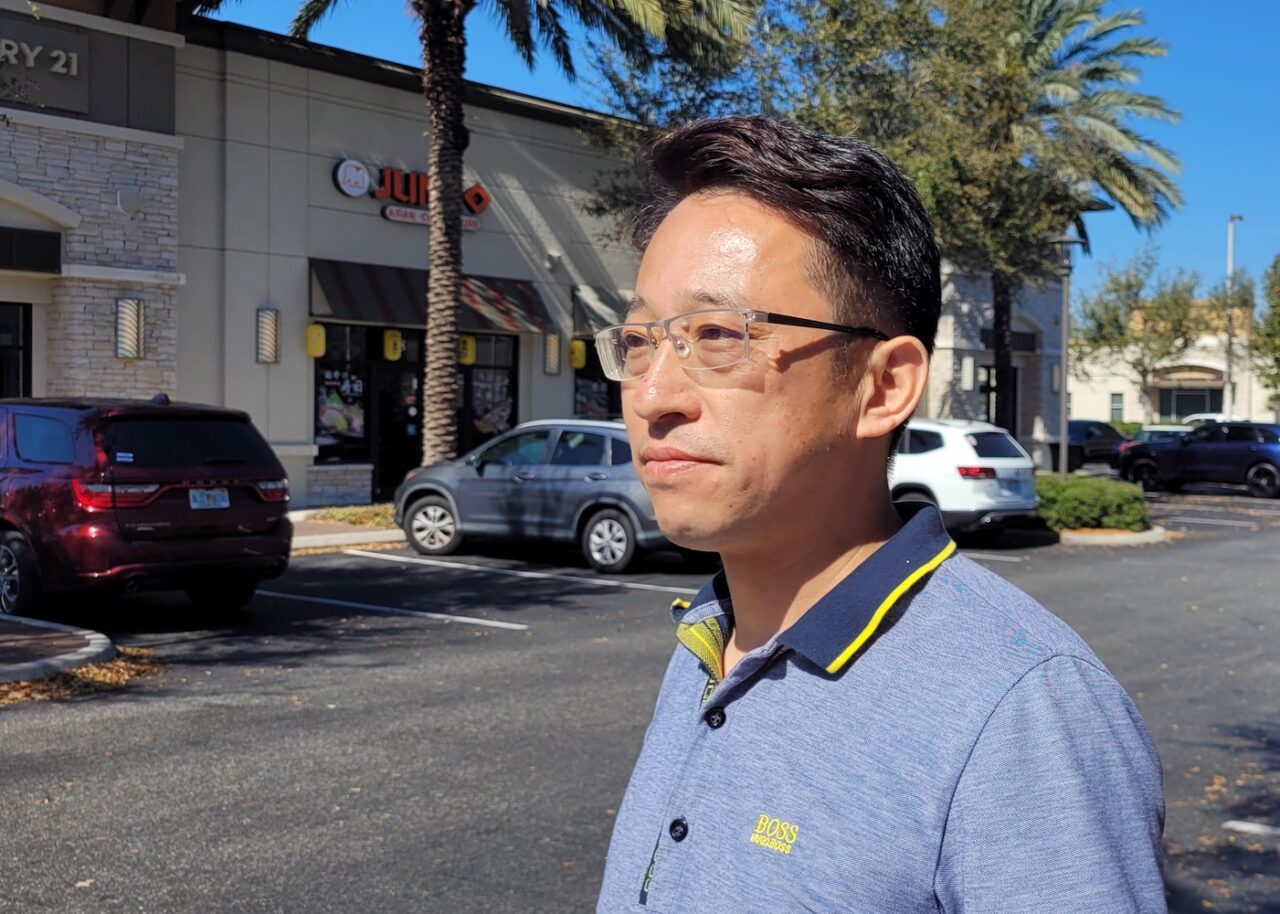 Yu Miao ran a bookstore Shanghai authorities shut down. Now his wife can't leave the country.
Yu Miao always intended to return to China after studying in the U.S. But he fears what could happen if he ever flies home again. His wife, Xie Fang, has been in China for over a year, forbidden from leaving.
"I never thought that my wife would meet that kind of trouble because of me," he said.
The Chinese Communist Party wants to talk to Yu about blog posts criticizing the government. He claims to have nothing to do with the writings
Now Yu in many ways feels as trapped as his wife. Living in Windermere, he's the only parent available to care for children still living at home. China told Yu his wife will be permitted to fly to the U.S. if he goes to China for questioning. But he couldn't leave his children that long with no adult guardian even if he trusted the government to keep its word.
Police in China told Yu's wife, "We need him to go back to China for interrogation. When your husband goes back to China, then you can brace to go abroad." None of that sounds promising to Yu, who has been at odds with the government there before.
He previously owned Jifeng bookstore, a Shanghai establishment that gained international notoriety as a forum for professors and scholars to give speeches on an array of political topics. The store had been founded by a Shanghai Academy philosophy researcher in 1997. Yu bought it years later and started regular public events.
"We enjoyed a world reputation because our lectures were high quality," Yu said. "And my thoughts, my goal, was to transform a bookstore to a public space on how to reduce the fear. I think that's a central part for a civil society, to have a place for people to present views freely, to speak freely, and to talk about and discuss some important issues related to society."
But the authoritarian government in China disagreed. The bookstore leased public space from the Shanghai Library, and in 2017 was told it could no longer operate in its locale.
"The government shut it down," Yu said, "and they thought we are a base for liberal leaning intellectuals and even a base for Colour revolution."
Yu said he traveled throughout Shanghai looking for a place to reopen. But repeatedly, government officials would speak to landlords and every avenue for reopening closed to Yu. So the store closed.
Yu in 2019 flew to Washington to study at American University. His family moved to Windermere, and he came to Florida when studies in the midst of the pandemic all went remote. He hasn't lived outside Florida since.
But his wife flew back to Shanghai in January of 2022 to care for her sick mother. While Fang was in China, Shanghai implemented a "zero COVID" policy that left her in lockdown for much of the summer.
Fang waited through that, then planned to fly back to the U.S. on Aug. 1, but was informed days prior to her flight by Shanghai police that both she and Yu were banned from traveling overseas.
Yu said that was the first time he ever heard of such a restriction. "It was culturally out of our expectation at the time," he said.
Incidentally, Yu had planned to fly back to China on Aug. 22 after his wife came home. But all plans changed at that point.
Yu said he was told by authorities they want to talk to him about three posts on the website Yibaochina. The government accused him of writing the pieces under a pen name. One of those compared the tactics of Chinese Premier Xi Jinping to those of Russian President Vladimir Putin. Chinese authorities accused Yu of writing the articles and said they had proof.
The police claimed to Yu they had evidence the articles were uploaded through the IP address at his home in Windermere. That troubles Yu in a number of ways, not the least of which is his insistence he did not write them. But what was China doing tracking down the IP address for his home in another country in the first place?
"I told Chinese authorities that whether I published the articles or work for media in the U.S., it's my freedom," he said. "You can't punish me for what I did in a free country. And also what I did, it's legal here, and also legal in China."
At this point, he's afraid if he returns to China, both he and his wife will be detained, leaving the future of his children in the U.S. uncertain. And he's afraid he will remain in custody for an indefinite amount of time.
Yu said he has contacted federal officials about the situation but he remains a Chinese citizen. Florida Politics inquired about his situation with the offices of U.S. Sens. Marco Rubio and Rick Scott, as well as Central Florida U.S. Reps. Maxwell Frost and Daniel Webster, but received no response. Yu only received a response himself from Rubio's Office, who informed him there's little the State Department can do since Yu and his wife are Chinese citizens.
"The American government should have some responsibility. They have some duty or obligation to protect my free action and free speech here," he said. "No matter if I'm a citizen or not, I'm now staying here, living here, and I obey your laws."
Yu said he hasn't pursued becoming a U.S. citizen — yet. Part of the reason is that he never intended to come to the U.S. permanently. His plan prior to the recent series of events was to remain in America until his children could get through school, and then return to China. He expected to travel frequently between the nations depending on professional opportunities and whatever career path his children take in the future.
But the treatment by his home country leaves that plan cloudy. "I have fewer and fewer opportunities to go back to China freely and safely," he said.
His priority for the moment, he said, is bringing his wife back to the U.S.