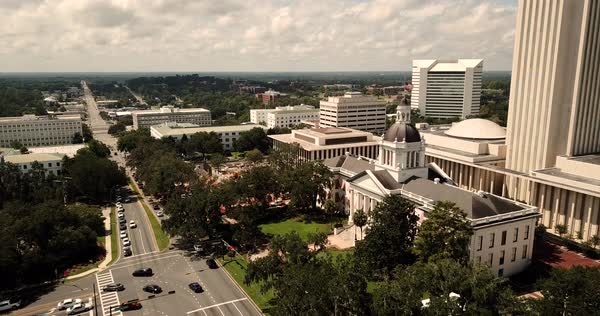 The PCB would expand the department's jurisdiction to include several more state buildings and parking garages.
Downtown Tallahassee isn't exactly safe.
Over the past few years, the Capitol has looked less like a shining example of everything Florida has to offer and more like a scene out of the first act of Death Wish. The streets are littered with trash, human waste and an increasingly aggressive — and sometimes violent — crowd of panhandlers and homeless.
And yes, they have been violent. A month ago, Tallahassee Police apprehended a mentally disturbed man accused of assaulting several people in the downtown area. In one instance, he punched a lobbyist in the face outside of the Governors Club. Police told that lobbyist the same man was suspected in a half-dozen other assaults.
That man was not an outlier. The risk is pervasive enough that many lobbyists and state employees aren't comfortable walking alone to their car after work. Many people have pleaded with the city government to do something — anything — to help make the area near the Capitol safe. The response has been lackluster.
Now, the Legislature may step in.
The House State Administration & Technology Appropriations Subcommittee will take up a proposed committee bill this week that would expand the boundaries of the Capitol Complex, giving the Capitol Police more authority to keep the area secure.
Currently, Capitol Police have jurisdiction over the Capitol Complex, defined in statute as the area bounded by Monroe, Jefferson, Duval and Gaines streets. Under the proposed bill (SAT 23-01), Capitol Police jurisdiction would expand eastward to Calhoun Street and westward to S. Martin Luther King Jr. Boulevard.
The area bounded by Monroe Street, Gaines Street, Calhoun Street, and East Pensacola Street would be known as "Memorial Park." The Holland Building, the Elliot Building, the R.A. Gray Building, and their associated parking garages fall within the new confines.
The bill will be heard when the committee meets at 2 p.m. Tuesday in Room 212 of the Knott Building.