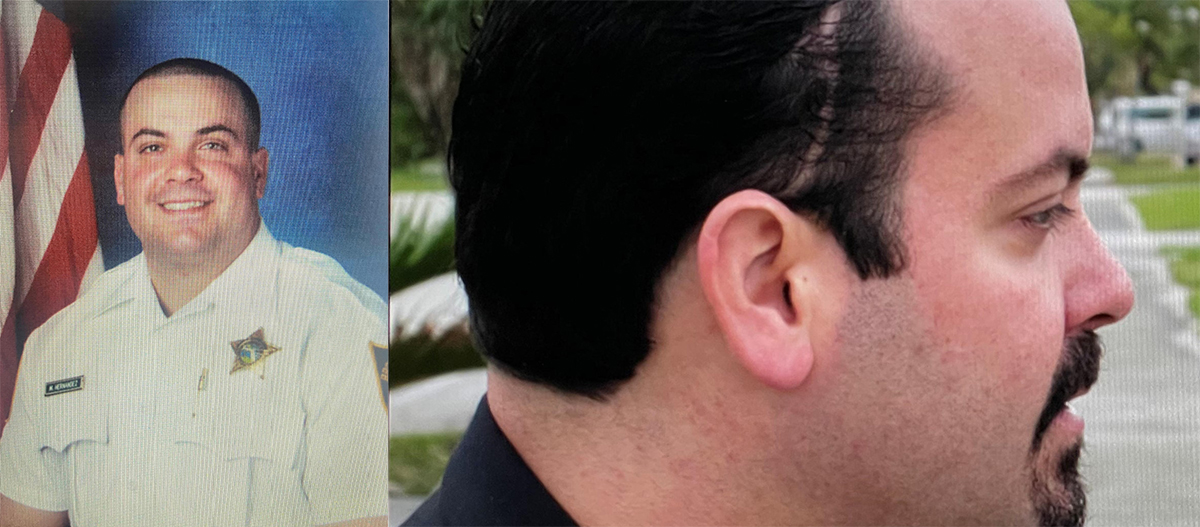 Will Florida finally deliver justice for Maury?
It's rare for law enforcement's brotherhood/sisterhood of the badge to cross the so-called "blue line."
But that's (appropriately) happening now in rallying support for a severely disabled comrade whose tragic, preventable life-threatening injuries were triggered by the ineptitude and inaction of a rookie parole officer for the Florida Department of Corrections.
It's the case of Maury Hernandez, a former Broward County Sheriff's deputy who was permanently disabled by simply doing his job.
The man who shot Hernandez was David Maldonado — a felon on probation and legally prohibited from having a gun. Yet, the parolee admitted to his DOC probation officer that he was carrying a firearm.
That alone should have set off alarm bells and sweeping action to disarm and discipline the offender Maldonado.
Instead, the DOC employee did nothing. Nothing.
Later we learned Maldonado committed many other violations that his probation officer failed to report to the state attorney and judge.
Days later, Hernandez witnessed Maldonado endangering innocent lives by running multiple red lights on his motorcycle. At the time, Hernandez was investigating another crime, but he dropped everything, fearing lives would be in danger, to pursue Maldonado.
Hernandez caught up and chased him on foot. Then, Maldonado turned and shot Hernandez in the head — with a gun he should never have been allowed to have.
Miraculously, Hernandez survived, but his medical journey has been horrific.
Three weeks in a coma, on a ventilator, multiple brain surgeries and two years in a rehab hospital.
This left Hernandez with a profound and permanent brain, physical and emotional injuries — and paralyzed on one side of his body.
Bullet fragments are permanently lodged in his brain.
He tried desk work at BCSO but was unable to withstand the physical strain. Doctors declared Hernandez permanently disabled.
One would think DOC — whose near-mortal mistake occurred during the administration of former Gov. Charlie Crist — would have rushed to lead the charge to make this situation right, given the employee's gross negligence which led to this preventable outcome. And they could do it knowing the bad judgment, decisions and inaction that happened years ago — on somebody else's watch.
Regrettably, the DOC fought Hernandez at every turn — circling the wagons for years after its mistake left a fellow officer's life forever changed for the worse.
Fortunately, a coalition of state Republican legislators and law enforcement groups are rallying to finally — 15 years later — provide justice for Maury.
Two bills have been filed, HB 6003 and SB 20, to compensate Hernandez for the mountains of medical bills and decades of lost earnings. Sen. Tom Wright of Port Orange and Reps. Tom Fabricio of Hialeah and Alex Rizo of Miami-Dade are putting their weight behind the bills.
They have been joined by the Police Benevolent Association and the International Union of Police Associations, whose chapters have penned letters of support to both Speaker Paul Renner and Senate President Kathleen Passidomo.
If a bill is passed, with the final say from Gov. Ron DeSantis, who has been a steadfast and staunch supporter of law enforcement throughout his career. Any encouraging indication from the Governor helps justice finally be served.
Until the shooting, Hernandez was a classic American success story.
He was born in Havana, Cuba, and came to Miami as a 4-year-old boy. Hernandez made it to college and graduated with a 3.7 grade-point average. Hernandez started law school but decided to pursue law enforcement experience before finishing his degree.
He never got the chance.
DOC's negligence and culpability were clear for all to see. Maldonado should have been in jail instead of destroying Hernandez's life.
Maldonado's violations "clearly should have been reported to the appropriate authorities," said the Broward state attorney's office at the time.
"Maldonado's file was riddled with omissions and false statements showing Maldonado admitted to using illegal drugs, pretended to be a U.S. Marine headed to Iraq, and told probation officers he worked as an armed security guard in Miami, even though it is illegal for felons and probationers to possess a weapon" reported the South Florida Sun-Sentinel.
DOC said it would launch an investigation of the case, but no record or file exists, according to DOC's own division of public records. That's hard to comprehend.
Now, Hernandez's only hope is that new allies in the legislature and law enforcement can finally deliver him the justice he has been seeking for 15 years.
Will Florida finally deliver justice for Maury? It would be one of the best outcomes and stories for this 2023 Legislative Session.