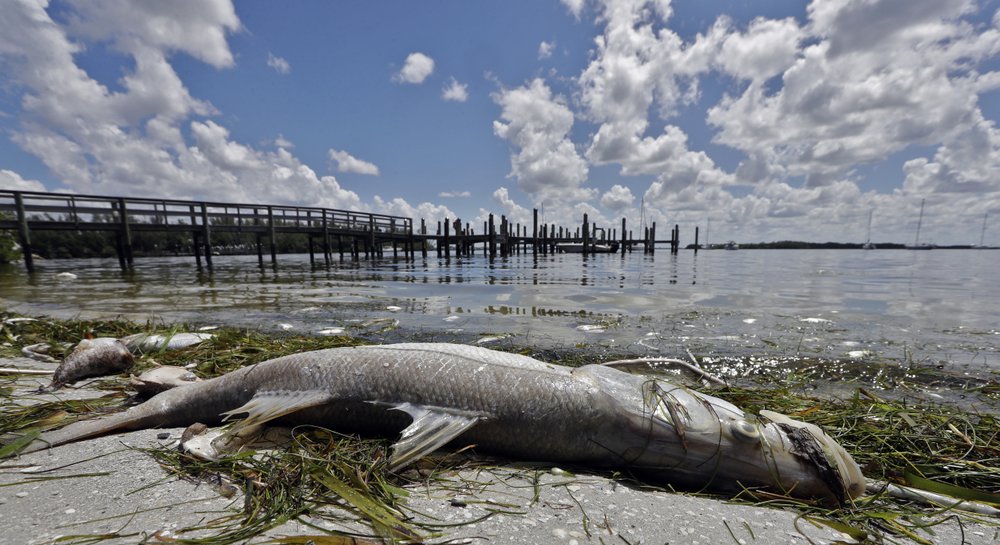 Historically, most red tide blooms occur in the colder months.
Hopes are that the red tide off Florida's southwest coast dwindles and disappears in coming months, but there's no certainty in what happens next.
Experts from around and beyond the state gathered for the latest Harmful Algal Bloom Task Force to take a look at the situation and figure out the state's next step in addressing the single-celled menace.
"Things kind of flared up a little bit more in February," said Kate Hubbard, leader of the Fish and Wildlife Research Institute's harmful algal bloom program and Director of the Center for Red Tide Research. "Then, just kind of taking us through the last week of February through mid-March, conditions seemed to improve in many areas.
"Then as we moved into the last week or so, we saw that we had some of these areas, especially around Tampa Bay, Charlotte Harbor — we saw a resurgence of bloom conditions there. It never really left lower Tampa Bay. This is something that … thinking about this event, we're in the sixth month now."
Historically, most red tide blooms occur in the colder months, spanning September to March. With a couple well-known and recent exceptions, there are the fewest blooms May through July.
"One thing that was different about this bloom, relative to the event and (the bloom of) 2021, is that the circulation has been quite distinct," Hubbard said.
"In 2021, we had winds out of the south, and that caused northern currents for much of the winter and much of the spring, and instead we are seeing conditions where we have the prevailing winds shifting quite a bit. That has manifested in predominantly northern and southern currents along the coast. So, we've seen conditions flip-flop over the course of a week for many weeks in a row. That pattern is continuing even this week."
That's resulted in a lot of variability even within areas with persisting blooms.
Officials continue to monitor the situation, including looking into possible impacts from Hurricane Ian.
"When Hurricane Ian passed, that helped set up the appropriate circulation to help bring cells onshore," Hubbard said. "Indeed, several weeks after the storm passed, we did see cells at bloom levels pop up, and that continued on."
During the period of March 27 through April 30, scientists collected 184 total samples across Charlotte, Collier, Hillsborough, Lee, Manatee, Monroe, Pasco, Pinellas and Sarasota counties. Test results from those samples led to 21 caution notifications and 15 health alerts.
Next steps could include closer inspection of the extent of the relationship between nutrient pollution from runoff and red tides.
"We had a question, you and I both, and probably others, got the question the other day about nutrients from land, and how Karenia (brevis) responds," said Chuck Jacoby, the supervising environmental scientist for the Estuaries Section of the St. Johns River Water Management District.
"I think we need to come up with a little better handle on what that kind of answer looks like."
There's an active project working along those lines, the findings of which would need to be worked into that answer-crafting process. Hubbard suggested the topic is complex enough to warrant its own working group within the task force.
"A part of me would say, if I were starting from scratch, I might have a recommendation where we solicit outside reviews," said Don Anderson, a senior scientist at the Woods Hole Oceanographic Institution.
"Get people outside of the state of Florida, people who are truly experts in phytoplankton nutrients and nutrient dynamics and try to get people to put a proposal together and report to the task force."
The task force can't easily handle it, he said, as it's a huge undertaking that's demanding of time, resources and staffing. Also, an outside team would lend the effort an appearance of objectivity.
Hubbard suggested letting the issue sit for a while before the task force votes on a possible path of action, and members agreed to take up discussions again at their next meeting.