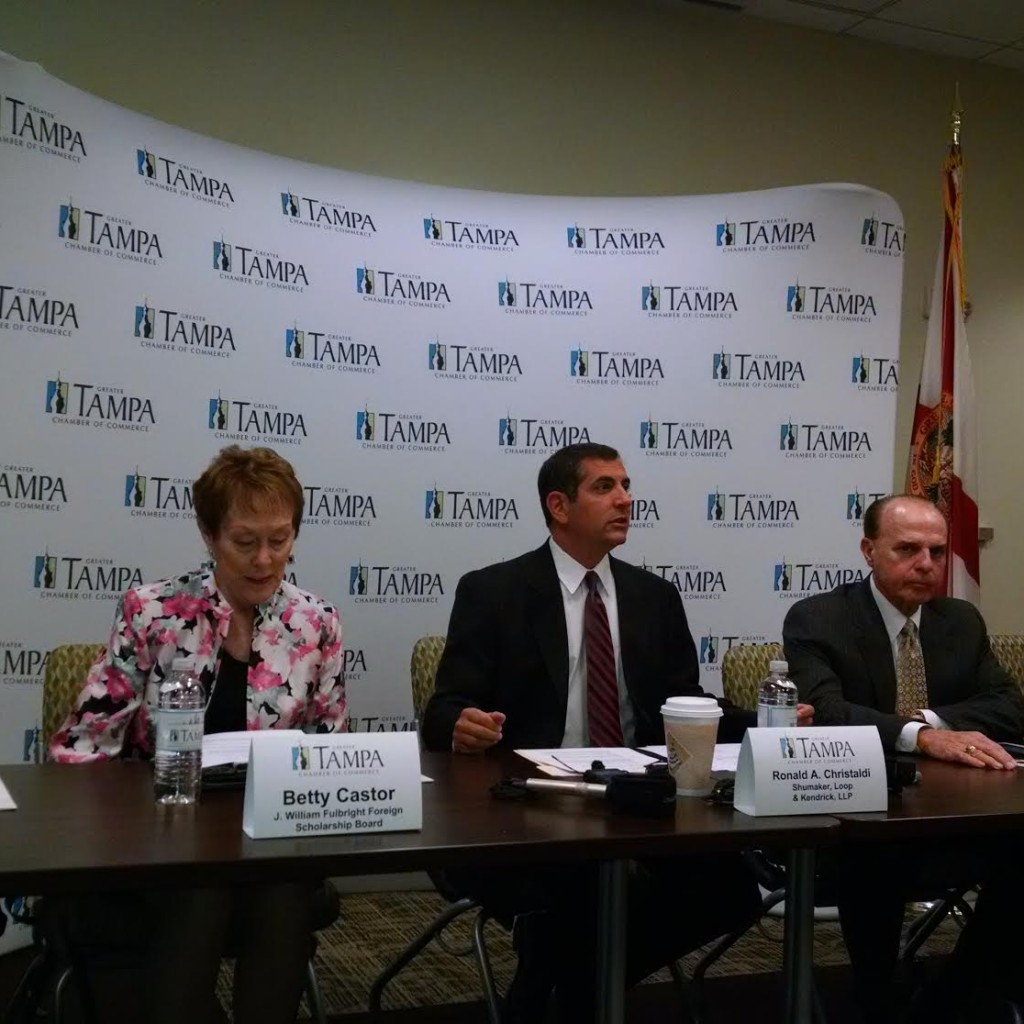 Last week, a delegation of Tampa area officials visited Cuba in a trip organized by the Greater Tampa Chamber of Commerce.
It was the third excursion to the communist island led by the Chamber in the past few years. It was "certainly the most productive and most historic," Ronald Christaldi, a partner with the Tampa law firm of Shumaker, Loop & Kendrick LLP and chairman of the Tampa Chamber, said Monday. Christaldi and a handful of other officials who were part of the delegation spoke at a news conference in Tampa Chamber offices about their hopes for Tampa and the U.S. in general when it comes to business opportunities in Cuba once freedom returns to the island.
"Make no mistake: This Chamber's role is to position the Tampa Bay region to be ready to do business in Cuba with Cuba, importing and exporting, when the switch gets flipped," Christaldi said of what will be the ultimate game-changer in terms of U.S.-Cuba relations: an official end to the 55-year-old U.S. economic embargo placed by our government.
Those sanctions can only be undone by Congress, which doesn't appear poised to make such a move soon. However, on Dec. 17 President Barack Obama made the most significant change to date between the two nations since the sanctions went into place, calling for full restoration of relations. The move eased restrictions on remittances, travel and banking, while Cuba promised to allow their people more Internet access, and agreed to release 53 Cubans identified as political prisoners by the United States.
Tampa officials say that because of historic and familial ties, no city in the country is more enthusiastic or thinks they can benefit most from ending sanctions than the Cigar City. Since the diplomatic breakthrough, the Tampa City Council has OK'd resolutions calling for a Cuban consulate to be built in Tampa, as well as to be the U.S. hub for any major agreement between the two nations.
Christaldi said the idea of a Cuban consulate in Tampa was "very well received" by officials he spoke with.
Though optimism has soared in Tampa in particular and the Bay Area regionally the past few years about capitalizing on the end of the economic embargo, skeptics question how significant an economic boost it will provide. Cuba's population is only about 12 million people, with the average government employee earning just $20 a month. In The New York Times this month, famed Tampa anti-Castro critic Ralph Fernandez said Cuba has less buying power than Lakeland.
But officials say Cuba is potentially a great business opportunity.
"What we're hearing from our members is that a 12-million person market, is a market that we want to go into," Christaldi said.
Tampa International Airport CEO Joe Lopano made his second trip to Cuba. He said that while the island nation might be a small economy, "For us, it's big business." That's because since 2011 when Tampa International was allowed to have direct flights from Cuba, the airport has picked up a tremendous amount of business from visitors who previously could fly only out of Miami. He said the airport makes $1 million annually from the flights. "It's real money for the airport," adding that TIA sees the opportunity to expand direct flights into perhaps two more Cuban cities in the future.
"The opportunity is the future," Busch Gardens Tampa President Jim Dean said. "It will take some time." He said Busch Gardens has no immediate interest in building a similar theme park in Cuba.
"We consider a 12 million population country as a pretty big deal," said Richard Barkett, CEO of Amalie Oil Co. He said that could be "leveraged over time," and says all it will take is some changes by the Cuban government to have U.S. businesses flourish.
As opposed to the other officials the press conference, former Tampa Chamber CEO Jose Valiante made a point to talk about how normalized relations between the two governments could aid the Cuban people: "All this stuff we're doing is going to help them eventually, it's going to better their lives, eventually."
Former USF President Betty Castor was particularly interested in cultural and educational exchanges. "I think that's the way to build up relationships."
The group visited the workshop of noted Cuban artist Jose Fuster, acclaimed for his unique style of combining painting and ceramics. Castor also noted seeing in Cuba a group of Washington State University journalism and communication students, and grew wistful that students from USF or any other state university are banned by the  Legislature from taking an educational trip to Cuba.
"I hope that changes," she said. "I hope we can work to build the education exchanges, because education and culture will be a key to establishing normalization."
Christaldi also said that forging relations among officials with the two region's airports, seaports and hospitals (members from Moffitt Cancer Center were on the trip) is also something substantive that came out of the trip.
Advocates for increasing Tampa's connections to Cuba have said for years that the city would be far behind other cities and states that have cultivated relationships with officials unless they began to engage. While Tampa is now engaged, so are many others. Last month New York Gove. Andrew Cuomo took a delegation to Cuba, and Christaldi said Monday that officials from New Orleans, Charlotte, N.C., and other areas are making those connections as well.
"Florida, and the Tampa Bay region, cannot afford to stand flat-footed, while the rest of the world positions itself to take advantage of this economic opportunity," Christaldi said. "This is about jobs, this is about economic growth, this is about positioning the Tampa Bay region to be a competitor, in a world economy. We cannot afford to stand flat-footed. We must move forward."