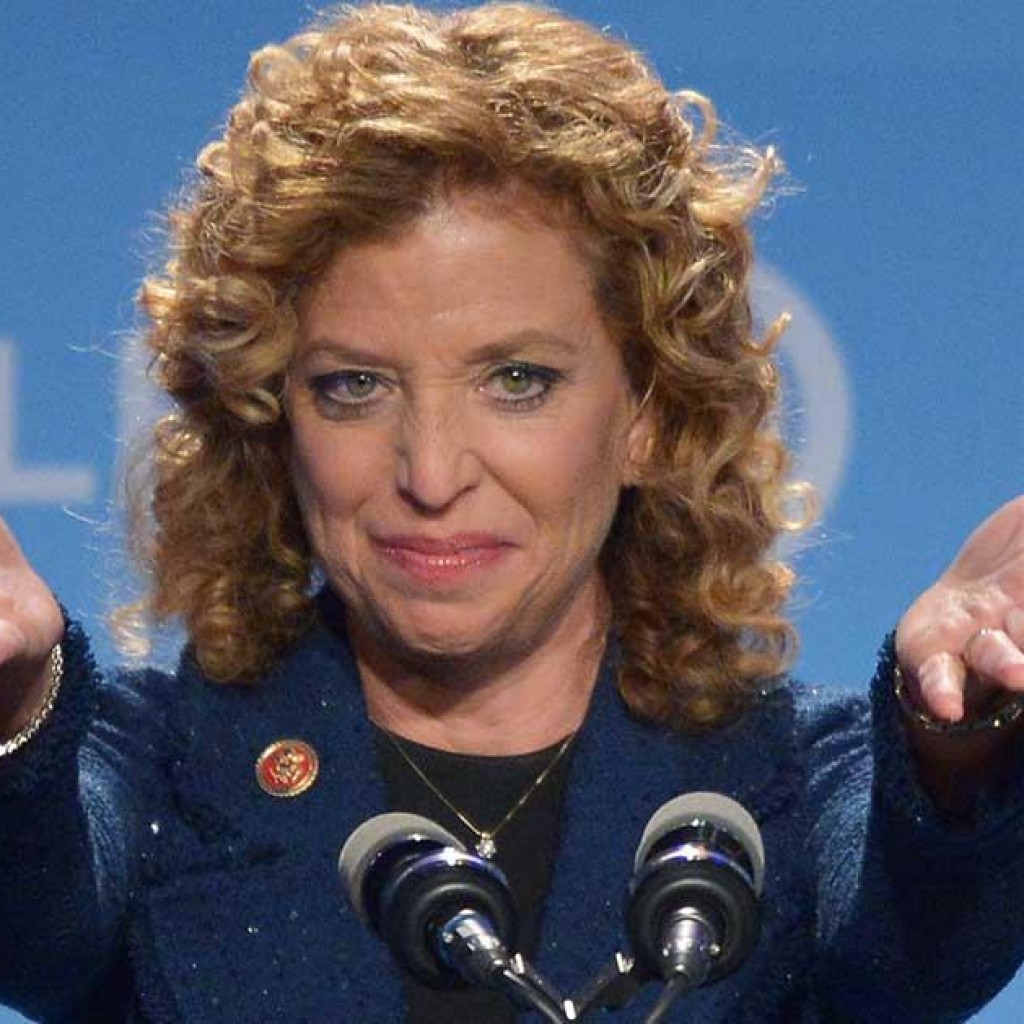 Hours before Jeb Bush was to go before thousands of supporters and formally declaring his candidacy for president, Democratic National Committee Chair Debbie Wasserman Schultz and a few local progressive activists assailed Bush as nothing more than a right-wing Tea Party-following member of the Republican Party.
"Marco Rubio and Jeb Bush are fully embracing the entire right-wing Tea Party agenda that the Republican party has adopted in recent years," she said to reporters in the Graham Center at Florida International University in Miami. "In order for either of them to get their party's nomination, they're going to have to remain loyal to that agenda."
Wasserman Schultz disagreed with the notion that Bush represents perhaps the greatest challenge to a Democrat based on his stances on hot-topic issues such as immigration and Common Core education standards. Those views don't play well with GOP primary audiences, but would seem to make him a much more mainstream Republican than many other candidates in the race, including Rubio.
The DNC chairwoman was merciless, though, in saying that there wasn't anything moderate at all about Bush, and neither were some of the advocates who came to speak out about him as well.
"As a fellow Floridian, who fights day in and day out for the LGBT community, I can tell you that Jeb Bush is no friend to our community," said Tony Lima, executive director with SAVE, an LGBT activist group based in Miami-Dade County. He referred to how Bush opposes marriage equality and once called those who advocate for same-sex marriage "a modern victims movement," as well as derisively mentioned his support for the Indiana's religious freedom law.
"You are wrong," Lima said about Bush. "You are wrong for the LGBT community, and you are wrong for the American people."
"Jeb Bush is no friend to the Latino community," said Lynette Costa, with the Democratic Hispanic Caucus of Florida. She pointed out that Bush opposes to President Barack Obama's executive actions on immigration.
Mayte Canino, public affairs coordinator at Planned Parenthood of South Florida and the Treasure Coast, assailed the former Florida governor as being indifferent to women's issues. She made mention of a 2003 comment the governor made when asked about the Equal Rights Amendment as a statement toward his hostility towards women.
"My own personal opinion is that's kind of a retro subject, it's like going back and wearing bell bottoms," he said at the time.
Both Canino and Wasserman Schultz referred to the recent reports about Bush's 1995 book, Profiles in Character, containing a chapter called "The Restoration of Shame" that makes a case for restoring public humiliation to prevent "out-of-wedlock" pregnancies.
"This is the type of extremism that will be on full display," Wasserman Schultz said.
The DNC chairwoman also said Bush was fiscally irresponsible as Florida governor, referring to his $500 million plan to bring Scripps Research Institute to the state and build a biomedical hub that he said would generate nearly 50,000 jobs in 15 years.
"Opponents in the state Legislature including me, repeatedly sought to include simple accountability measures that we ensure that we actually received the jobs that Scripps and Governor Bush promised," she said, pointing out that Bush opposed any accountability measures with the plan.
"Here's a fact," the DNC chair said. "Twelve years and $1.3 billion in state, city and county funding later, the data shows that just 1,365 jobs were created, at cost of about a million dollars each for taxpayers."
"Jeb Bush only looks out for himself and people like him," she said. "He never has and he never will fight for middle-class families."