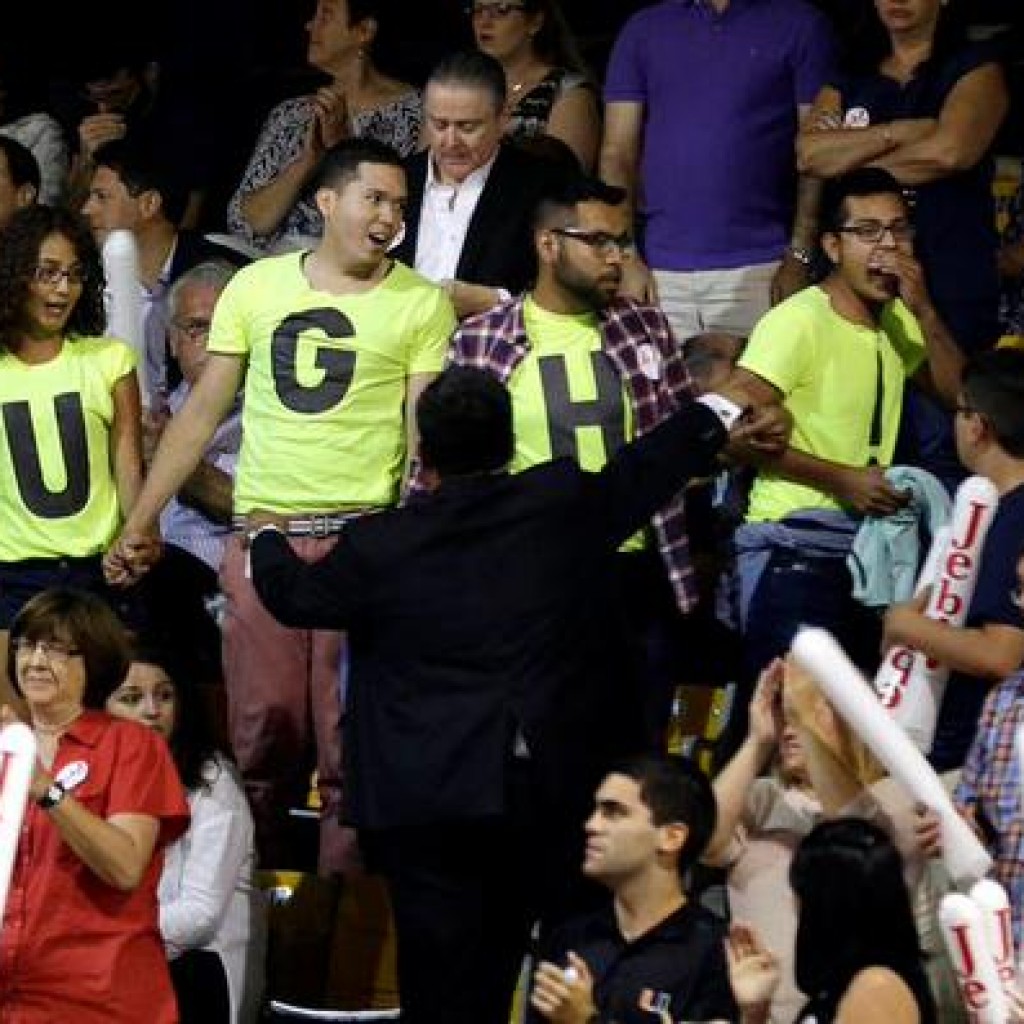 Although Jeb Bush's moderate stances on immigration have been portrayed as a potential drag on his chances of winning the GOP presidential nomination, it's immigration advocates who are speaking out critically today, his first full day as an official candidate for president.
In Derry, New Hampshire, Bush conducted a sit-down interview with Sean Hannity that will be broadcast later tonight on Fox News. When pressed by the conservative talk-show host that securing the southern border with Mexico should be his first action on immigration above other policy moves, Bush said, "I think we need to do both, but first priority is to create a secure border."
That stance will undoubtedly only embolden immigration activists like those who disturbed his speech at Miami Dade Community College on Monday. Activists from the group United We Dream wore T-shirts that read,"Legal status is not enough." Bush responded that if elected president that he "would pass meaningful immigration reform so that will be resolved — not by executive order."
Shortly after that event, the Huffington Post published a piece written by Orlando-area Democratic state Senator Darren Soto that questions the perception that because he speaks fluent Spanish and has a multicultural family, the former Florida Governor is a friend of the Latino community.
Not true, writes Soto. "Latinos in Florida know that Jeb isn't, and never has been, on our side," Soto claims, and cites as proof Bush's opposition to DACA and DAPA, the executive actions taken by President Obama last November that would shield millions of undocumented immigrants from deportation.
Soto then tags on a host of conservative views that puts Bush alongside virtually every other candidate for running on the GOP side this year, stances that Soto says takes him out of the mainstream Hispanic voters comfort zone. Among those issues like are support for Voter ID laws, a lack of awareness regarding the Paycheck Fairness Act and supporting " a budget that would gut education funding — from early education to Pell Grants for college students."
Meanwhile, the pro-immigration group America Voices issued a statement on Tuesday saying that while Bush has had a strong record on immigration reform, "there are some troubling signs that Bush is already starting to slide right."
Voices in Action says because of that slide, they'd like clarity on three specific questions:
 Question 1: What Do You Mean When You Say "Secure the Border First?" Governor Bush, do you mean that additional border security should be a priority in the context of a comprehensive immigration reform bill, or do you mean that we should not enact comprehensive immigration reform until we "secure the border first?"  If it's the former, please specify how you construct a realistic path to all elements of reform.  If it's the latter, who decides, what are the metrics and how can you overcome those in your party who use border security as a moveable goalpost and an excuse for inaction?
         Question 2: Would You Eliminate or Preserve DACA & DAPA Should Congress, Once Again, Block a Permanent Legislative Solution on Immigration?  Given the fact that Republicans in Congress have blocked immigration reforms in 2006, 2007, 2010, 2013 and 2014, and given the likelihood that Republicans will still control at least the House of Representatives in 2017, will you commit to keeping Obama's executive actions in place until legislation is enacted, or will you undo them before legislation is enacted?
         Question 3: Since You Have Stepped Back from Your Support for a Pathway to Citizenship for Undocumented Immigrants, Would You Sign Legislation That Bars Citizenship?  As President, would you sign an immigration reform bill that allows undocumented immigrants to apply for legal status, but prohibits them from ever becoming citizens?