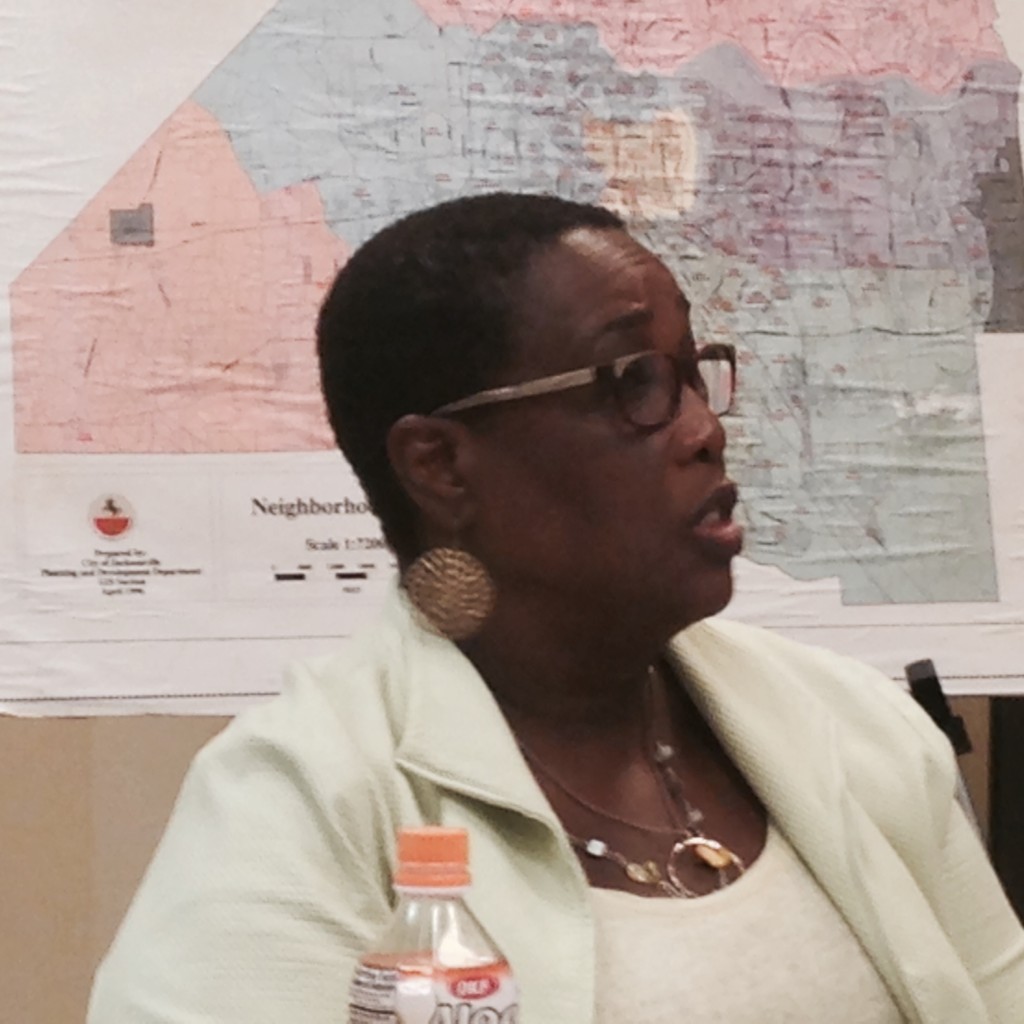 As we reported on Monday, Denise Lee  will be serving in the Lenny Curry administration as Director of Blight Initiatives. After her Blight Committee meeting as part of the Curry transition operation at Jacksonville University, we were able to sit her down for an interview, in which she talked about working with Chief Administrative Officer Sam Mousa, about where the Alvin Brown Administration dropped the ball on blight, and so much more.
The first question I had for Lee was about how she got the job.
"Last Friday, I met with Sam Mousa. He made an offer. I had already spoken to him," Lee related, and so she knew that Curry prioritized neighborhood revitalization, with blight remediation being central to that task.
Lee will serve as an aide to the mayor, she added, and will be directly reporting to Mousa and Curry, heading up Blight Initiatives, of which there will be many.
"I will be calling in divisions and agencies regularly, having meetings to deal with blight," Lee continued. As those who have been in her Blight Committee meetings at Jacksonville's City Council know, Lee leaves no detail unaddressed; topics like right of way mowing are subjects of unbelievably nuanced discussion.
"A lot of this was started through the Council process," and under the direction of Mousa, Lee will be "working directly with different agencies, making sure there's follow through, and monitoring progress."
From there, we discussed a phrase that many quote Lee as saying, without relevant context: "human blight."
Lee doesn't believe the criticism is warranted, coming from a "minute group of people who have probably never attended a Blight meeting."
The phrase has generated "very little calls, one or two in two years about that word. I've got more support," she said, "from the average person, who says Ms. Lee, all they do is stand on the corner all day long."
"It's not a negative word," Lee continued. "We have a problem with blight in two areas," the "physical environment" and this "issue with blight" that is "creating a path to neighborhood deterioration. It's not done by osmosis. It's done by humans because that's who creates it."
Lee asserts, drawing on a discussion in Tuesday's committee meeting, that the Alvin Brown administration missed opportunities relative to blight mitigation that were brought out by its own Transition Committee.
"Four years ago, issues directly related to blight" were raised; "none of those recommendations were taken up by the administration."
She expects better results from Team Curry, where she will work with the aforementioned Mousa, as well as Chief of Staff Kerri Stewart and Chief Financial Officer Mike Weinstein.
"I have very good relations with them. I've worked with all of them before. They get things done; all of them."
Lee described Stewart as "clued in to the community," said that Weinstein had a "wealth of knowledge," and described Mousa as a problem solver, a "pointman in many things" who is known for "cleaning house and straightening out" processes.
One goal Lee has is strengthening neighborhood associations. There is a paradox in play with the most blighted neighborhoods that I see; a transient, renter population.
Lee doesn't see that as a prohibitive deterrent.
"Absentee landlords are a problem," she said, "but there are a lot of good renters. And they deserve quality of life."
Lee cited a neighborhood association she helped bolster on 8th Street, in which 90% were renters, as an example.
"The neighborhood turned around," she said, adding that "outreach is key" and that making the effort is essential to achieving positive outcome.
Lee looks forward to the "restoration of a full-blown Neighborhoods Department" to help facilitate positive outcomes.