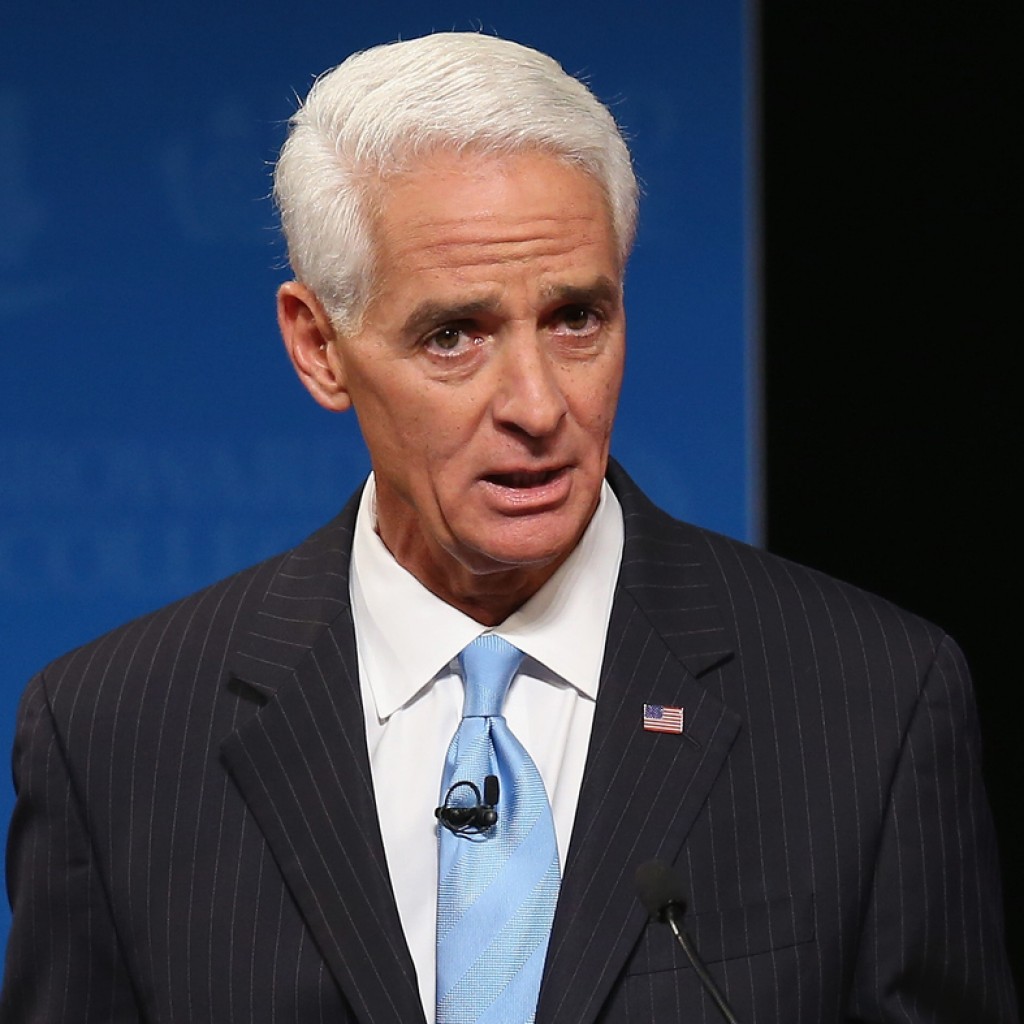 While thinning files last week, I came across one labeled "Crist" and wondered whether to dump it. After successive losses for the U.S. Senate and for governor again, hadn't Charlie reached the end of the line?
No, I thought, something will happen to bring him back.
The next day, something did.
It was the Florida Supreme Court's dramatic decision to order major changes in eight of Florida's gerrymandered Congressional Districts. Among them are the 13th, lying exclusively within Pinellas County, and the adjacent 14th, which combines a mainly Democratic and black part of that county with a much larger and predominantly Democratic population in Hillsborough.
However they are redrawn, said the court, neither district can cross Tampa Bay — a nod to the compactness factor prescribed by the anti-gerrymandering initiatives voters overwhelmingly approved five years ago.
In practical terms, that means moving nearly 47,000 Pinellas voters back home to District 13, and as some 38,000 are registered Democrats, there goes the district's narrow Republican advantage. It's no longer particularly friendly to GOP incumbent David Jolly, and it's made to order for a certain lifelong resident and fairly recent Democrat named Charlie Crist.
Would he run?  I posed the question in an e-mail to the ex-governor at his wife's St. Petersburg clothing boutique: Yes? No? Maybe?
 "Perhaps," he replied.
That's as close to a declaration as could be expected before the new maps are made. The Daily Kos Elections Morning Digest reports Crist has sounded out a friendly county commissioner about his chances.
This scenario is as rich in irony as any that a novelist might invent.
It was a gerrymander that began Crist's political career in 1992 — a contorted Florida Senate district that's the direct ancestor of the congressional scheme now being undone.
In that instance, black Democrats colluded with Republicans, who were the legislative minority then, to create a Senate district tailor-made for Rep. Jim Hargrett, an African-American from Tampa.
It linked the predominantly black neighborhoods in south St. Petersburg and Clearwater with others in Manatee, Hillsborough and Polk Counties. The map was so grotesque that it was nicknamed the "Bug Splat" district.
That made it possible to create a predominantly white and Republican district in Pinellas that also crossed Tampa Bay to take in a necessary but lesser number of Hillsborough voters.
Among them was Democratic Sen. Helen Gordon Davis of Tampa, who lost to Crist's challenge. Another casualty was Democratic Sen. Jeanne Malchon of St. Petersburg, whose home lay at the end of one of the longest tentacles in the made-for-Hargett district. She retired rather than oppose him in a primary.
One of the ironies is that it was the Florida Supreme Court which imposed the Bug Splat. While admitting that it was "more contorted" than suggested alternatives, the court's majority believed that the federal Voting Rights Act required whatever it took to create majority black districts.
The U.S. Supreme Court eventually said otherwise, and subsequent legal action produced a shrunken but still obviously gerrymandered cross-bay Senate district. That too is likely to go in pending litigation.
In 2002, with the Republicans having gained control in Tallahassee, they cited court approval of the Hargrett district as precedent for doing the same thing — spanning Tampa Bay — to make what's now Congressional District 13 forever safe for the venerated Republican incumbent, C.W. Bill Young, and any eventual GOP successor.
In 2012, the Legislature packed even more Pinellas blacks into the 14th. But in the interim, voters had ratified the "fair districts" initiative that prohibit gerrymandering for the sake of any political party or incumbent.
As the Florida Supreme Court warned in an earlier stage of the current litigation, "there is no acceptable level of improper intent." The improper intent was evident not only in the results, but in the machinations of Republican redistricting consultants and their frantic efforts to keep them secret.
It's important to note that the current vindication of the people's right to fair elections hangs on a slender thread. Two Florida justices dissented, and they'll be in the majority by 2019, before the next redistricting, once Rick Scott's wholly owned nominating commission has picked four more justices. Scott will be gone, but his commissioners won't be. The "Fair Districts" standards are only as good as the Supreme Court is able and willing to enforce them.
There was an exceptionally caustic dissent from Justice Charles Canaday, joined by Justice Ricky Polston — irony again: They were two of Crist's four appointees — who objected to what it called "a serious violation of the separation of powers."
It may be. But when the legislative branch of government abuses its powers by custom-designing its own districts, the people's only salvation — the last, best hope of their democracy — is for the courts to intervene.  In deference to the Legislature — a policy the court finally repudiated last week — the judiciary was not protecting the people.
History teaches that no legislature, whether Democratic or Republican, can be trusted with the redistricting process. Now that the U.S. Supreme Court has upheld the Arizona initiative to vest the entire duty in an independent commission, the time is right for Florida citizens to do the same. The time is now.
Martin Dyckman is a retired associate editor of the St. Petersburg Times. He lives in western North Carolina.