A petition directed to the Baker County Board of Commissioners, from local lawyer John M. Phillips and other in his Florida Justice organization, on Change.org says it plainly: Remove the painting in the Baker County Courthouse depicting the Ku Klux Klan and other divisive imagery.
An African-American court intern, meanwhile, said regarding the Klan depiction that he "didn't notice at first until it was pointed out to me."
A local non-denominational preacher, John Raulerson of the Raiford Road church, referred to this current issue in the context of Dylann Roof's massacre of nine people in a Charleston SC church.
"It stirred up political bull," the reverend said, driving people to "be afraid of history."
The Confederate flag and the Klansmen, depicted in the four panel mural, are "part of history" and "rewriting history to say that hadn't happened" is inaccurate.
"Are you proud? No. But if you don't know history," he added, you are in danger of repeating it.
"We still have a proud heritage, even though there's warts," the reverend, whose family has been in Baker County since the War of 1812 said.
Raulerson contends that the painting does not reflect racial strife.
"We were in school when it was integrated. There were no issues here," he said.
"There's racism in every part of society," he added, but there has not been "tremendous tension."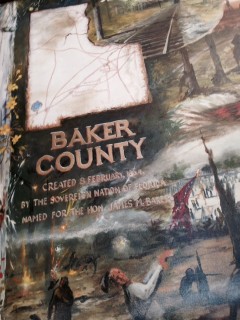 Regarding the Confederate Flag in the painting, Raulerson said that "the flag is being used as an excuse… to not deal with the real issues out there."
A 36 year old construction worker, born and raised in MacClenny, was probably the most impassioned supporter of the mural.
He had given me his name, but thought better of it, as he is on probation.
"This is part of our history. It's been here since 2001 and ain't no one ever had a problem with it."
"I live in a black community," he continued. "My neighbors are black."
"They just need to leave it alone. Ain't nobody racist around here. We wasn't brought up to be racist. This is our culture," he added.
Pointing to the painting, he said, "White man, black man, his wife… that's our history. Ain't nobody around here racist, and if they are, they moved from the city."
The construction worker on probation got more exercised as the conversation continued.
"Leave our shit alone! A lot of people come from big cities and don't understand southern heritage."
The petition from Change.Org has a different take on "southern heritage," of course.
"This painting is very disrespectful to the living. It also is a lie. It does not tell the story of the Native Americans or blacks as it existed- the murderous raids, rapes or lynchings. In fact, this painting stands as an offensive reminder of lawlessness masquerading as history. As a father of someone in the next generation, as a lawyer who practices on occasion in that courthouse and as an American under God, I implore you to remove this painting from the Courthouse," Phillips wrote.
I exchanged messages with Phillips on Wednesday afternoon on locals' defense of the painting.
"We are speaking soon with experts about the deeper symbolism. It's not just a small depiction of the Klan. It's not only the heritage it omits of lynched blacks and desecrated native Americans. We are investigating some deeper numerology and symbolism," Phillips said.