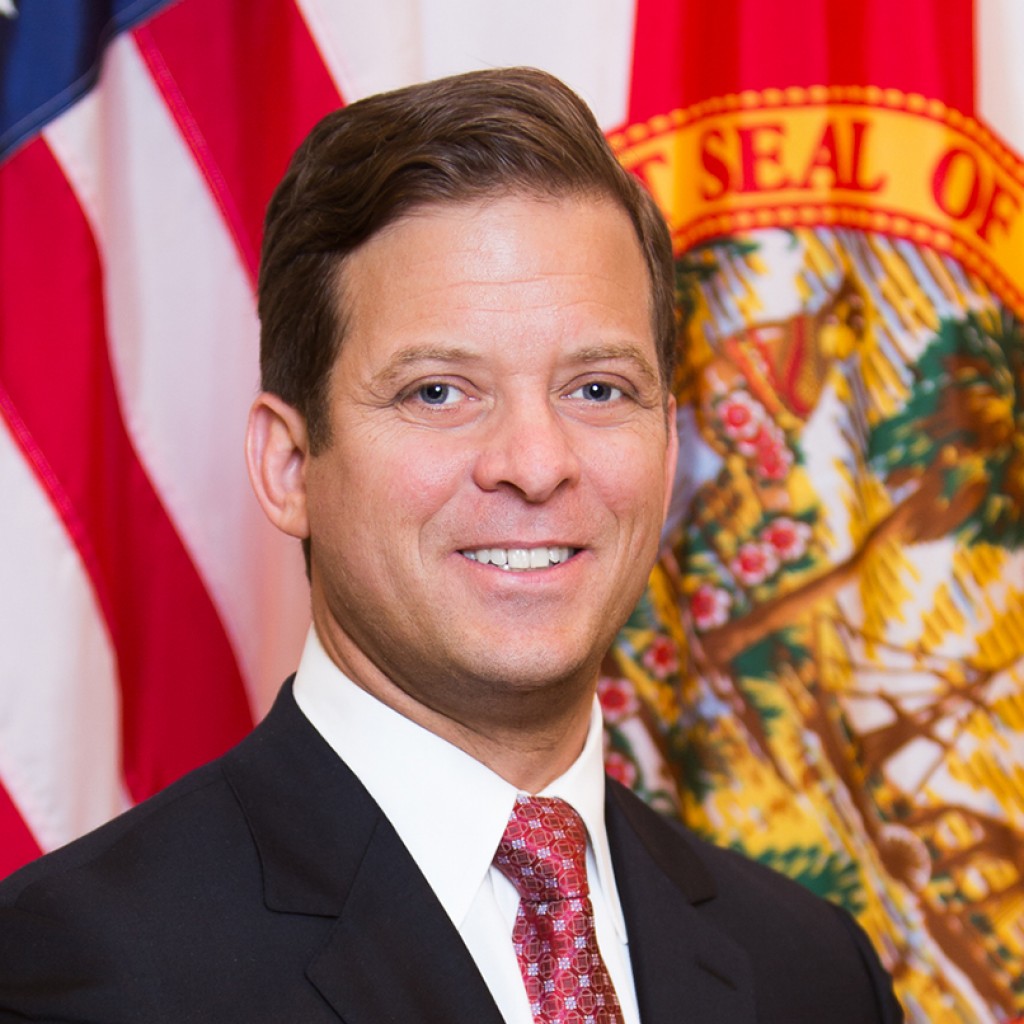 Lieutenant Governor Carlos Lopez-Cantera knows what he's dealing with early on in this crowded Florida Republican Senate Primary. He's Mr. 305 in this race: one of four candidates, all of whom have their sectional appeal, but none of whom have found a real way to develop statewide appeal.
CLC, as a holder of a statewide office, theoretically has a built in advantage. The challenge for him, as shown during his first NE Florida trip since declaring his run for Senate last week, is going to be developing a persona that galvanizes voters beyond the Miami-Dade metropolitan area.
As of yet, he's taking the high road. I spoke with him for a few minutes before he addressed the Republican Party of Duval County at their monthly meeting. He was very cordial; very polite. But there wasn't a ton of fire.
Regarding David Jolly jumping into the fray, CLC's comments were measured: "welcome to the race," he said.
And regarding his visit to NE Florida, and how he can make inroads, he said he wanted to show people here he was "working hard" and "what kind of Senator [he] can be."
He believes he can find traction in the 904. Jacksonville is a "conservative community," he said, that likes conservative politics and politicians.
I asked him about the negative pieces that have come out on his record. CLC was calm in answering.
The Democrats, he said, are "pushing that narrative. They're concerned with me being in the race because they know I can win."
Despite the campaign, he added, "state business always comes first."
That state business, he added, included shrinking the budget to "probably the lowest point it's ever been" for his office, as well as passing on a security detail (as he joked during his speech: how many people are trying to hurt the Lieutenant Governor?)
Toward the end of the interview, I asked him the question d'jour: his thoughts on GOP Presidential frontrunner Donald Trump.
Trump's comments about McCain were "disrespectful" of a man who "encompasses what heroes are," the Lieutenant Governor said.
I did not ask him about Cuba; I figured the subject would come up in his REC speech. I was right.
CLC led off with an acknowledgement of Jacksonville being "big" for the Scott/Lopez-Cantera campaign, and gave former chair Rick Hartley credit for doing a "great job" in that campaign.
For Lopez-Cantera, speaking at REC meetings is especially significant: he was a state committeeman in Miami-Dade.
From the introduction, the speech proceeded to remind Jacksonville Republicans that, on the campaign trail, he was "usually tearing Charlie Crist to shreds" and, as Floridians, we shouldn't let Crist go to the United States Congress.
The Lieutenant Governor then hit a theme that worked well for Lenny Curry in the mayoral campaign. He talked about his wife and his two daughters as being the "beginning and end of his life."
Beyond that, the speech hit Republican themes, such as less taxes, less government, and more freedom. There were also brief summaries of what he'd done previously in his political career. From his tax cutting stint in the Florida House to his tenure as Miami-Dade Property Appraiser and his distaste for property taxes as "the only taxation that does not recognize what goes on in your life," it was very much a resume' speech, not one that moved hearts and minds.
Even the part of the speech where you might have expected fire (the Cuba section) didn't provide it. A sample: "Cuba, by the way, is still Communist," he said, by way of criticizing President Obama for normalizing relations.
As the Lieutenant Governor said, he's won election in a blue county, Miami-Dade, while running as an "unabashed Republican." On paper, that augurs well for him. On the trail, though, it doesn't seem like he's quite put it all together yet.
That said, the same could have been (and was) said about Jacksonville's Mayor Curry early in his campaign. Curry found ways to tell stories on the stump, and to take mainstream conservative rhetoric and make it tug on the heartstrings. CLC has already figured out that it's good strategy to talk about the family when running. What he will need to do, and quickly, is figure out how to forge an emotional appeal with voters in the northern part of the state who don't know him.
Being an effective conservative standard bearer, from Reagan onward, means that you are able to make a crowd mad and make their eyes well up in the same speech. CLC is a nice guy. But that's a skill he didn't demonstrate in Jacksonville. And the eventual nominee from the GOP, rest assured, will have the emotional appeal down pat.