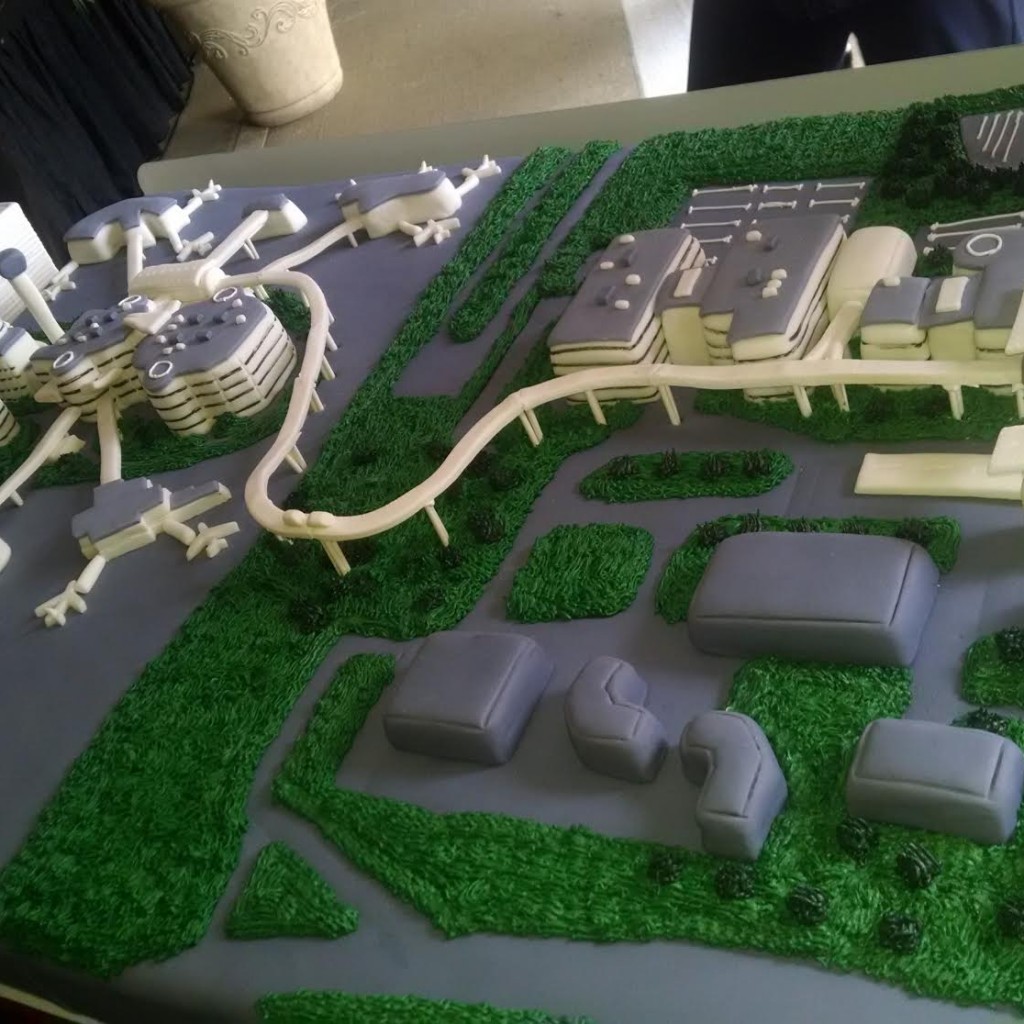 A ceremony heralding the groundbreaking for the $943 million master plan for Tampa International Airport took place Thursday morning, and it was a major production indeed.
Held on the roof of the airport's economy parking garage under a large tent equipped with heaters, wide screen television monitors, and 60's style flight attendants, the event was packed with over 500 people in attendance, including much of the Tampa Bay area business and political establishment elite. In fact there were so many big-shots in attendance, that there had to be multiple shovel turning photo-ops.
The expansion, scheduled to be completed in 2017, is expected to create or save 9,000 construction jobs and and create more than 1,100 permanent jobs. And of that $943 million, $122 million is being committed to disadvantaged, women and minority-owned businesses, something that recently named Senate Minority Leader Arthenia Joyner hailed in her remarks to the crowd. "Half of the 72 contractors on the project are minority and women owned businesses. This airport continues to take the lead. We're the economic engine, we're the crown jewel. We lead in diversity in our contracting."
Kicking off the speeches was TIA CEO Joe Lopano, who was greeted with a standing ovation when he made his opening remarks. He said the ceremony was being held on top of the economy parking garage because in three years there will be a 2.6 million-square foot consolidated rental car center constructed behind where he stood, along with a transit station for the airport's people mover, located 1.4 miles away from the main terminal, estimated by itself to cost $318.7 million. "It's totally awesome, and it's on," Lopano gushed. "It's underway."
The master plan was approved by the Hillsborough County Aviation Authority in 2011, and its considerable costs (most of which will be paid by the airport itself) were given a boost by the state, after members of the local legislative delegation approved a $194 million appropriation from the Dept. of Transportation budget, which was ultimately signed by Governor Rick Scott, who was praised often by officials today for his support.
In a classy move, Aviation Authority Chair Robert Watkins remembered two former key board members on such a momentous occasion in the airport's 43-year-old evolution: Al Austin and Steve Burton. Austin was the longest serving member on the authority before he stepped down in 2011, and ultimately passed away earlier this year. "He was perhaps the airport's most dedicated supporter," Watkins reminisced.
Burton served on the Aviation Authority for four years, but he made a big impact before passing away due to complications from a heart transplant in April of 2013. His drive to have the airport pursue more direct international flights led to a clash with former TIA CEO Louis Miller, prompting Miller's resignation and bringing Lopano to Tampa in late 2010. "I am sure he is smiling down on us today and celebrating with us as we begin this new chapter in Tampa International Airport," said Watkins.
Perhaps it's because there are few other things in the region that are considered world-class, but Tampa Bay area residents have always taken an extraordinary amount of pride in their local airport, which throughout the years has been recognized in trade publications as one of the nation's finest. Several speakers today referred to the airport as the Bay area's "crown jewel," and Watkins said,"To a person, whenever I talk to friends or neighbors about Tampa International Airport, they all say TIA is the best airport in the world."
Never shy of sprinkling on some hyperbole on such occasions is Bob Buckhorn, and Tampa's Mayor did not disappoint in that respect on Thursday.
"This is a world class airport," the Mayor said. "And what's going to to happen here today, and the next couple of years, will seal our place on that international stage. Because as we go tell Tampa's message to the world, as we open up the doors to businesses as well tell Tampa's story in English and in Spanish and in whatever language that you speak, this is an opportunity for us to continue that forward progress. That those best days are out in front of us. This is a community – I want you to listen. This is a community whose time has come."
Airport officials say the entire construction project is expected to have an economic impact of $370 million on the area, and it will begin before the end of the year.
Other elected officials who took part in the ceremony today included state Representative Dana Young and state Senator Jeff Brandes. When recently anointed Hillsborough County Commission Chairwoman Sandy Murman took to the stage, she called on the man she succeeded, term-limited commissioner Mark Sharpe, to join her on stage.