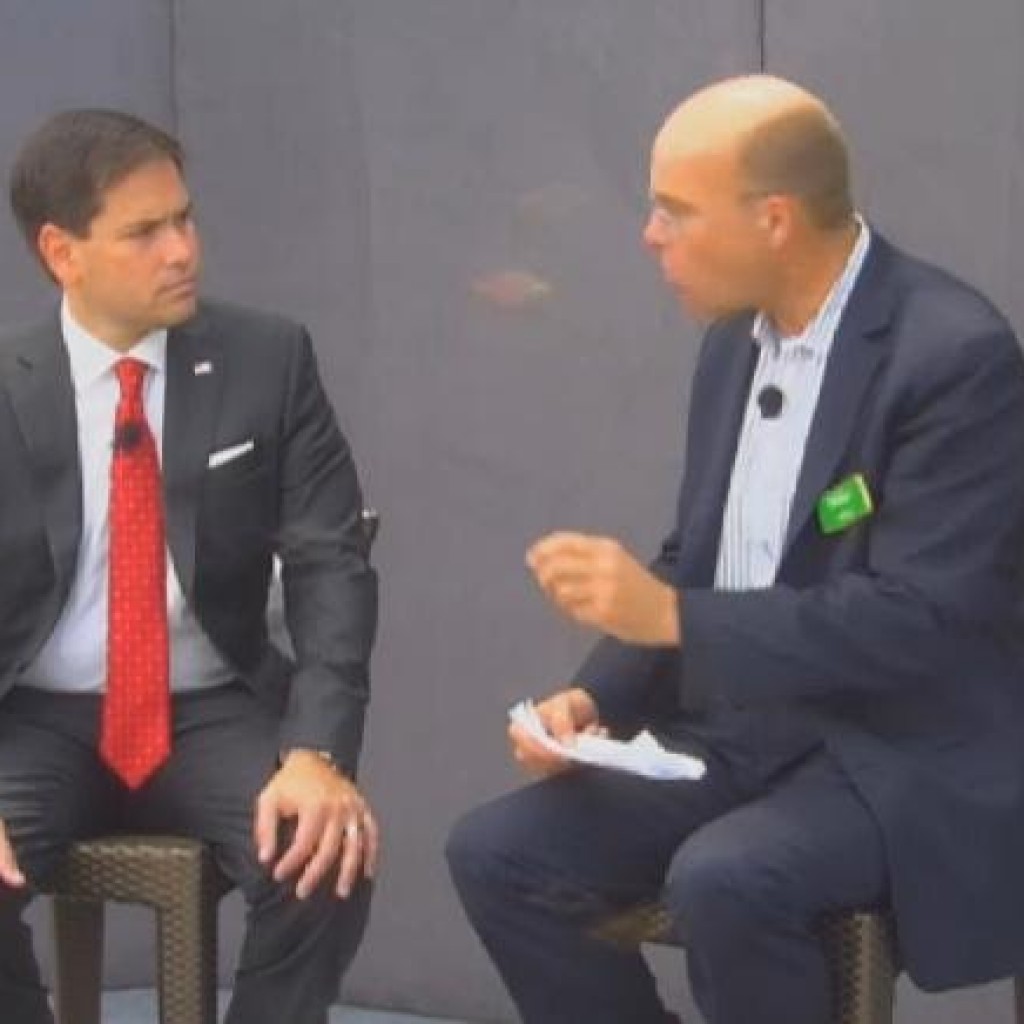 Marco Rubio said Sunday that the government should not be shut down this fall unless Planned Parenthood is defunded, but did say that he supports a proposal to take the federal money that currently goes to that organization and instead spend it on community health care clinics across the nation.
"That's a false choice," Rubio said when asked that question by POLITICO's Mike Allen in a conversation at the St. Regis Monarch Beach luxury resort, in Dana Point, Calif.
"First of all, I don't know how anyone can continue to justify funding an organization that's been exposed the way it has," referring to recent controversial videos that have been posted that accuse the nonprofit organization of selling fetal tissue. "I believe in the plan that many are furthering, that would take the money that today we put in that organization, and give it instead to community health organizations that are providing the same care, without the abortions," adding that millions of Americans are "outraged" that the group is "clearly operating in a fashion that is offensive to millions of Americans."
"I don't think you should shut down the government to do that," he said. "I think the question that you should be asking is of the Democrats – are you willing to shut down the government in order to defend Planned Parenthood, as opposed to us being asked that way?
Rubio was one of five Republican presidential candidates who spent the weekend hanging out at the Koch Brothers network's annual summer meeting in Dana Point. Ted Cruz, Jeb Bush, Carly Florina and Scott Walker also participated at the event, and five candidates were scheduled to be interviewed by Allen.
When asked about the recent series of deaths of blacks by the hands of local law enforcement officials across the nation, Rubio said that relations between the police and the African-American community is at an all-time low. "The bottom lline is, we have millions of Americans, particularly young African-American males, who feel, who tell me they have been stopped in any given year, 10 to 12 times, and they believe they are being targeted because of their race. That is deeply concerning. I don't know that there's a law we can pass in Congress to change that, but I do think it's incumbent upon local communities to improve the relationship between law enforcement and the community they're there to serve and protect."
While considered to have a solidly conservative record in the Senate since his election in 2010, Rubio has been accused of hypocrisy by those same conservatives for his vote to save the federal sugar program.
But as he's done in the past, he defends the use of corporate welfare in this case, saying that Brazil also subsidizes its sugar, saying, "I'm prepared to say, absolutely, we should change the law so that as soon as countries get rid of theirs (subsidies) we get rid of ours, and then it will be a free market for being able to sell food, otherwise, these other countries will capture the market share."
Rubio attempted to shake off the latest national poll of GOP candidates. Of the NBC News/Wall Street Journal that has him behind Donald Trump and five other Republicans with 5 percent support, he said he's been up and down in polls since declaring his candidacy.
When asked to explain why Trump continues to lead the field (with 19 percent in this poll), Rubio attributed (or blamed) his success to the public's intense disaffection for Barack Obama's policies and lack of leadership.
"I don't think you should underestimate how frustrated people are at the inability to make progress," he told Allen. "Eight years ago we were promised hope and change, and instead what we got was division, instead what we got was a president who deliberately pitted Americans against each other. Instead of new ideas we got the old ideas that more government and more spending, more taxes, more debt, were to lead us out of of this situation that we're facing, and people are frustrated by that."
He added that the public wants to see someone who is passionate in overcoming our problems as a nation, and, "Mr. Trump has tapped into some of that."