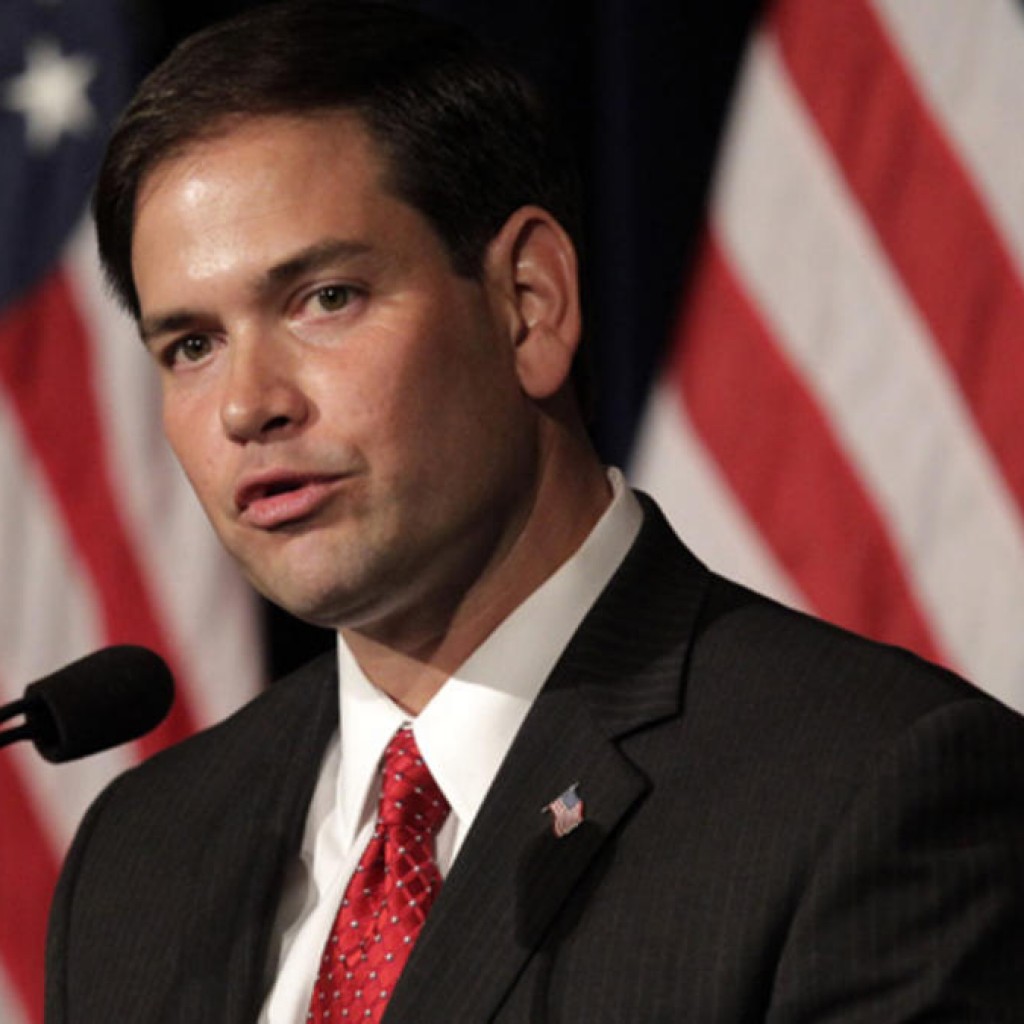 The presidential campaign of U.S. Sen. Marco Rubio is floundering. Our publisher, Peter Schorsch, laid it bare Monday morning: "I hate to keep dogging a fellow Floridian's chances of winning the White House, but Rubio's campaign really needs a 5-Hour Energy Shot."
Rubio is down in the polls. Schorsch's theory, that Rubio's message boils down to "American Exceptionalism or bust," presents an wake-up call. Can Rubio diversify his message in time to rescue his faded poll numbers? Monday night's appearance (via satellite from D.C., along with U.S. Sens. Rand Paul and Ted Cruz, on what looked like the '80s Crossfire set) at the Voters First Forum in New Hampshire (as the last of 14 candidates to speak) was a golden opportunity to see whether Florida's junior senator can turn his campaign around.
With just a few minutes to speak in the first round of questions, Rubio's chance to sway the audience boiled down to an elevator pitch. The last of three speakers from D.C., Rubio got to see the effects of the time delay on Paul, making the Kentucky senator seem more stilted than usual. Cruz, a top-flight college debater from his days at Princeton, did a bit better, explaining that the three senators were still in D.C. because they had to vote to defund Planned Parenthood.
Still, by the time that Rubio spoke, he was the 14th speaker talking to a crowd that had been watching Republicans answer questions for an hour, two of them via video link. It was a tough draw by any reckoning.
The first question that Rubio faced: Should medical marijuana be a narrowly written law?
Rubio baldly stated that he doesn't support legalization, however, medical cannabis could be approved if it goes through an FDA process. Rubio referred to marijuana as an "intoxicant," and then pivoted to opiates leading to heroin abuse. Rubio would be willing to explore marijuana as "legitimate medicine."
The questioner pivoted to illegal immigration. Conscious of time, Rubio cut off the questioner.
"People … want to see the fence created … more drones and ground sensors," he said. Rubio also advocated an "entry-exit biometric system" as the key to make progress.
From there, Rubio advocated modernizing the legal immigration system, basing it on "merit … what you can contribute economically." From there, "there is a reasonable way" to deal with illegal immigrants, giving them a work permit and beginning a pathway to them applying for a green card. Eventually.
From there, the discussion turned to the mood of the country.
"That's actually the fundamental question of this election," he said.
"Our economy has rapidly changed," citing Amazon, Air B&B, and Uber as examples.
"The world is changing," also, he said, pointing out threats posed by Iran, Russia, and China, as well as radical jihadists.
"Clear ideas such as I have offered," Rubio said, are the solution to the existential crisis.
The second round of questions gave Rubio a chance to respond to Paul's critique of government data mining of telephone and Internet records.
Rubio said now is a "more dangerous period than any we have lived through before," citing threats posed by ISIS and Al-Qaeda and other groups designed to recruit radicals.
"It's not a question of if we're attacked, it's a question of when we're attacked," Rubio said.
If information is used wrongfully against American citizens, he continued, "There are laws for that."
In his closing 30 seconds, he traced his journey from humble origins, describing that journey as "the essence of the American dream" so that we "can save and rebuild the American dream."