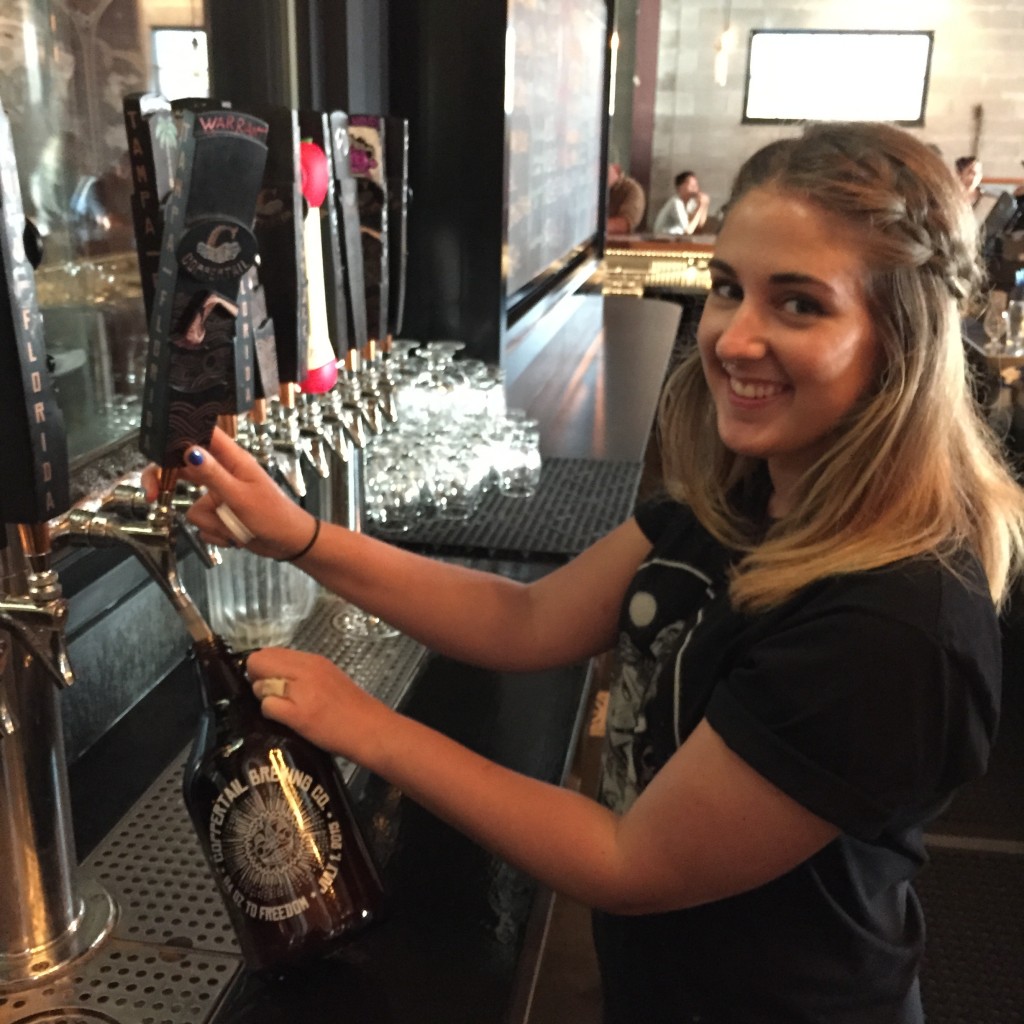 In the beer world, a growler is a vessel used for transporting freshly brewed beer. The legend goes that the name came from the sound of carbon dioxide escaping from beneath the lid of the metal pails used in the 1930s to transport beer.
These days, growlers have evolved into glass jugs.
The escaping gas? It's more political in nature.
For three years, Florida's craft beer proponents fought to get the Legislature to change state law to allow craft breweries to fill half-gallon growlers.
To beer lovers, the struggle to update the law seemed odd, especially considering that containers up to 32 ounces and greater than 128 ounces already were legal and that 64-ounce growlers were standard size almost everywhere but Florida.
But each year opponents attacked the effort, saying the change threatened to dismantle the state's three-tiered system of regulating alcohol sale by placing distributors between producers and consumers. Craft beer makers said the argument was more of an attack on their use of tasting rooms to dispense directly to customers, citing no similar size restrictions on wine or spirits.
In April, the law finally changed to allow the 64-ounce size. On July 1, victorious craft breweries and stores were allowed to fill the midsize jugs.
The result has been something far short of a sudsy cataclysm.
Kent Bailey, owner of Coppertail Brewing in Tampa, said growler sales went up 70 percent for the first half of July. During the first week, they filled 130 of the 64-ounce growlers as beer lovers prepared to celebrate the Fourth of July. The second week, that number dipped to 90 fills.
Now? Zeus Cordero, tasting room manager for the brewery on Adamo Drive, says they're back to filling about 65 a week, the previous average prior to the law change.
Cordero said that while revenues are not being largely affected by the additional size so far, it has given beer-loving tourists another option to enjoy craft brews while in town. He also expects a sales bump during football season and through the holidays when beer fans give growlers as gifts and others take seasonal brews to gatherings.
"Craft beer has such a high level of out-of-town customers and people who travel for beer that they were getting turned down a lot without that 64-ounce size," he said.
One bump they have seen is in sales of Coppertail-branded growler containers. The brewery ordered 110 special-label $10 growlers to sell before the law took effect. They sold out in just a few hours when they went on sale a few weeks before the July 1 change. Another 25 stainless-steel growlers selling for $50 were equally as popular.
"We only ordered a few because because of the price," Bailey said. "We sold through those within a week. We ordered another 70 and sold through those, too. Growler collectors fueled much of those purchases. Having varieties of beer at tasting rooms not available in cans also helped growler sales.
"In talking with other breweries, a lot of us didn't anticipate the demand," Bailey said.
Julia Rosenthal, co-founder with husband Ken of Pair O'Dice Brewing Co., in Clearwater, saw a similar trend during early July. It's too soon to tell whether customers are preferring the 64-ounce bottles to the 32-ounce size.
Growler sales help their business because their brew won't be available in cans until later this year. She said Pair O' Dice didn't fill the gallon-size growlers because of the likelihood that the beer would oxidize and go flat by the time it would be consumed. The 64-ounce growlers are perfect for picnics and parties because they're equal to about the same volume as a bottle of wine.
"The 64 is the largest we'll fill," Rosenthal said.
Cigar City Brewing tasting room manager Neil Callaghan said the prior restrictions were "frivolous regulation that did nothing toward its stated goal of consumer protection from over-consumption."
Callaghan said the victory is more symbolic than one that affects day-to-day operations. Cigar City has seen overall growler sales increase modestly, though the 32-ounce fills remain the most popular option.
"Overall, the lifting of the 64-ounce growler ban has shown that our legislators acknowledge and appreciate the impact that craft breweries have on the economy and the culture in Florida," he said. "The ban was a minor but significant hurdle placed between our brewery and our consumers and we're thrilled that it's no longer on the books."
The next legislative obstacles to overcome, said Rosenthal of Pair O' Dice, are regulations insisting that free microbreweries under a certain production amount from using distributors, and franchise reform that insist that distribution agreements continue for the life of the business.
"We should be able to renegotiate those contracts after a certain period of time," she said. "Other states allow renegotiation after five or 10 years. In Florida, there needs to be an end date."