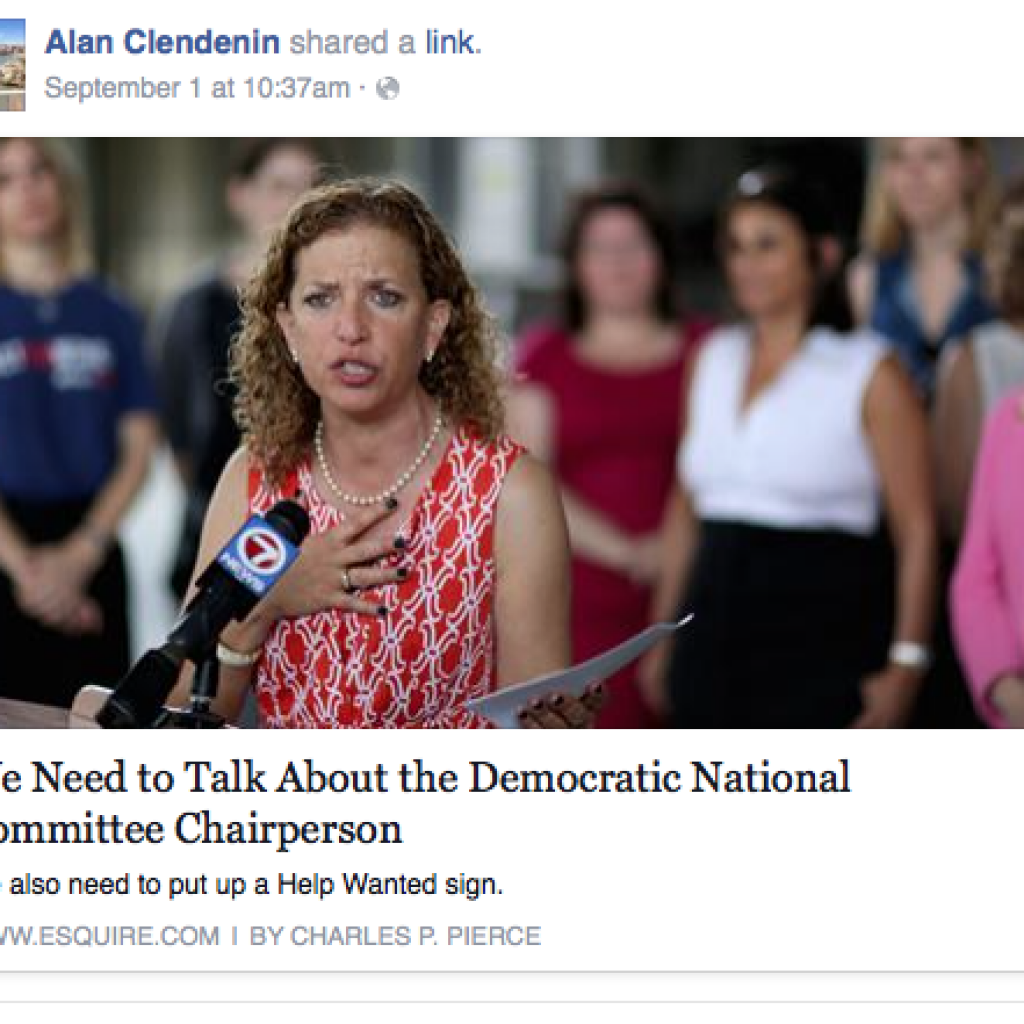 Debbie Wasserman Schultz was in Tampa last week for a fundraiser for the Florida Democratic Party, and when she confronted Alan Clendenin, things got a little chilly.
It was "as good as it always goes," says Clendenin of the strained meeting that took pace at the law offices of Swope, Rodante in Ybor City.
Although the two mix like "oil and water" (in Clendenin's words), the tension was even greater than usual because the day before, Clendenin had posted a story about Wasserman Schultz on his Facebook page penned by Charles Pierce in Esquire, that blasted DWS' accomplishments as party chair.
Clendenin is the 56-year-old State and Democratic National Committeeman from Tampa who came close to becoming the party chair of the Florida Democratic Party in 2013, losing out by 80 votes out of over 1,000 cast to Allison Tant. He was given the title of vice-chair.
When asked about the post on Tuesday, Clendenin was not backing down, saying that,"I've gotten a lot of feedback, 95 percent of it has been supportive and positive."
He's hardly the first Florida Democrat to take issue with Wasserman Schultz.
Her occasional views that run up against the party heterodoxy (such as medical marijuana or diplomatic relations with Cuba) have alienated her with some Democrats. And supporters of Democratic presidential candidates Bernie Sanders and Martin O'Malley are quite cross with her these days, unhappy that the DNC is only committing to six presidential debates before the party's convention next summer.
Clendenin says he put up the post after returning from Minneapolis from the DNC's summer meeting. That's where Wasserman Schultz was pressed by DNC members during the parliamentary procedures discussion about expanding the debate schedule. Clendenin says that discussion "got shut down in a very bad way."
"We are different political ilk," Clendenin says of his relationship to the party chair. "I'm a kind of a value progressive grassroots driven activist and she is a Washington institutional backroom dealing politician, and it's just the two of us are just oil and water when it comes to that, because all of the reasons why I identify myself with the Democratic Party… I don't make a living out of politics, I've never made a dime off of politics. Nobody's ever paid me to do anything politically. I do this because of heart, soul and conviction. I want to make my community safe, and the country stronger, better for everybody, and there are other people who don't have that same burden," he declares.
Clendenin is an unabashed supporter of Hillary Clinton for president. But unlike a lot of her supporters, he sides with O'Malley in calling for more presidential debates, and says he's incredulous that the party is okay with only six debates, with only four of them coming before held before the Iowa Caucuses next February, one of which will air on the Saturday night before Christmas.
"Quite frankly the sentiments I've expressed are shared by the vast majority of folks in our party, and believe our party is stronger when we have dialogue and we have discussions, " he says. "I think debates are important. I think that getting those out it helps educate the voters, makes them aware of the election, the positive messaging, the positive policies that are party stands for. It's a ridiculous amount of earned media, and to walk away from that I find that to be negligent, and I think it's counterproductive."
And he says that despite all the personality differences, he says the things that divide Democrats "they will shrink in size to the insignificant to that what will unite us in 2016."
On CNN's The Lead with Jake Tapper on Tuesday, Wasserman Schultz defending only having six debates, saying it's not the only way to reach voters. But she denied that the scarcity of the debates was because the party was secretly backing Hillary Clinton. "We're glad that the candidates are enthusiastic about our debates that is one way that they have an opportunity to reach voters, and the six debates that we will have will be effective in helping them reach our voters in that way, and they'll have lots of other chances to reach voters in other ways."