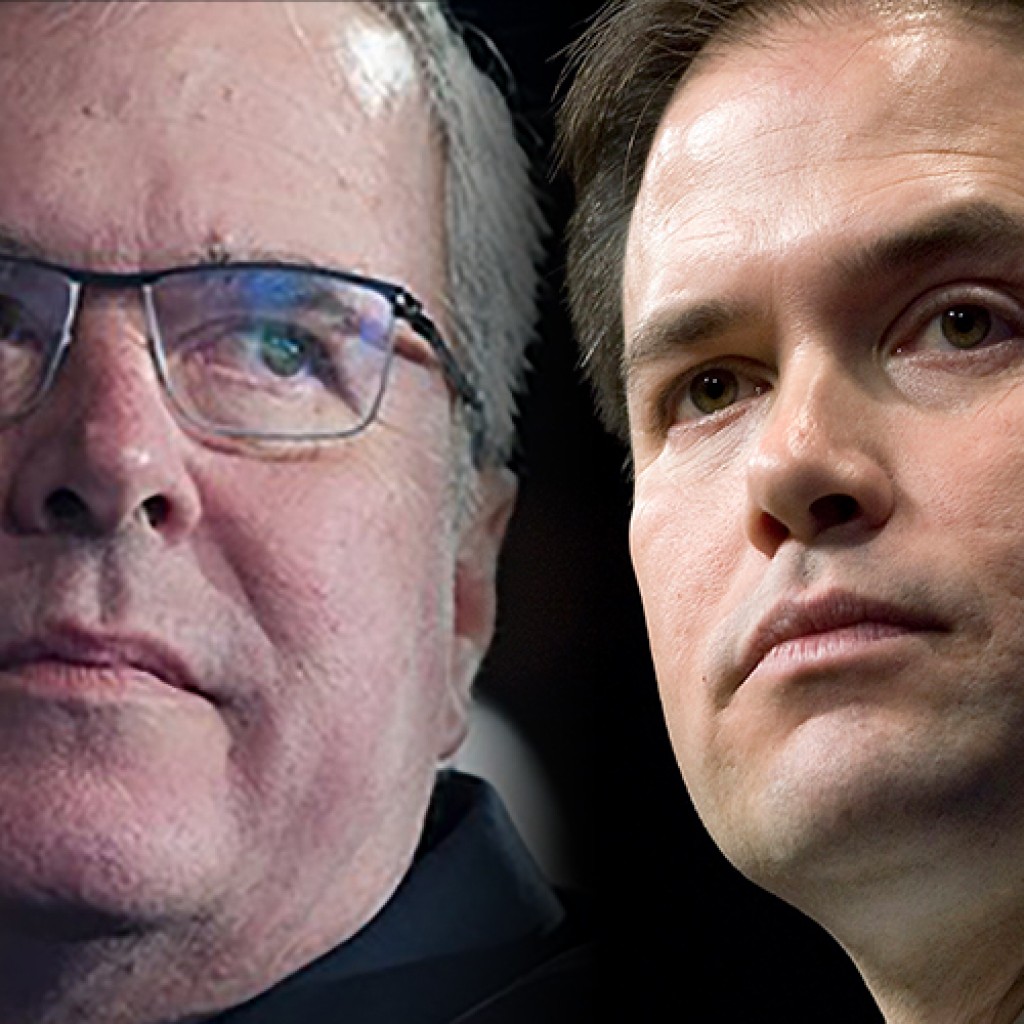 It's still the summer (of Trump), with more than four months to go before any registered Republican voter actually goes to the poll. But at what point do the campaigns of Florida favorite sons Jeb Bush and Marco Rubio start growing seriously concerned?
Conventional wisdom espoused by political observers in Florida and nationally is Bush could still be the likely GOP nominee when the Republicans convene in Cleveland next June. If so, it will be one heck of a story.
A CNN/ORC poll released Thursday morning shows New York City real estate magnate Donald Trump now at 32 percent support, becoming the first Republican in a national poll to top 30 percent this year. Trump has gained 8 points since August. The new poll also finds another nonpolitician, former neurosurgeon Ben Carson rising 10 points to second place with 19 percent support.
And Bush? He's in third place with 9 percent support. That's down 4 percentage points during the past month.
The former Florida governor has begun taking on Trump more directly on the road and in his first TV ad now airing this week in New Hampshire. He also aired a web ad last week and a "quiz" on his website where he also began attacking Trump as being a faux-conservative. To date, however, those attacks are coming up short.
While Bush struggles, Rubio's candidacy craters.
Rubio is at 3 percent in the CNN/ORC Poll.  That's a 5 percentage point drop from August, and  puts him in a tie for seventh place in the new poll, along with Carly Fiorina and Rand Paul, and behind Ted Cruz (7 percent), Scott Walker (5 percent) and Mike Huckabee (5 percent).
Earlier this year, conventional wisdom had it that the top three GOP presidential contenders were Bush, Rubio and Wisconsin Gov. Walker. While there have been a number of stories the past week (such as in this long National Review piece) about how Walker has been afflicted by the Trump insurgency, the two Florida Republicans have also seen their images (along with poll numbers) plummet.
Rubio only actually emerged hot in the polls in the immediate aftermath of his April presidential announcement.
Bush has been a more consistent performer, and for weeks was running 1-2 with Trump in state and national polls. He's now been usurped by the unusual strength of Carson, who continues to get double-digit support since the first GOP presidential debate during the first week of August. Bush is third in nearly every major poll, but behind both Trump and Carson.
For all the 17 GOP presidential candidates, their best hopes to change the narrative could be the second debate(s), taking place Wednesday night in Simi Valley, California. Like the first Fox debate, there will be two debates. The first, with the seven lower-ranking Republicans, airs at 6 p.m. Eastern, with the main event at 8 p.m.
The CNN/ORC Poll was conducted by telephone Sept. 4-8 among a random national sample of 1,012 adults. The sample included 930 interviews with registered voters, 474 of whom were self-identified Republicans or Republican-leaning independents. For results among all registered voters, the margin of sampling error is plus or minus 3 percentage points. Among Republican voters, it is plus or minus 4.5 points.