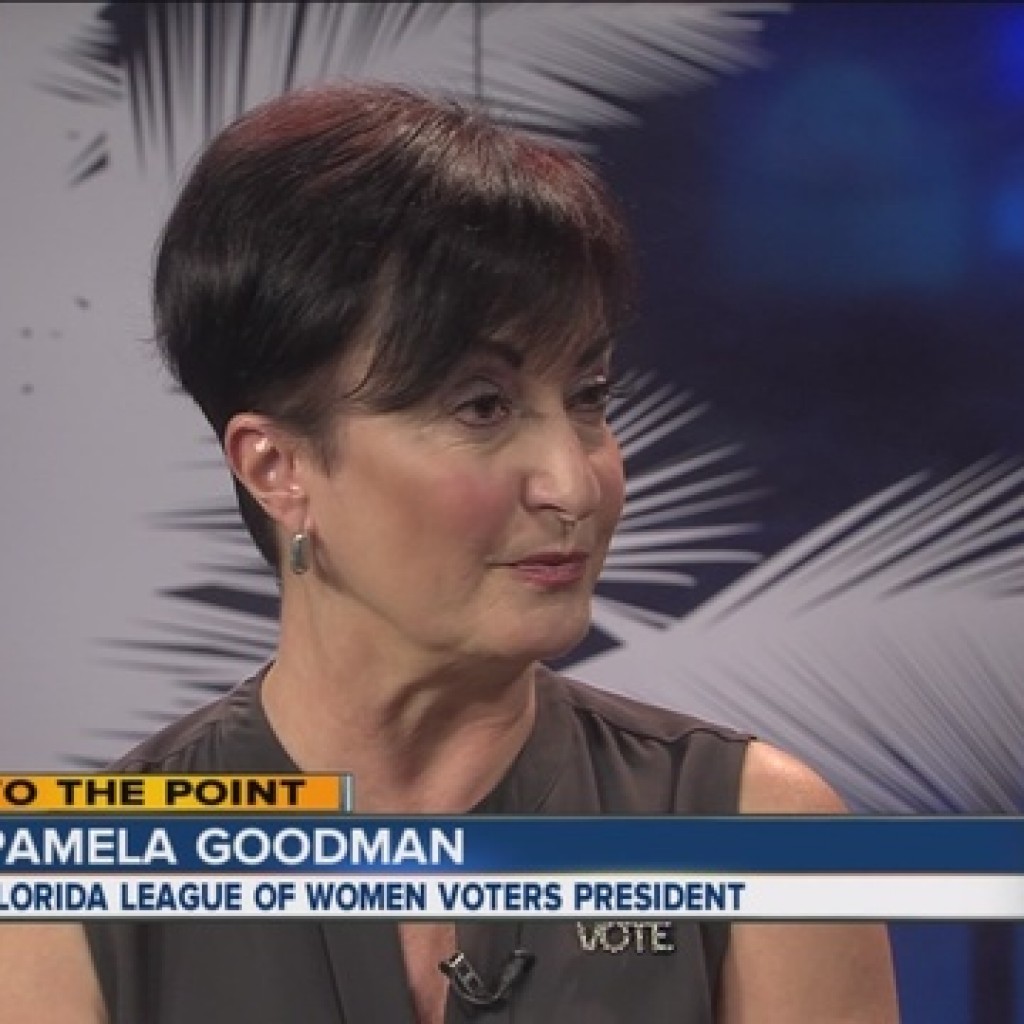 Next Thursday, September 24, an evidentiary hearing will begin in Leon County Circuit Court Judge Terry Lewis's courtroom in the Florida Congressional redistricting case. There will be a total of seven maps presented to the court, including ones provided by the Florida House, the Florida Senate (2 maps), a coalition of voting-rights groups (3 maps) and another group of voters.  Among those coalition of voting rights group is the Florida League of Women Voters, who have been a key organization involved in the case, going back to 2008 when they began working with three other organizations on getting the Fair Districts amendments 5 and 6 on the 2010 ballot. In July, the Florida Supreme Court ruled that the Legislature violated the Fair Districts amendments in the state Constitution when they created the congressional maps in 2012.
Pamela Goodman is the current Florida League of Women Voters president. In a speech at the University Club in downtown Tampa on Wednesday, she gave a history of the current redistricting situation in Florida, including the fact that the Legislature will reconvene in Tallahassee again next month to begin redrawing the senate district lines. She said she was stunned last month after the Legislature was ordered by the Florida Supreme Court to redraw eight of the state's 27 congressional districts, yet failed to do so.
"In any other world when you're given a job to do, and a time to do it, and your employees walk out, continues to get paid, and you don't fire that person? I mean really?" she said as a group of around three-dozen people  who gathered for the lunch (including many LWV members) applauded her. "And we hope that voters who can hire legislators at the ballot box next November…can fire legislators at the ballot box in November. Remember that."
After the Florida Supreme Court ruled that the Legislature had violated the state constitution by gerrymandering those congressional districts, state lawmakers admitted in late July that hat the courts were going to find it violated the state Constitution when it came to drawing up state Senate districts in 2012 as well.
"If it wasn't so sad, it would be funny," recounted Goodman, who was elected to serve a two-year term as LWV President back in May. In discussing how that Senate trial on redistricting was proceeding last year, she said with awe, "You can't make this stuff up. It read like a Carl Hiaasen or James Patterson novel."
She lavished praised on the lead attorney working on the Fair Districts case, David King as well as his team of young lawyers who worked on behalf of the League and the other groups who were suing the Legislature.
Goodman also talked about the signed confession that members of the Florida Senate submitted to the League, and admitted that it made her sad. "A signed confusion by the Florida Senate. (They admitted) We drew districts totally to protect incumbents and to protect our political party. They signed that, and we negotiated with them and compromised that if we got that confession we would not do discover, we would not release the subpoena information that we had. We would allow the judge to make a decision based on that confession."
The Legislature returns to Tallahassee for a special two-week session on redrawing the Senate districts on October 25.  Goodman said she remained positive about the possible outcome, while admitting how easy it should have been for the same set of lawmakers to redraw the congressional lines last month, but somehow didn't.
"The Senate doesn't have any directives at all. They know that we are filing complaints with 24 of the 40 districts and that's about all they know," she said. "We are always optimistic but if that does not happen, we will once again go back to Judge Lewis."
She conceded that there was an immense amount of litigation and issues to work through, but was confident it would all be sorted out before next August's primary election (candidates need to qualify by early June, however). And she wondered aloud if it all worth it, before coming out affirmatively.
"If we hadn't started this, we never would have uncovered how bad it really was. We never would have known this. We had an inkling eight years ago that it was bad, but we had no idea that it was this bad. It's certainly worth it."
Goodman was asked about an independent redistricting commission being the answer to the redistricting battles. House Democrats are already backing a bill by Dania Beach House Democrat Evan Jenne that would create a commission to submit redistricting plans for legislative and congressional districts to the Legislature starting with the 2020 census. She said the LWV would study. "There's a lot of different animals out there," she said, referring to how those commissions are set up in different states like California and Arizona. "And what animal is the right one for Florida is one thing that's in the League's wheelhouse to look at."