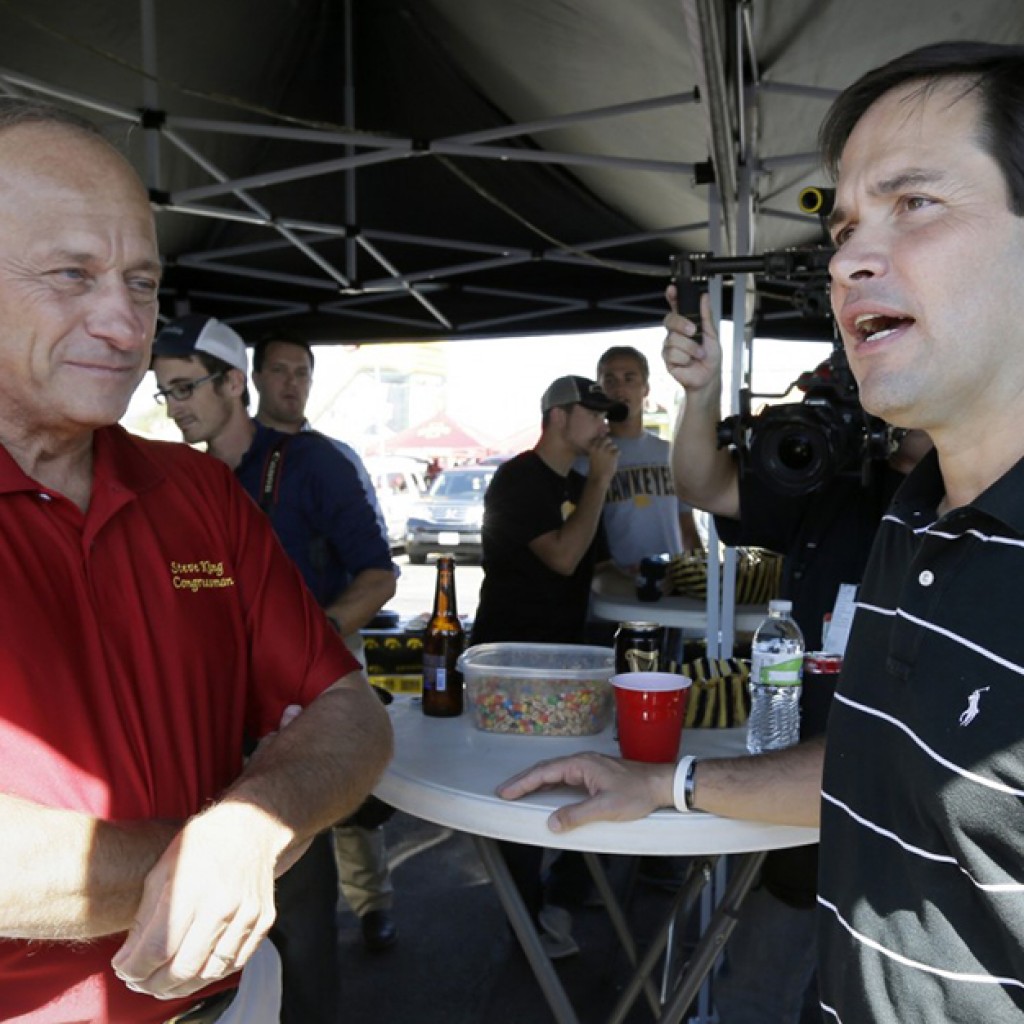 After a summer largely spent raising money for his Republican campaign for president, Marco Rubio says he's about to start spending a whole lot more time in Iowa and the other early voting states.
"There were obviously other things we needed to do," the Florida senator said this past week in an interview with The Associated Press. "We need the resources to be able to have staff here and be on the air and do the things a campaign requires. But, we were just here a few days ago. We're going to be back a lot more."
Following a return to Iowa next week he'll go to the other three states — New Hampshire, Nevada and South Carolina — that are voting in the initial wave of presidential caucuses and primaries, his campaign advisers said.
Rubio recently hired a state director in Iowa, a position other campaigns have had in place for months, and has booked millions in television ads that will start airing in November.
For Republican activists and party faithful used to fawning attention, it's about time.
Rubio has visited New Hampshire just seven times this year, and five times since he announced his candidacy. By contrast, former Florida Gov. Jeb Bush will make his 14th visit to the state next week, while New Jersey Gov. Chris Christie has been there close to two dozen times.
Rubio's trip this week to Iowa was only his eighth this year, far fewer that many of his competitors — some of whom are staking their bids to win the lead-off caucus state by visiting all of its 99 counties. Former Pennsylvania Sen. Rick Santorum already has.
The joke about Rubio is that he is only competing in Ankeny, the Des Moines suburb where his state chairman resides. Iowa Republican strategist Doug Gross, who has not endorsed a candidate, says voters like Rubio but "they haven't taken him for a test drive."
Since he entered the race in April, Rubio has spent much of his time fundraising. His campaign and outside groups supporting him raised a combined $45 million through the second quarter — considered a good number, but not the biggest in the race.
Rubio has posted two well-regarded performances in the first GOP debates and picked up a number of former supporters of Wisconsin Gov. Scott Walker following his abrupt departure last week.
"There's absolutely votes to be had," said former Iowa Republican Party Chairman Matt Strawn. With Walker out of the race, he said, "the economic conservative establishment lane is less congested."
In New Hampshire, former Sen. Scott Brown, a Massachusetts Republican when he served with Rubio for two years, said he knows many voters who are "very, very interested."
To date, the Republican primary has been dominated by billionaire businessman Donald Trump. Rubio has largely avoided clashes with the outspoken GOP front-runner, but he criticized him Thursday for being "touchy and insecure." The comments came during a radio interview in Kentucky after Trump had called Rubio a "lightweight."
Rubio said that night that he would seek to remain out of the scrum with Trump as much as possible. "I have no interest in being part of the back-and-forth freak show," he said. "I'm running for president."
In Iowa on Thursday, Rubio drew an enthusiastic response from the crowd packed into a room at a minor-league baseball stadium. Gary Jones, 60, of Davenport, said he thought Rubio could do well.
"His performances in the debates have really helped him," Jones said. "He doesn't seem to be sticking a finger in the air and picking up whatever populist wave is blowing."
Republished with permission of the Associated Press.
Last updated on September 26, 2015