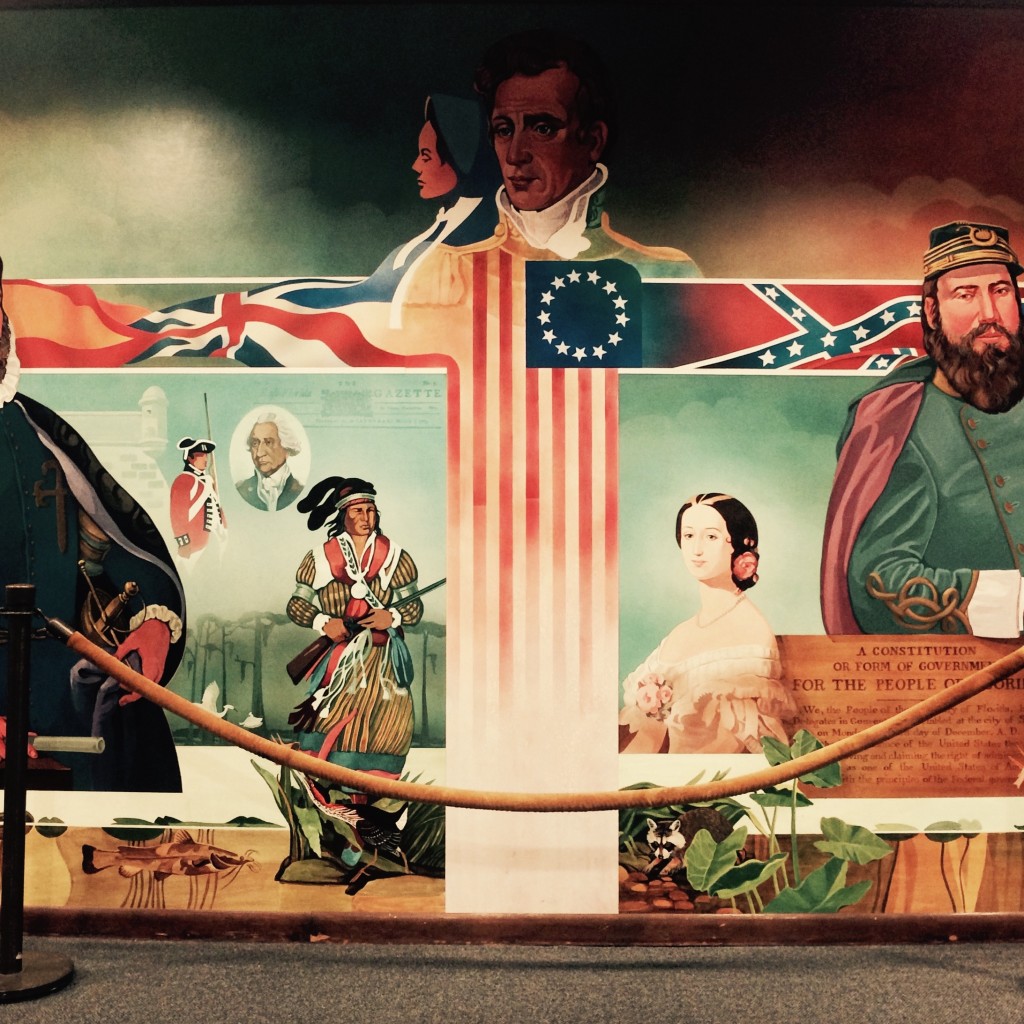 The Florida Senate on Thursday will start its formal consideration of removing the Confederate flag from the chamber's official seal.
But another flag depiction greets visitors to the Capitol as they enter the Senate's 5th floor observation gallery: The "Five Flags Mural," which includes the Confederate flag near the center of the 10 foot-by-16 foot painting.
Critics needn't worry about that flag, however, as the entire mural soon will be replaced, a Senate spokeswoman said Wednesday night.
That mural, roughly as old as the 37-year-old "new" Capitol tower, is showing signs of age, including fading and peeling in spots.
"As you can probably see, the mural is starting to peel off the wall," spokeswoman Katie Betta told FloridaPolitics.com. "The Senate has plans to change out the mural during the next interim."
According to the Capitol's website for tourists, the piece was painted by artist Renee Faure, who signed but did not date the work. Faure did not respond to a request for comment sent via email.
"The name of the mural refers to the five flags that have flown over Florida," the site says, mirroring the seal's U.S., Confederate, Spanish, French and British flags.
The flag on the mural is over the shoulder of Gen. Joseph Finnegan, commander of the Confederate forces at the February 1864 Battle of Olustee in north Florida, the largest Civil War battle fought in the state.
The Senate is reviewing its seal after a renewed debate about Confederate symbols, including the battle flag ubiquitous in the South.
Dylann Roof, the alleged gunman who killed nine black churchgoers in Charleston, South Carolina this June, had photographed himself holding the flag and made clear he was motivated by racism.
South Carolina legislators later voted to remove the Confederate flag from the State House grounds.
The Rules committee is taking up the flag question after a request by Senate President Andy Gardiner and Senate Democratic Leader Arthenia Joyner to "review and evaluate the current Senate Seal and Insignia."
Another bill filed in the House (HB 141) aims to ask Congress to remove the statue of Confederate Army Gen. Edmund Kirby Smith at the U.S. Capitol and replace it with another "prominent Florida citizen."
Each state has two statues on display in the Capitol's National Statuary Hall; the other Floridian there is John Gorrie of Apalachicola, a pivotal figure in the invention of air conditioning.
Updated 10 a.m.: Faure, now in New Hampshire, emailed this morning: "I find it quite hard to believe that this defacement of artwork is being considered. After all, the mural depicts the 'history' of Florida, which did fly five flags … not four!"