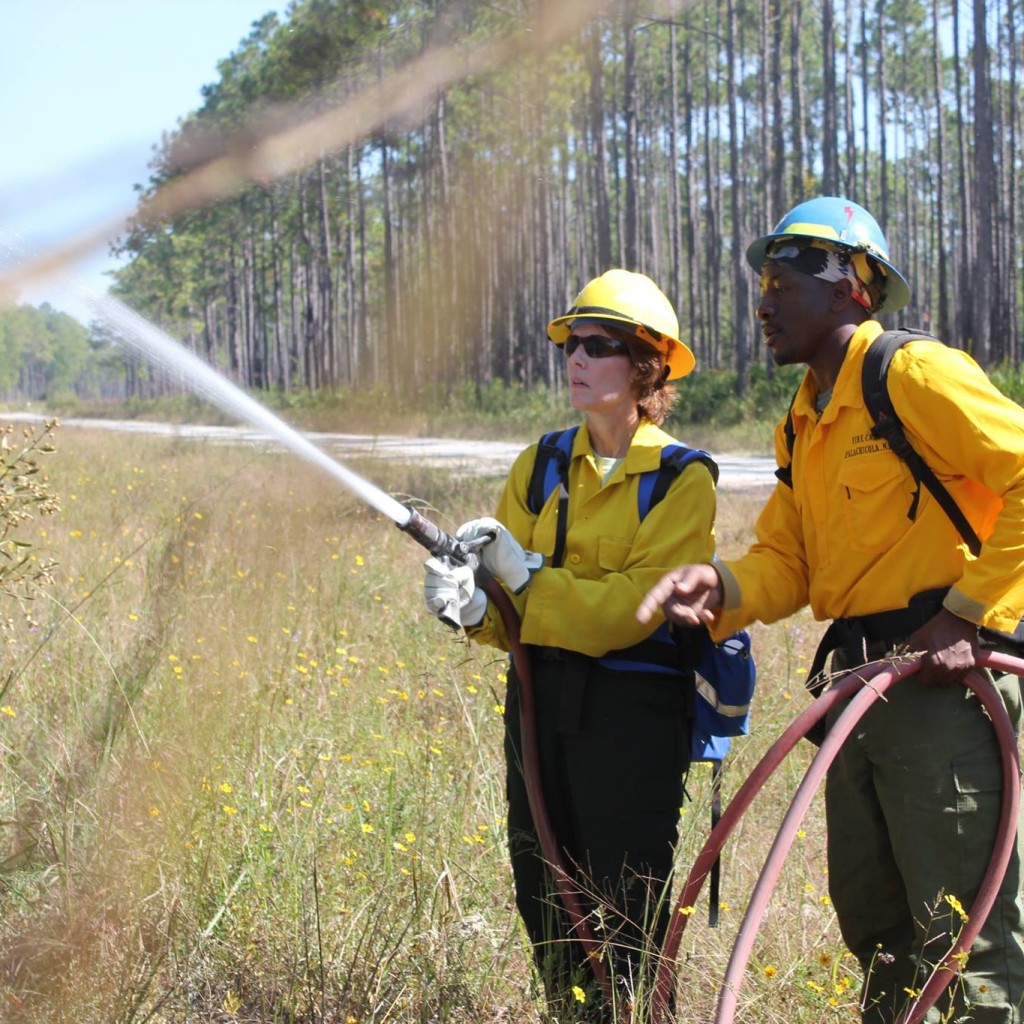 U.S. Rep. Gwen Graham performed one of her signature "Workdays" – a tradition she inherited from her father Bob Graham – participating in a controlled burn at the Apalachicola National Forest on Thursday.
Graham, along with representatives from U.S. Forest Service and the Nature Conservancy, protected trees housing the endangered Red-Cockaded Woodpecker, ignited potentially dangerous underbrush, and extinguished a fire threatening to consume a longleaf pine, according to a release.
"It was an honor to work alongside the men and women of the US Forest Service who risk their lives to keep us safe," said Graham, a freshman Democrat from Tallahassee.
"Controlled burns are our best defense against catastrophic wildfires. While they continue the fight in the forests, I'm going to fight in Congress to make sure they have the resources they need to keep our forest healthy," she said.
The Apalachicola region lies in the heart of her notoriously vexing 2nd Congressional District, though that may change after Circuit Court Judge Terry Lewis finishes his review of re-submitted maps in the wake of the state's redistricting fiasco.
The region – beset by environmental maladies including fires and the near-collapse of its local oyster industry – has been a focal point for Graham during her 10-month tenure in the U.S. House.
She used the workday to highlight her support for the Wildfire Disaster Funding Act and for reauthorizing the Land and Water Conservation Fund, legislation she said was key to keeping North Florida's sprawling forests healthy. The former bill would create a dedicated source of funding for ecological emergencies, while the latter is a decades-old law that uses proceeds from oil and gas taxes to help preserve national parks and wildlife refuges.
Graham, the subject of rumors for runs for U.S. Senate or Florida governor even before her election in 2014, enjoyed far greater support in the eastern Panhandle than Democrats at the top of the ticket due in part to her knowledge and efforts on local concerns.
Graham recently penned a letter to the U.S. Army Corps of Engineers asking them to reconsider their plans for the ailing Apalachicola Bay, along with a bipartisan group of 22 fellow members of Florida's congressional delegation.
While reauthorization of the Land and Water Conservation Fund is causing a simmering tension among Republicans, Graham used the placid North Florida morning to promote the cause of unity.
"It's inspiring to see the Forest Service, Nature Conservancy, Florida Fish and Wildlife and other organizations come together to prevent and fight fires in North Florida. Congress could learn a thing or two from their co-operation and hard work," Rep. Graham said.