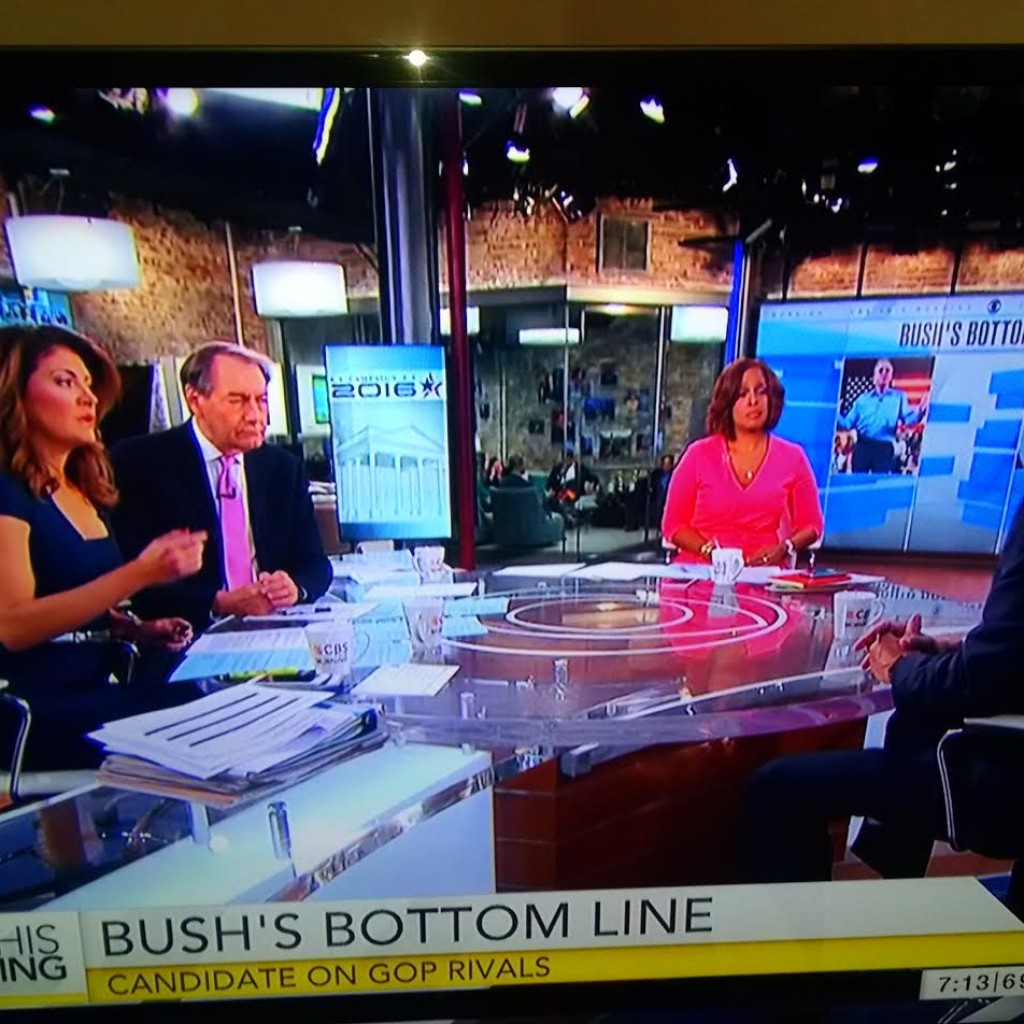 Jeb Bush bashed Donald Trump for a lack of substance on CBS' This Morning program on Friday, accusing the GOP presidential front-runner of having simplistic responses to some of the world's biggest crises.
"I have no clue," Bush told host Charlie Rose when asked if he'd be concerned whether Trump could keep America safe if he was president."That's the point. He hasn't shared his views. "
Taking note of how Trump frequently seems to free associate when asked to comment on issues, Bush called him out for specific comments he's made in just the past few weeks.
"When he talks about foreign policy, talks about how Putin ought to go take care of ISIS, and the week before it's ISIS oughta take care of Assad," Bush said. "He would send refugees back to Syria, to their slaughter. I mean, these are serious times and uh, I think you need a person who has the temperament and the leadership skills to fix the things that are broken and do it with passion and conviction, but also have the skills to lead, and, over the long haul I think that's the lane that I'm going to stay in, and I believe I'm going to be effective in doing it. "
"I don't know about Donald Trump's views of leadership, because he talks about himself the whole time rather than what he would do."
Trump has said that the U.S. could help deal with the Syrian refugee crises economically, but should limit taking in Syrian refugees because they could be terrorists.
"I love a safe zone for people," Trump said last week. "I do not like the migration. I do not like the people coming."
Describing them as a "200,000-man army", Trump has said, "I'm putting the people on notice that are coming here from Syria as part of this mass migration, that if I win, if I win, they're going back."
Presidnet Obama agreed last month to allow 10,000 Syrians to seek refuge in the U.S. over the next year, while Secretary of State John Kerry recently pledged the US will take in more worldwide refugees in 2017 as the crisis grows.
While several other conservative opinion writers have similarly criticized Trump for his substance free views on public policy, it obviously hasn't hurt his candidacy, as his lead has actually grown in some recent states in the past week.
Meanwhile, the former Florida governor remains mired in the polls, generally far behind not only Trump, but also Dr. Ben Carson in most statewide and national surveys. And there are now reports that campaign staffers are having their salaries reduced as fundraising has slowed.
Bush again refuted questions about why his campaign seems to be stuck in neutral, telling Rose , "It's not a problem. We're just starting," adding that it's still months away before voters in the first four states of Iowa, New Hampshire, Nevada and South Carolina go to the polls.
When asked by co-host Gayle King if he was sick and tired of talking about Trump, Bush gave him praise actually for being so frank (though that's at times been to his detriment).
"I admire the idea that he's politically incorrect," he said. "I think we're a little too uptight as a nation, I admire the fact that he doesn't feel embarrassed about his wealth, and what else do I admire about him?….He's got a great family."
Speaking of family, Bush was noncommittal if brother George W. Bush would join him on the campaign trail.
"I don't know. He's been helpful raising money. He's been giving me advice. He's the last Republican to be elected. He's the one guy that I rely on the ebbing and flowing of politics because it's pretty wild, and he's done it."