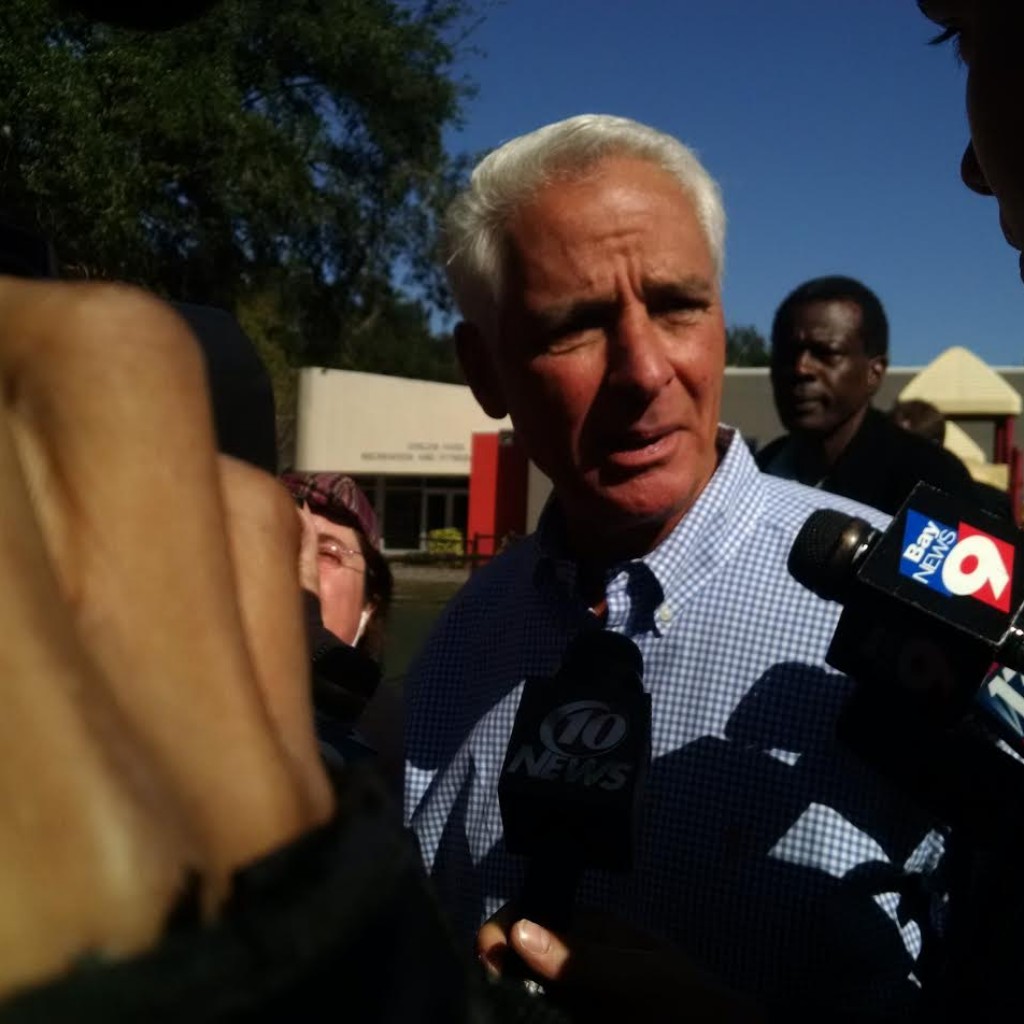 Charlie Crist is back.
The former Florida Governor announced his candidacy for the Democratic nomination for Congress in Florida's 13th Congressional District on Tuesday, a position he showed little interest in until the Florida Supreme Court declared that the district had been unfairly gerrymandered this summer, and ordered the state Legislature to redraw the district. As it stands now, the new CD would become much more favorable for a Democrat to win.
With a few dozen friends and family members standing besides him in front of the recreation center in South St. Petersburg's Childs Park, the 59-year-old St. Pete native said he was at heart a public servant, and if he were lucky enough,  looked forward to serving the people of Pinellas County in Washington next year.
"I am thankful for God for this day, and I am thankful to the Florida Supreme Court, for having the wisdom to do the right thing and have fair districts again," he declared in his opening remarks.
Crist is announcing his run for Congress less than a year after he narrowly lost a bitterly contested battle for governor against Republican Rick Scott. It was a position he held between 2006-2010 as a Republican, before he opted out of running for reelection (where he would have been likely to be reelected) to be elected to the open U.S. Senate seat that was being temporarily filled by his friend, George LeMeiux. But when then upstart Marco Rubio started to pull away from Crist in early polling in 2010, he opted to leave the GOP and run against Rubio and Democrat Kendrick Meek as an independent. It did not turn out well, with Crist losing by 19 percentage points.
His speech was fairly basic. He said he would "listen" to the voters.
"I listened to the people when I stood with President Obama to help our economy get back on track," he said. "It wasn't popular with my former party, but because I listened, it was the right thing to do. I've listened to people when it comes to women's health care….we have taken away some of their right to make their own decision…I listen to the people when it comes to teachers and education. That's why I vetoed antoher bill that wourl dhurt hard working public teachers. I think it's important to listen to the people. That will be a hallmark for this campaign."
"I've run a fair amount of races, and I've won some and I've lost some," he said to reporters walking to his car to make his second of three scheduled appearances on the day."And I think you learn more from the losses than you do from the victories. And what I've learned is it you have to listen as hard as you can, and go out and talk to people as much as you can. They're the boss."
Officially, the newly configured CD 13 geographic lines have not been given a final imprimatur by the Florida Supreme Court, which ruled back in July that the Florida Legislature's drawing up of the district back in 2012 violated the state's Fair District amendments. The lines approved by Circuit Judge Terry Lewis earlier this month would make the district much more favorable for a Democrat to run and win in, which is why in part GOP-incumbent David Jolly opted to not run for reelection and instead will run for U.S. Senate in 2016.
Jolly appeared after Crist left the press conference in South St. Pete, where he denounced Crist as a "huckster" and said he could conceivably support another Democrat in the race if there is a not a Republican challenger, so disdainful is he of Crist (we'll have more on Jolly's remarks in an upcoming post).
When asked about rumors that former St. Petersburg Mayor Rick Baker may challenge him, Crist called Baker "a good friend," but otherwise said that possibility remained to be seen.
Eric Lynn, the 37-year-old St. Pete native who went on to serve in President Obama's Department of Defense for six years, has been running for months for the office and has already raised more than $500,000. FloridaPolitics.com asked Crist if he would debate Lynn leading up to next August's primary election.
"Well, let's see what happens," the former governor remarked. "This is just day one."
In a statement, Lynn said, "I'm confident I will be just that for my fellow Floridians, and I'm looking forward to a spirited primary on important Democratic issues to prove it to them."
It wouldn't be beyond the pale to say that in some precincts of the Republican Party of Florida, Crist is loathed after he left the party in 2010 to pursue the U.S. Senate seat. "With two statewide losses and a reputation of flip-flopping when convenient, Charlie Crist is once again focusing on advancing his personal political ambitions and not the best interest of Florida families," said Wadi Gaitan, Florida GOP spokesman. In his press release, Gaitan included a tweet from Crist from March where he wrote that he would not be seeking office in 2016.
The Florida Democratic Party was more welcoming.
"With the final implementation of the Fair District amendments, Florida Democrats are exciting and energized to pick up Congressional seats across the Sunshine State — including in Pinellas County," said Party chair Allison Tant.