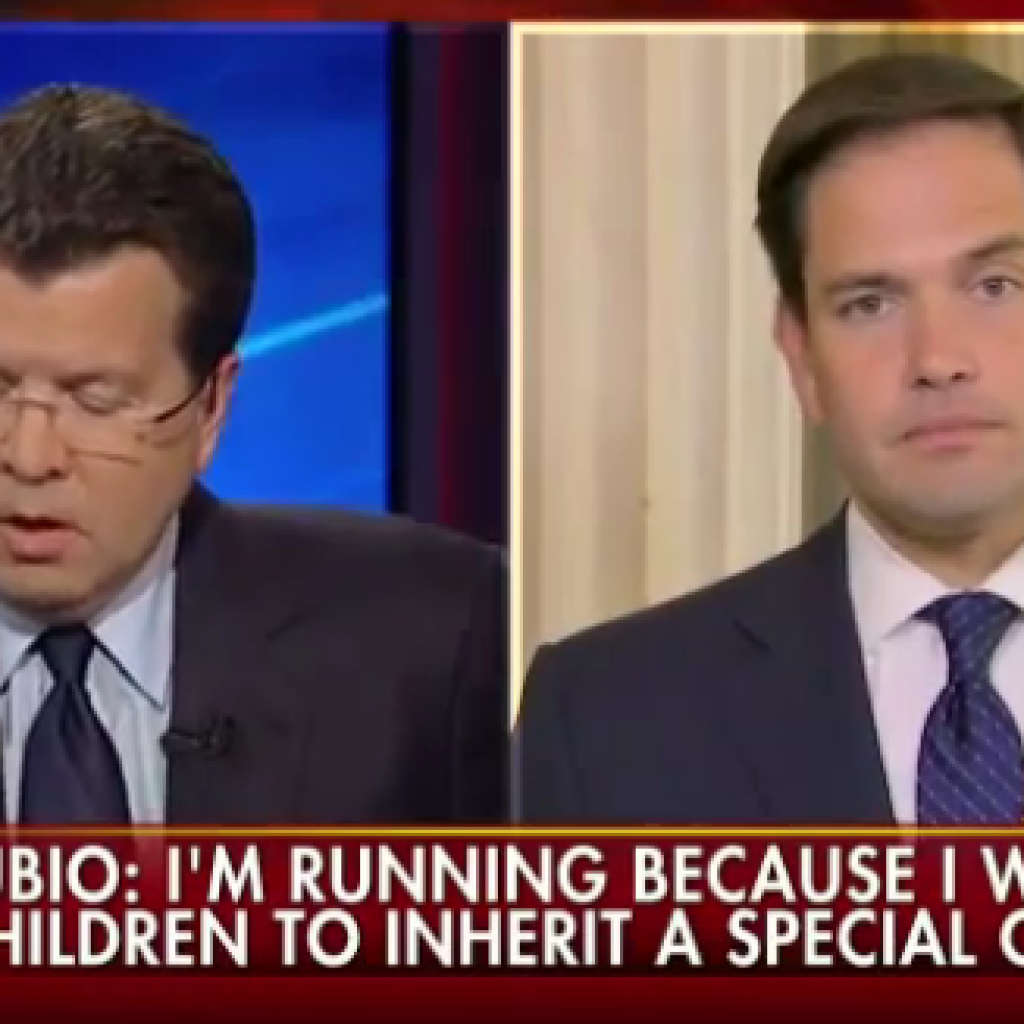 The American Democracy Legal Fund (ADLF) has filed a complaint with the Senate Select Committee on Ethics against Marco Rubio for potential violations of Senate ethics rules as well as federal law.
In a letter to Senate Ethics Chairman Johnny Isakson from Georgia and Vice Chairwoman Barbara Boxer from California, ADLF says that, based on news reports, they believe Rubio has violated:
(1) 31 U.S.C. § 1301(a), which provides that official resources made be used only for the purposes for which appropriated,

(2) The Senate Select Committee on Ethics' Policy for Use of Senate Rooms, the Russell Rotunda and Courtyard, the Hart Atrium, and the Capitol Rotunda (hereinafter the "Use of Senate Rooms Policy"), which prohibits the solicitation of political contributions in Senate facilities, and

(3) 18 U.S.C. § 607(a), which states that it is unlawful to solicit any contribution in federal buildings or facilities.
The ADLF says in that in a recent Fox News interview with Neil Cavuto, Rubio responded to a question regarding his presidential campaign's fundraising strength by saying, "I'm confident that we have the resources, and continue to build the resources, to be able to communicate our message and obviously if somebody watching this program wants to help us, they should go to marcorubio.com and chip in."
The organization lists a number of statues in the Ethics Code that they claim that Rubio potentially violated by making such a request inside the official Senate building. It also contends a publicly available media report indicates that Rubio is using his Senate staff and office to supplement his presidential campaign. Specifically the report states that unlike his rival for the Republican presidential nomination, Jeb Bush, Senator Rubio has "saved money by drawing on the work of his Senate office" to provide the policy ideas and material for his presidential campaign.
"Senator Rubio and his office are in violation of these standards. Senator Rubio may not save money for his presidential campaign by using taxpayer funded resources to supplement his campaign staff. If Senator Rubio's staff are providing his presidential campaign with policy proposals and ideas crafted while acting in their capacity as Senate staffers, or even while using Senate facilities and resources, they are doing so in flagrant violation of federal law and Senate Ethics rules.
"Senator Rubio's actions warrant further investigation by this committee. Accordingly, we respectfully request that the Committee undertake a preliminary inquiry immediately pursuant to Rule 3 of the Rules of Procedure."
The Huffington Post reports that when then-Rep. Tom Cotton, Arkansas Republican, was running for Senate in 2014, he appeared at one point to be soliciting funds during a radio interview given just off the House floor. The incident prompted a probe that was eventually dropped because Cotton contended he was actually outside the building, and there was no proof to the contrary.
The ADLF is run by longtime Democratic Party activist Brad Woodhouse, and was created by David Brock.
FloridaPolitics.com has requested a comment from the Rubio campaign about the charges, and will update this post if and when it responds.