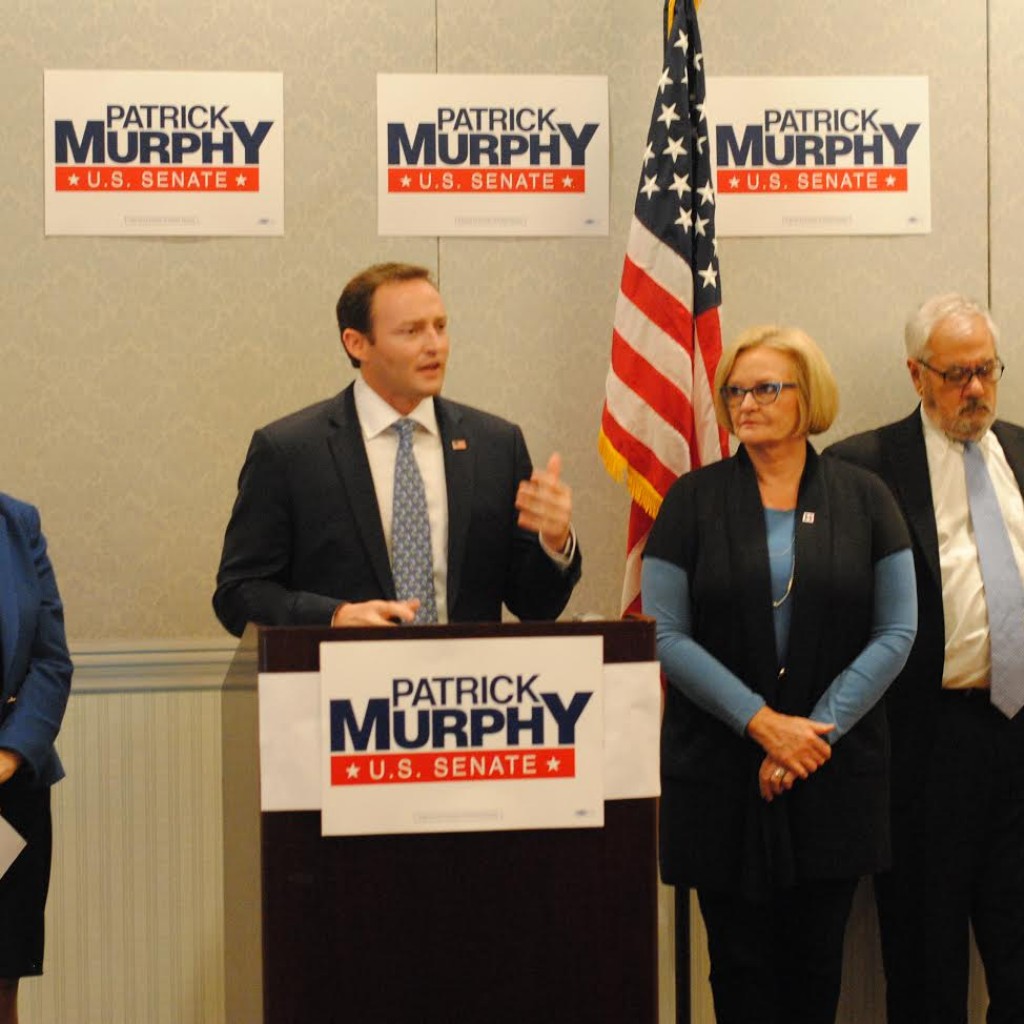 In Lake Buena Vista, former longtime Massachusetts Congressman Barney Frank announced that he was backing Patrick Murphy for the U.S. Senate Saturday afternoon, one of his most noteworthy endorsements of his 2016 Senate contest.
"I have no doubt that he is the best candidate to win this crucial senate seat so we can take back the Senate," said Frank.
It was a surprise in more than one way. Frank had not been advertised as appearing at the Florida Democratic Convention, where a press conference was held in one of ballrooms at the Disney's Yacht and Beach Club Convention Center shortly after 3 p.m..
At the same press conference, Minnesota Senator Amy Klobuchar and Missouri Senator Claire McCaskill also showed up to endorse Murphy.
Klobuchar praised Murphy for being a leader on climate change, infrastructure spending and criminal justice reform, and said that there are five elections that could turn the Senate blue in 2016, and "everybody is going to be looking at Florida, because if we don't win Florida we probably don't take back the Senate."
McCaskill somewhat surprisingly said that "experience matters," when it was her time at the mic. Surprising in the sense that Murphy is still only in his second term in Congress.
But McCaskill said she was referring to Murphy's previous career as a CPA and auditor (she was the state auditor of Missouri when elected to the Senate in 2016).
Murphy, a second-term Representative from Jupiter, is battling against Orlando-area Congressman Alan Grayson and former Navy JAG attorney Pam Keith in the Florida Senate Democratic primary battle.
Considering that Grayson and Frank are both residing more on the progressive scale than Murphy, why was Frank endorsing the 32-year-old Murphy?
"I was troubled by his unfair criticism towards the Fed Reserve, which I found to be destablizing," Frank replied. "He gives in to the temptation to play to people's fears excessively and demonize government," adding that he's spoken to Grayson about this in the past about that.
Frank spoke out passionately for the Federal Reserve, admitting that liberals aren't used to extolling its virtues, but he said that especially under former Fed Chair Ben Bernanke their policies have helped stabilize the economy. "And when it is attacked unfairly – when it is demonized, one of the most instruments we've had for both economic recovery and increased fairness, is undermined."
While never invoking Grayson's name, McCaskill said that coming from a Red State like Missouri, it's more important to be viable than to the purist liberal. "You have to fight for the principals we believe in, but you have to be able to win," she declared. "All of the rhetoric and all of the passion doesn't matter."
There is no question that the Democratic Party establishment is fully invested in Murphy's candidacy, under the assumption that he will be more palatable to independent voters that Grayson, a liberal firebrand who has never apologized for his progressive stances.
Frank served in Congress representing a district in Massachusetts for 32 years, from 1980 to 2012.
Aides to Congressman Grayson were seen having fun earlier in the day, distributing a blown-up mock check for $2,300 that Murphy contributed to Mitt Romney back in November of 2007, when he was still a Republican.
"I obviously didn't think it was a good idea for somebody to give to Mitt Romney, but that was awhile ago," Frank said, defending Murphy. "If you find something in someone's past, that seems out of synch with where they are, if it's an indication of a pattern, then you look at that. The fact somebody once did something, and since then he's changed his mind and has a different view of things and goes forward, that's what's relevant."
When approached immediately afterwards in the hallway of the convention center, Grayson appeared nonplussed by the Frank endorsement.
"Barney Frank is renowed for his sense of humor, and this is a good example of that," he said before moving along with campaign aides.
Last updated on October 31, 2015