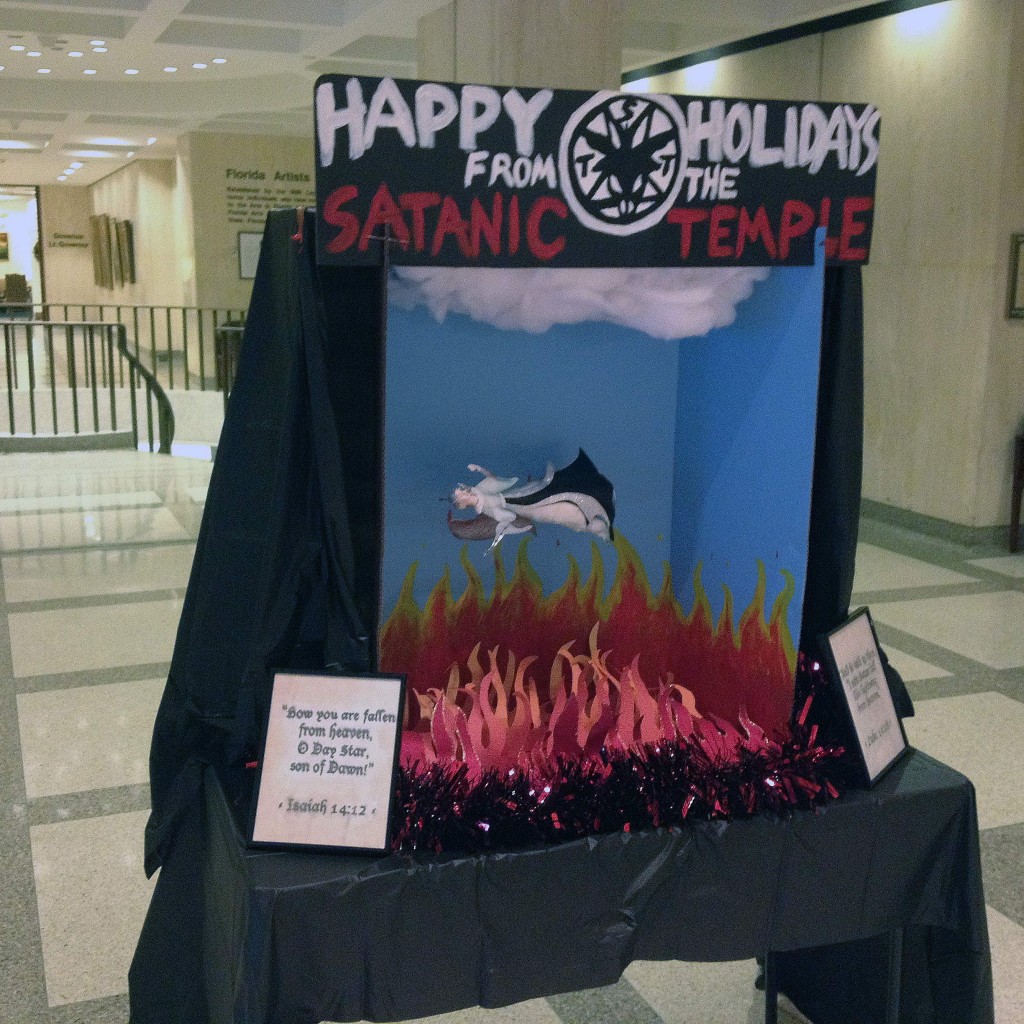 'Tis the season (almost), but so far the Gay Pride version of the Festivus pole is the only display to ask for placement in the Capitol Rotunda.
As of Tuesday, South Florida blogger Chaz Stevens had submitted the only application for a holiday display, according to a spokeswoman for the Department of Management Services, the state's real estate manager.
Even then, there's no guarantee his offering for this year — a rainbow-colored pole with a disco ball on top — will make it inside the Capitol.
"His application is being processed," DMS spokeswoman Natalee Singleton wrote in an email, without further comment.
In years past, Stevens was approved to show a 6-foot-tall pole made of empty Pabst Blue Ribbon beer cans, meant to mark Festivus, the fictional holiday from a 1997 episode of "Seinfeld."
Festivus, celebrated on Dec. 23, showcases "an unadorned aluminum pole" instead of a Christmas tree. It includes a dinner, an "airing of grievances," and various "feats of strength."
His wasn't the most contentious of the holiday displays, though.
The Satanic Temple, which refers to itself as a religion but doesn't subscribe to worshiping the Devil, last year displayed a cardboard diorama with an angel figurine suspended by fishing line, falling from clouds made of cotton into flames made of construction paper.
The state had rejected the same diorama the year before that, saying it was "grossly offensive" and nearly causing a First Amendment lawsuit. An email to a Temple representative in Florida about this year's plans received no response as of  late Tuesday.
A Tallahassee woman who described herself as "a devout Catholic" was arrested and charged with criminal mischief last year after she tried to remove the diorama and was stopped by Capitol Police.
Prosecutors, however, later dropped the case against Susan Hemeryck, saying the state couldn't "prove actual damage" to the diorama.
Other past displays have included:
A banner celebrating the Winter Solstice from The Freedom From Religion Foundation;
A crèche from Florida Prayer Network/Florida Nativity Scene Committee;
A placard with a tongue-in-cheek message to "celebrate the true meaning of Xmas" with "friends," "fun" and "Chinese food" by American Atheists; and
A smaller, framed picture of a nativity scene from The International House of Prayer in Tallahassee.
Updated 12:15 p.m.: A reader notes that we left out the "Happy Holidays from the Tallahassee Atheists" display, and the "Flying Spaghetti Monster" display put up by Secular Student Alliance and Pastafarian Peter Wood.