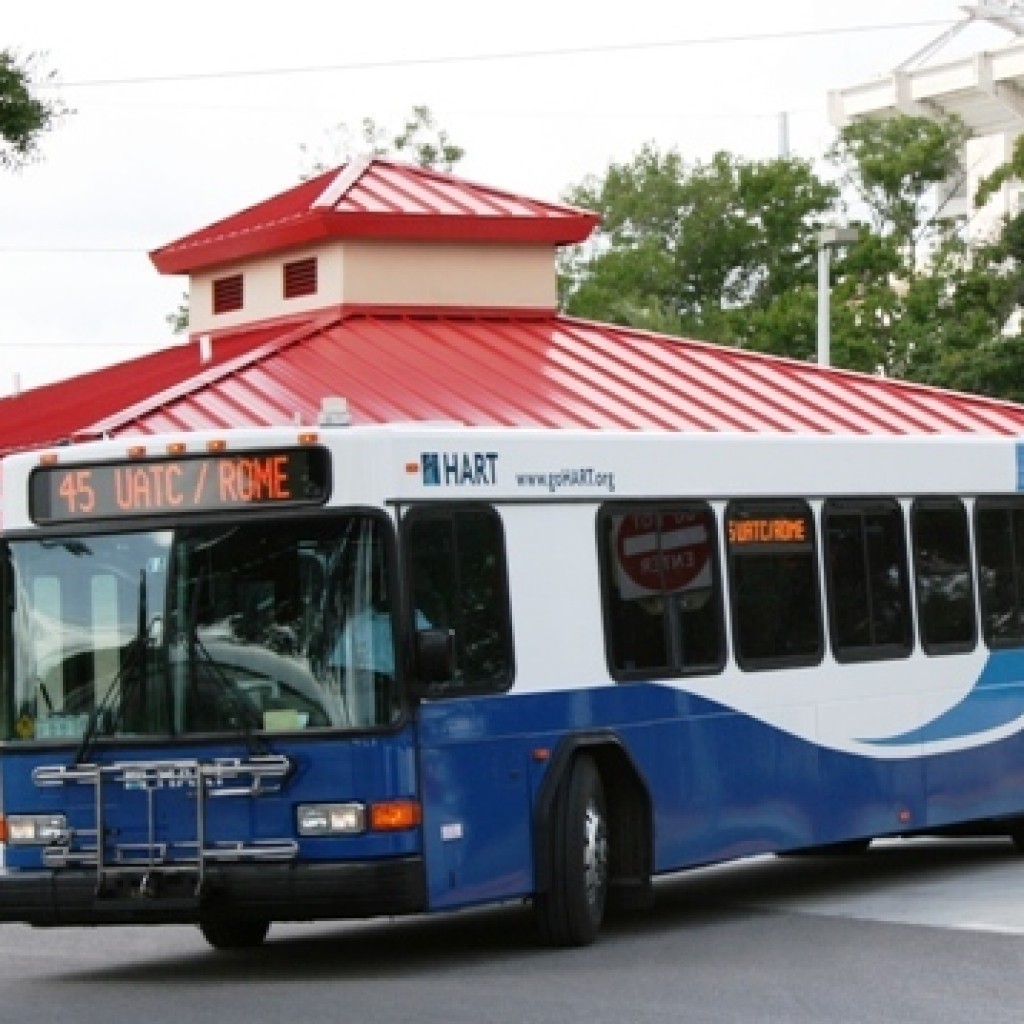 (UPDATED)
Last week President Obama signed into law the Fixing America's Surface Transportation Act or FAST Act, a $305 billion transportation bill that will provide the state of Florida with $890 million more than it would have gotten under current funding formulas — and about $12 billion overall.
"What will be most relevant for us in this bill is it will give us the ability to replace our buses more frequently," said Hillsborough Area Regional Transit (HART) CEO Katharine Eagan on Monday. She said that currently the transit agency replaces their buses every 15 years or so. The new money that HART will get will reduce that turnover to a dozen years, she said.
Eagan added that it will also give HART the opportunity to add additional facilities, but the funds are for infrastructure, and not service. Thus, the agency won't be adding more bus routes.
PSTA CEO Brad Miller said in addition to allowing his agency to purchase more buses, Congress doubled the amount of money available for bus grants, which says will help PSTA as they apply for a grant program for electric buses for a pilot project in St. Petersburg. And the bill increases funding for capital projects like BRT lines.
PSTA held a news conference on Monday to announce they have received state funding for a BRT line connecting downtown St. Pete to the beaches via First Avenues North and South.
Overall, transit agencies will receive a total of $3.7 billion over five years in bus funding — a 75 percent increase over funding levels they currently receive. The bill also provides more funding for transportation alternative programs, such as pedestrian walkways, including a new grant program to ensure cyclist and pedestrian safety — critical for Tampa Bay, which is ranked as one of America's least pedestrian-friendly areas.
Tampa Bay area Democratic Congresswoman Kathy Castor said the measure is the greatest increase for federal road, bridge and transit programs since the stimulus act was passed in 2009.
"We need construction jobs, investments and a transportation system worthy of our growing and dynamic community. The FAST Act provides a surface transportation authorization with the greatest funding increase for federal road, bridge and transit programs since the American Recovery and Reinvestment Act of 2009," Castor said in a statement issued on Friday.
The FAST Act will also strengthen "Buy America" requirements, raising the domestic content threshold of transit buses and rail cars from 60 to 70 percent to maximize American job creation.
Eagan also said at HART's monthly board meeting that there has been a "softening or ridership" of late, which is significant in that both HART and PSTA have been issuing statements seemingly every month over the past couple of years boasting of record ridership.
Eagan cautioned that HART is not the only agency to see an attrition in riders.
"I was on the phone with the CEO in Charlotte last week to talk about their experience. It is something beyond gas prices, but a lot of us are figuring this out. It's Pinellas, it's Jacksonville. It's everywhere. It really is looking like we made just of had an extremely strong 2014. We're still ahead of where we were in 2012 and 2013."
Similar reports of a reduction in ridership have been reported in Orange County, California, New York City and Philadelphia.