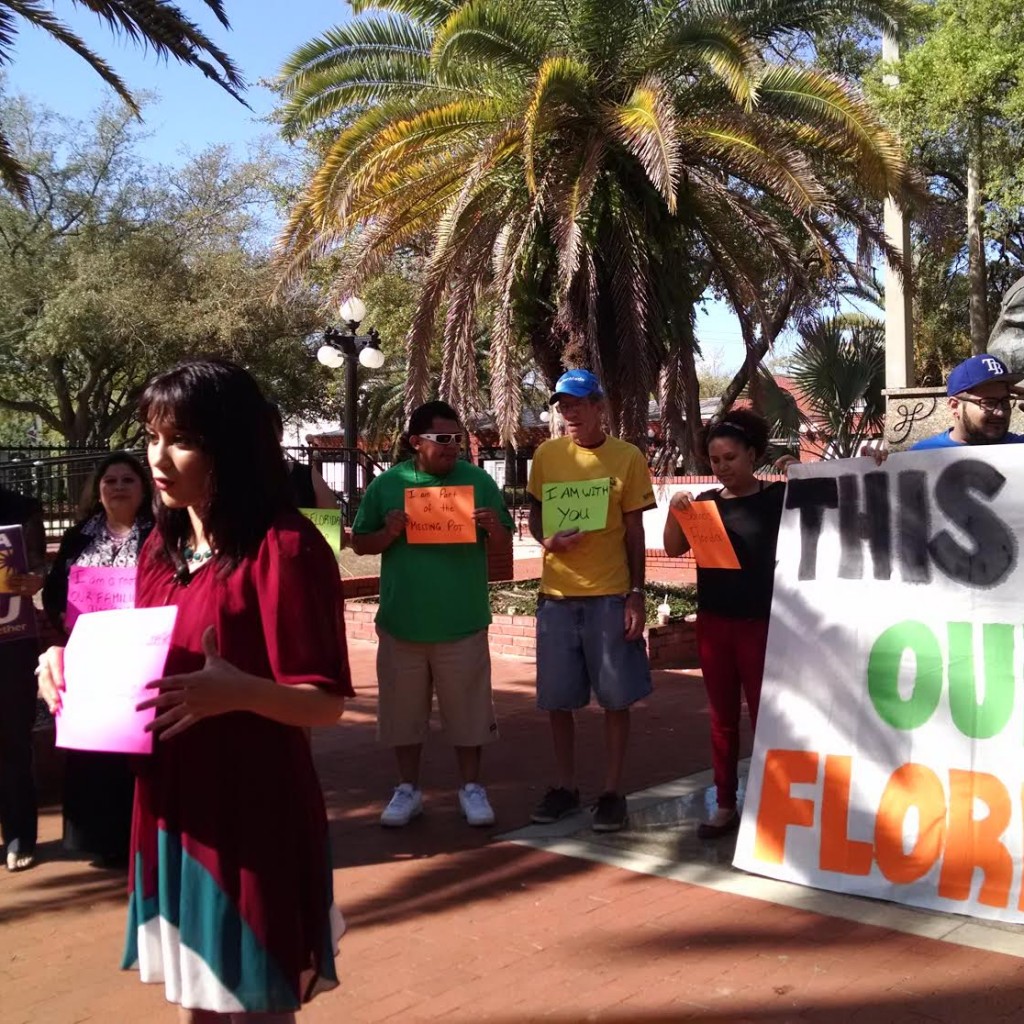 Along with lawmakers, lobbyists and journalists who are back in Tallahassee this week for the beginning of the 2016 Legislative Session will be immigration activists, concerned about a number of bills being proposed this session.
Two busloads of activists are scheduled to depart from Tampa and Homestead on Monday, with two more scheduled to depart from Polk County and Orlando early Wednesday morning.
There are six specific bills that the Florida Immigrant Coalition listed as "opportunities and threats" for the coming session. Two of which immigrant rights groups and advocates united under the banner of the "We Are Florida" campaign are primarily concerned about.
One is a proposal being pushed by Doral Republican Carlos Trujillo in the House (HB 9) and Palm Coast Republican Travis Hutson in the Senate (SB 118) that would make it a first-degree felony for a person who has an order of deportation to continue living in the state of Florida,  punishable by up to 30 years in prison and $10,000 in fines.
The other bill they are targeting is a measure sponsored by Groveland Republican Larry Metz in the House (HB 675) and Jacksonville Republican Aaron Bean in the Senate (SB 872) that would punish so-called "sanctuary" cities (or counties) that don't cooperate with federal officials attempting to deport illegal immigrants. The attorney general would be authorized to file civil actions to halt sanctuary policies and impose fines of up to $5,000 per day on cities that have "written or unwritten" sanctuary policies. It's inspired by the death of Kate Steinle in San Francisco last year by an undocumented immigrant who was arrested for prior crimes but released under San Francisco's "sanctuary" policies preventing law enforcement from detaining illegal immigrants for minor crimes.
Activists say the legislation is inspired by Donald Trump, whose harsh comments about immigrants has fueled in part his rise in the Republican presidential race.
"It's shameful to see some legislators in Florida fall for the 'Trump Effect' and think that immigrants can be used as scapegoats right before the Presidential primaries just for political gain," Francesca Menes, Policy and Advocacy Director for the Florida Immigrant Coalition, said in a statement. "Anti-immigrant and anti-family politics and policies are not a winning strategy in a state like Florida where a growing majority of Latino, immigrant and African-American voters hold the keys to power and the White House."
In 2010, Rick Scott campaigned in support of an "Arizona-style" form of immigration legislation that Latino activists criticized. After a number of immigration bills had been proposed in the 2011 Legislative session, those activists mobilized and were a regular presence in the state Capitol. None of those proposed bills passed that year.