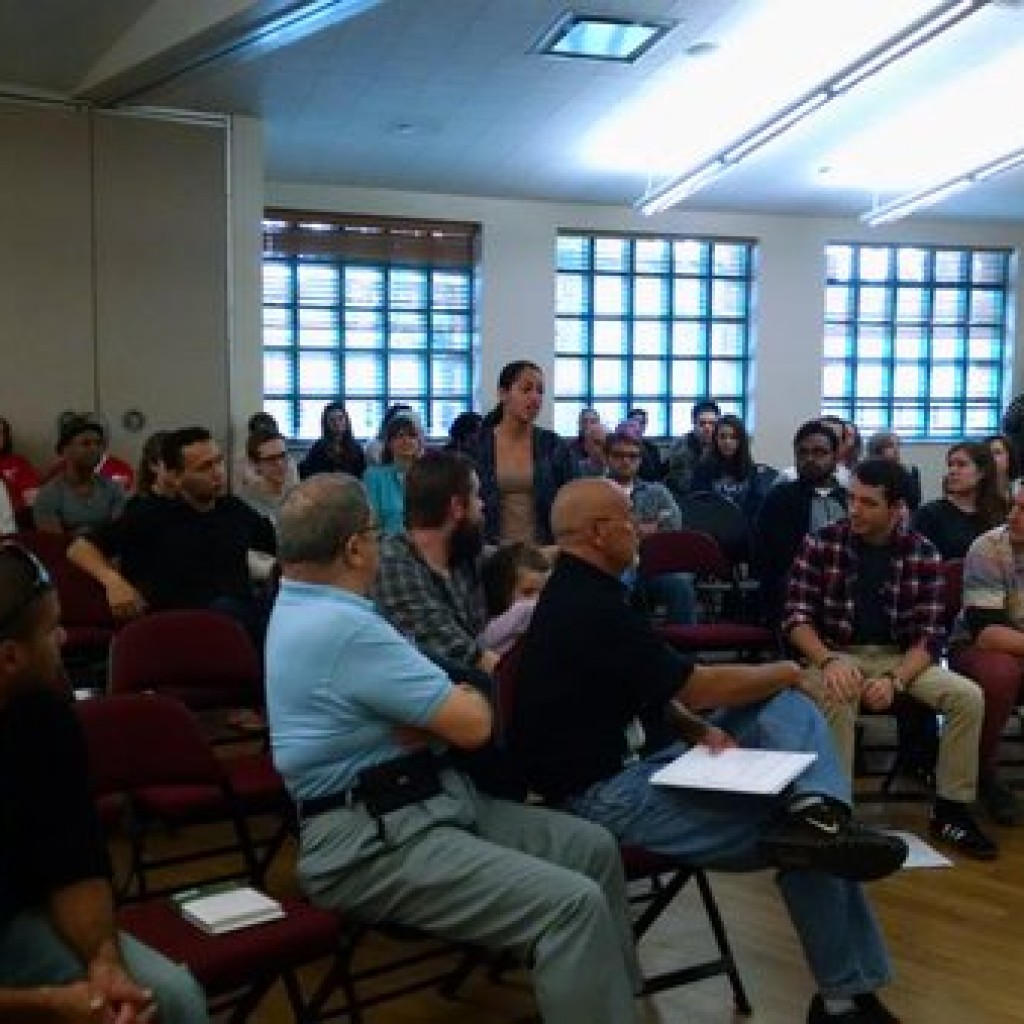 Zach Exley has been working for the Bernie Sanders campaign since last July as a senior adviser on digital operations. He previously worked on campaigns for Howard Dean, John Kerry, and Barack Obama's 2008 effort, but says they all pale in comparison to what the Sanders campaign is doing this cycle with phone volunteers.
Speaking at the North University Area Community Development Center in Tampa Saturday morning, Exley said, "This calling program is literally a hundred times bigger than anything any campaign has had at this stage of the campaign."
"I know," he added, "because I worked on this same program for Obama in the '08 general election, and our numbers are bigger than what we had every day."
A month ago, Sanders organizers began coming to places like Tampa for the first time to start recruiting supporters to volunteer their time to contact voters in Iowa and New Hampshire. Exley says now tens of thousands of people are making calls every day, with an average of 100,000-200,000 per day. That's barely scratching the surface, he said, which is why Exley and an assistant were in the Tampa Bay area on a three-day, five-city campaign to recruit more people to host phone bank events at their homes or offices. Their goal is to reach voters in New Hampshire, South Carolina, Nevada and the states that will vote on March 1, also known as Super Tuesday.
When the volunteers in Florida and other states contact those voters, the Sanders campaign has teams on the ground in those states who will then personally go out to persuade them by knocking on their doors, something the campaign has been doing in Iowa over the past couple of months.
"By removing that job from the people on the ground, they can spend 100 percent of the time doing what they can do," Exley explained about the field team in Iowa. "We cannot knock on people's doors in Iowa, because we're here."
He added that "the thing that wins over Iowans is when one of their neighbors comes and says, 'I live down the street, and I'd like to talk to you about Bernie.'"
Exley says that while the number of staffers is similar to the Clinton campaign in Iowa, the Sanders staffers can do more productive work, thanks to the volunteers around the nation making calls to Iowa voters.
Bernie Sanders is engaged in an intense battle against Hillary Clinton to win the Iowa caucuses on Monday night, a state where until recently Clinton had been expected to win. The Real Clear Politics average as of Saturday shows that the former first lady is leading, up by three points — 47.7 percent to Sanders 43.3 percent. Though the media has depicted Iowa as almost a must-win for Sanders because of the rougher terrain after New Hampshire, Exley cautioned the crowd of around 70 people not to despair if their candidate loses the Hawkeye State.
"If you do a poll of people who actually show up to caucus reliably every time, we're way behind in the polls, " he said. "So our field staff on the ground has to pull off a miracle to win."
The Sanders camp has six different teams of staffers going around the country doing what Exley was doing in the Tampa Bay area on Saturday (he later held a similar event in St. Petersburg). The campaign's goal is, hopefully, to have volunteers lead such meetings over the next month.
Saturday morning's event began with people advised to shake hands and spend a minute talking about themselves to a stranger sitting next to them. Afterward, several people were asked to address the group.
Reed Morgan, a former managing director of Chase Investment Bank, said he was a "recovering former Republican" who has sworn off the GOP since George W. Bush invade Iraq. "I'm with Bernie," he said at the end his short speech, which also touched upon his dissatisfaction with working on Wall Street.
A Tampa resident named Paul Brushew said that he hasn't been active in anything politically since the 1960s. "It's turning into all or nothing," he said about the state of the nation. "If we don't fix this soon, instead of having a revolt that Bernie is suggesting that will hopefully be peaceful, we'll end up having a bloody revolt.
"Nobody is realizing that's a possibility, but it is."