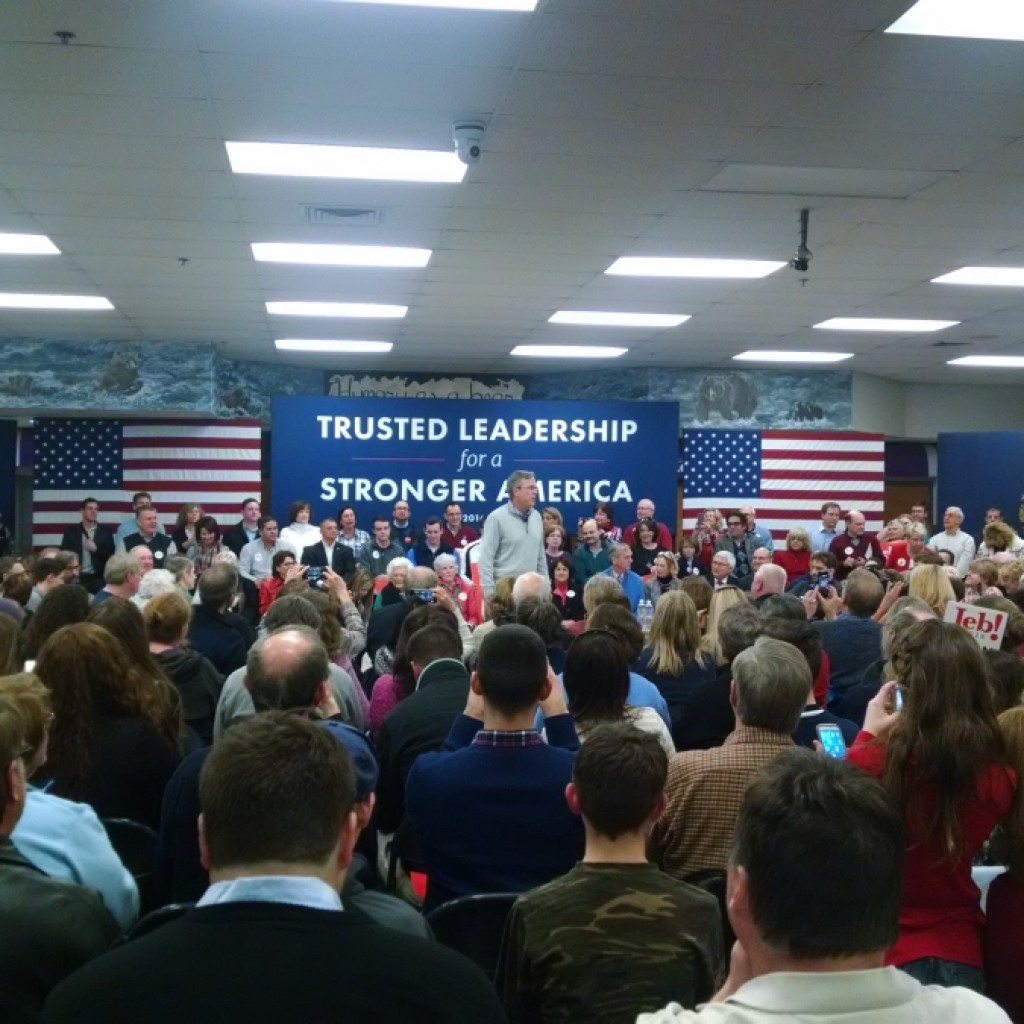 Last spring he called himself a "joyful tortoise," and Jeb Bush is still espousing a positivity on the campaign trail that is in large contrast to the anger being pumped up by Donald Trump, Ted Cruz and Bernie Sanders.
"We need a servant leader," he said at a Derry, New Hampshire, middle school Thursday night. "We don't need the big dog on the stage, barking out stuff, insulting people. We need someone who has a proven record, who has a servant's heart."
With just five days before the New Hampshire primary, every one of these town hall events are job interviews of a sort, and Bush is working hard to convince undecided voters that he's worthy of their vote.
"The only way a conservative is going to win the presidency is to campaign with their arms wide open, with joy in their hearts and a positive message" he said, earning sustained cheers.
It was a festive crowd stuffed inside the cafeteria of the West Running Brook Middle School, with former New Hampshire Sen. Judd Gregg and former first lady Barbara Bush joining the candidate on stage. While the crowd seemed to appreciate much of what he had to say, a few voters told FloridaPolitics.com before the speech that they remained undecided.
Lee Ann Propencher from Manchester, New Hampshire, said she leaned toward Bush, though the only definitive statement she could make was that she was certain she wouldn't vote for Cruz or Trump.  A registered Republican, she said she supported George H.W. Bush in 1988, but not W, saying that in 2000 she had a son going into the military and feared that any Republican would be more likely to want to go to war.
Propencher said she was looking favorably toward John Kasich, until she was turned off after she saw a negative super PAC ad that mentioned that the Ohio Governor supported a military base-closing commission that shuttered a base in New Hampshire.
"I think it's interesting," Derry resident Phil Smith said of the 2016 race. He is also an undecided voter, who said a lot can change in terms of momentum in the race within the next week. Smith said he voted for Jeb's father and brother for president, but wasn't ready to commit to a third Bush just yet.
As usual, Bush showed a fluency with the issues in his appearance. He talked extensively about drug addiction, a big problem in the Northeast in recent years.
"I think we need to look at this, first and foremost, as an illness; that it needs to be treated," he said. "That we need to expand recovery centers so that people who struggle with addictions have a network of people that they can rely on, that can share." Bush added that the U.S. criminal justice system "has to recognize that there has to be second chances," remarking on the fact 50 percent of the people serving time in federal penitentiaries are in for drug crimes.
He then criticized President Barack Obama for another failure of leadership, saying that with criminal justice reform being a bipartisan issue now, he should apply his energies towards crafting legislation, instead of his clemency initiative where the Justice Department has encouraged certain nonviolent offenders to apply to have their sentences shortened under his power to give pardons.
Can Bush close the gap by Tuesday? The most recent polls show Trump crushing the competition, with Marco Rubio separating from the pack in second place.