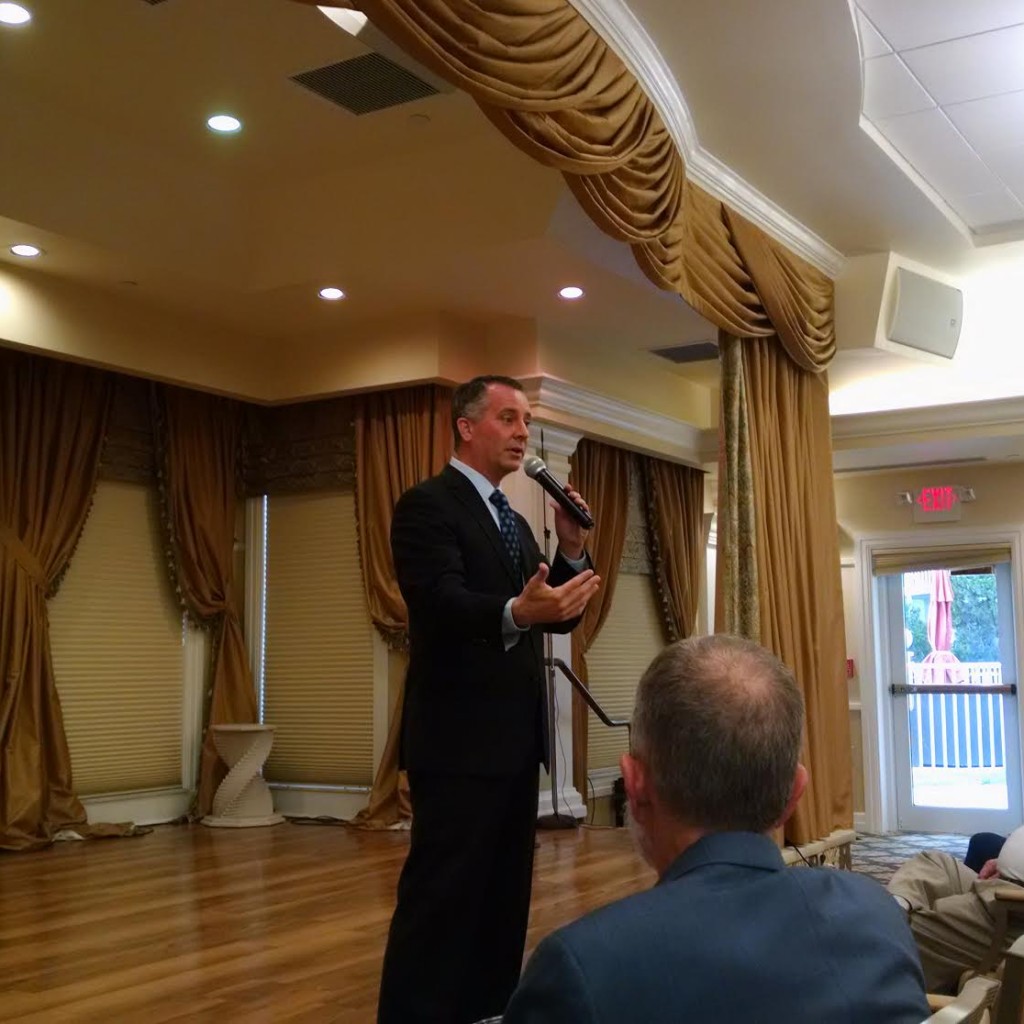 Pinellas County U.S. Rep. David Jolly says he's not concerned at all concerned about the effect that wealthy Manatee County developer Carlos Beruff's entrance into the GOP race for U.S. Senate campaign might mean for him, saying, "If anything, it's a huge win for the David Jolly campaign."
Beruff, a multimillionaire, has ties to Gov. Rick Scott. He's reportedly close to becoming the latest entrant to the race, which already includes Jolly, Lt. Gov. Carlos Lopez-Cantera, U.S. Rep. Ron DeSantis, and former CIA contractor Todd Wilcox.
"If you're the lieutenant governor and the governor's team is beginning to coalesce behind somebody else, it's a bit of an embarrassing moment," Jolly said in Largo shortly before speaking to a group of seniors in Largo. "For Ron DeSantis, his money advantage evaporates overnight, and frankly, the lane that is preaching shutting down the government and obstructing just got a little more crowded and Ron and Carlos are going to have to fight for that."
Several staffers who worked with Scott are now on CLC's team, including campaign manager Brian Swenson. Darlene Jordan, a former co-finance chairwoman for Scott, is now on Lopez-Cantera's super PAC.
"If Carlos Beruff decides to get into the Senate race, we welcome his candidacy which will end the Jolly campaign," said Courtney Alexander, a spokeswoman for Lopez-Cantera. "He's from the same area as Jolly and he's a moderate like Jolly so he'll take votes from Jolly's underfunded and little supported campaign.  Jolly and Beruff have little chance of convincing Floridians that they will be Florida Republicans who will represent them and not their rich friends and special interest in Washington, D.C."
The Ron DeSantis camp responded with a shot at Beruff.
"Whether Charlie Crist Republican Carlos Beruff gets into the race or not, the only candidate in this race who can put together a winning campaign for U.S. Senate is Ron DeSantis," responded Brad Herold, a spokesman for DeSantis.
Jolly's confidence comes from a couple of places – although some polls have him close to the other candidates, the most recent
statewide poll
conducted by Florida Atlantic University has him a full 20 percentage points over DeSantis and Lopez-Cantera. And twice in the brief interview with FloridaPolitics.com, the congressman mentioned geography, a reference to the fact that
25 percent of Republicans
reside in the Tampa Bay area.
Like many Republican elected officials in Florida, Jolly backed Jeb Bush for President, and is now a man without a candidate. He says he's not ready to back anyone else just yet, but did say that he considers the race to be between two men: Donald Trump and Marco Rubio.
In December, Jolly said that Trump should leave the race after the GOP front runner said all Muslims should be banned from entering the U.S. Although he said that he still maintains some "strong disagreements" with the real estate developer, Jolly seemed to be singing a different tune about Trump on Monday.
"There are actually policy areas that he is championing that I have introduced in the House, so I appreciate that, so let's see where this goes from here," he said, specifically referring to his bills regarding veterans health care (the Veterans Health Care Freedom Act) and law enforcement (the Thin Blue Line Act). "Republican voters are expressing some pretty strong opinions and I think it's important that we listen to them."
He also compared himself to Trump, sort of.
"I remain confident that we win this fight by focusing on mainstream economic principals. A strong national security policy and frankly, appealing with a fresh voice to many of the same people looking at Donald Trump right now. Look, I've got a record of calling it like I see it. I don't bend to party leadership and I don't bend to political winds, and I think that's what people are looking for in 2016, so I don't think much about Carlos (Beruff), but what I do know is, I think it's a great day for the David Jolly campaign if he gets in. The more the merrier."