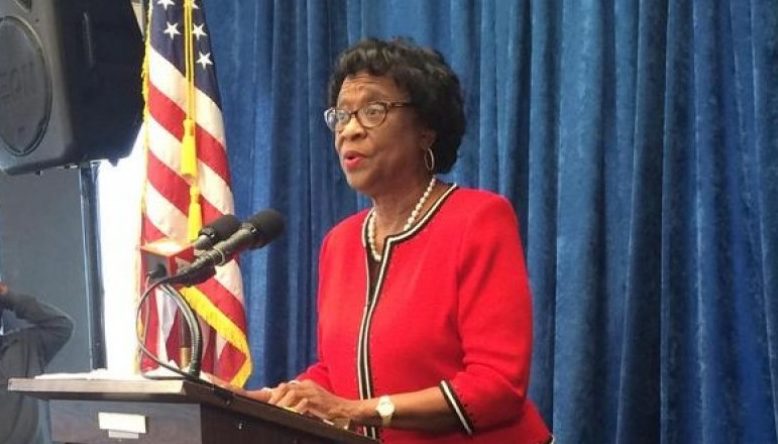 The Senate Democratic caucus met Tuesday morning to strategize before a busy legislative day in Tallahassee, where Minority Leader Sen. Arthenia Joyner led her caucus through discussions on a handful of controversial bills set to be taken up later in the day.
Of particular interest to Joyner was the Sen. Tom Lee-sponsored alimony bill, SB 250. Joyner advised members to prepare for a possible amendment yet to be filed, but that regardless of how the text changes she advised Democrats to be vocal in their opposition.
"Today is the day we will express our opinion" on the bill that would cap or reduce alimony payments for many divorcees across Florida, Joyner said. The bill has garnered a great deal of resistance from women's groups.
The so-called "Pastor Protection Act" also spurred conversation in the meeting. Former Leader Sen. Chris Smith inquired to a staff attorney whether the bill was "unnecessary," to which she answered in the affirmative. Equality Florida advocate and state House candidate Carlos Smith chimed in to say the bill was worse than unnecessary: It is odious and discriminatory, he said.
That sentiment was echoed by Joyner and other members, who said the bill could lead to a slippery slope of discrimination "using the cover of religion," as Sen. Audrey Gibson put it.
Joyner put an even finer point on it.
"Next thing you know, they'll be putting 'coloreds only' signs up, and we're not having that. We are not going back," she said.
The discussion ended with a warning by Sen. Jeff Clemens to be wary of Republican attempts to "play on the heartstrings" of members in an effort to perpetuate a low-THC medical cannabis bill similar to the regime currently in place, though after two years of delay. "It's not helping anyone."
Members also debated whether the Senate Ethics & Elections committee should confirm Surgeon General John Armstrong. Sen. Eleanor Sobel wondered aloud whether Armstrong "dragged his feet on implementation of medical marijuana." Though no senator strongly agreed with that characterization, it was plain no one in the room would be sad to see his confirmation fail.
Armstrong's hearing is set for 1:30 p.m.