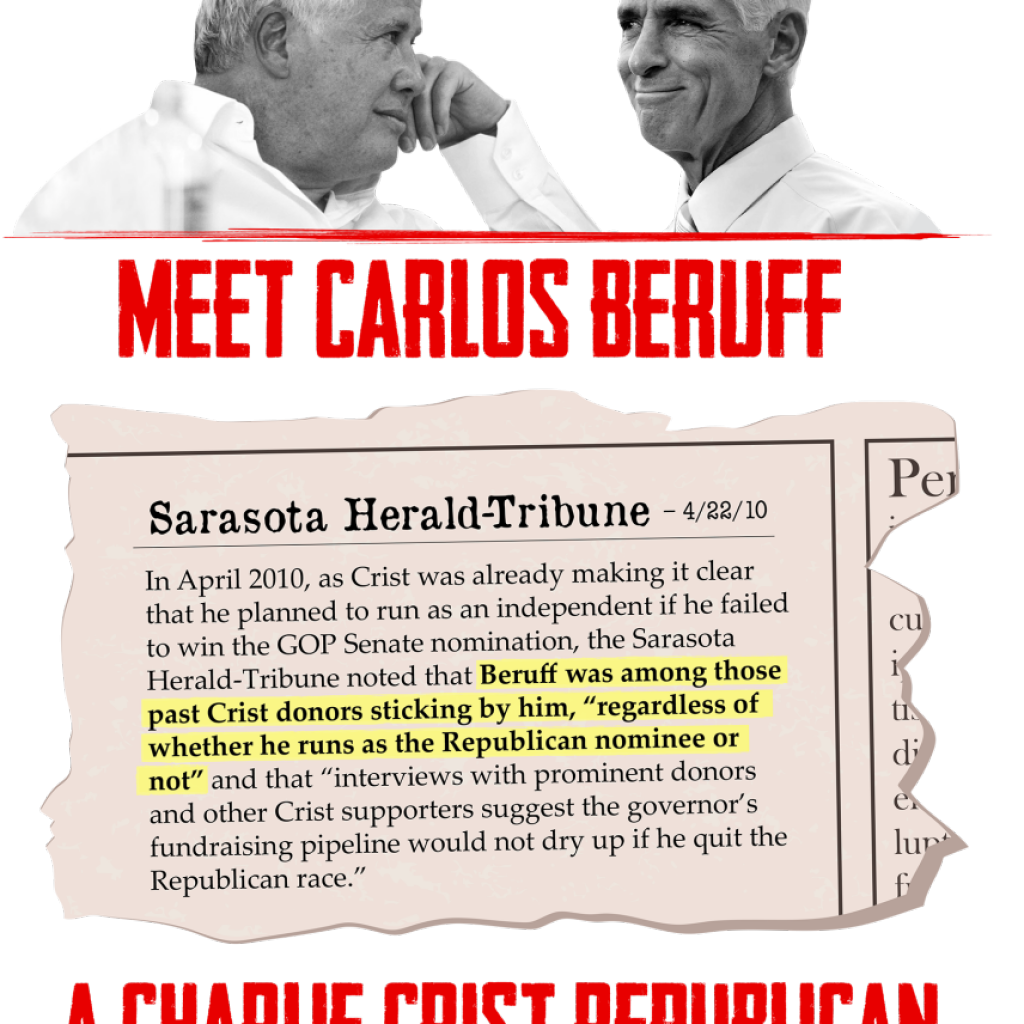 (UPDATED)
Ron DeSantis isn't exactly greeting the latest entrant into the Republican Party U.S. Senate race, Carlos Beruff, with open arms. Beruff, a Manatee County developer expected to officially announce his candidacy next week, has ties to Charlie Crist, and you better believe that will be used against him in this primary contest.
DeSantis, the Ponte Vedra Beach congressman and one of four already declared candidates for Senate, unveiled a website on Thursday called CharlieCristRepublican.com that attempts to tar Beruff as a stooge to Crist. The former governor forever sealed his fate with Florida Republicans when he left the party to run against Marco Rubio for Senate in 2010.
"If Charlie Crist Republican Carlos Beruff decides to run for U.S. Senate we're going to make sure that Florida conservatives hear about his support of liberals like Charlie Crist," said Brad Herold,  campaign manager for the DeSantis campaign. "Whether it's the issue of Beruff's liberal contributions to his support for Barack Obama's disastrous foreign policy, his track record of using political donations to get preferential appointments to line the pockets of himself and his friends, or his history of shady business deals; we're going to make sure Florida conservatives know the truth about crony capitalist and liberal Carlos Beruff."
Harold first called Beruff a "Charlie Crist Republican" when he responded to a  FloridaPolitics.com request for comment regarding comments that U.S. Rep. David Jolly made earlier this week.
The website contrasts four claims about Beruff that DeSantis says are false.  One such claim that DeSantis refutes is that Beruff, a multimillionaire, is a "self-made millionaire."
DeSantis says he's a "shady businessman," and buttresses his claim with a link to a 2010 story from the Sarasota Herald Tribune. The linked story reported on regarding Beruff's company, Medallion Homes, being accused of building homes using contaminated Chinese drywall, and then refusing homeowners please to replace it. The story says that Medallion attempted to intimidate homeowners from complain about the situation.
The website also takes shots at Beruff for his stances on Cuba, and his credentials as a conservative outsider.
After this initial story went live Thursday morning, a senior adviser with the Beruff campaign responded.
"Washington-insider Ron DeSantis is one of four congressman running for the Senate," he said. "He, like his congressional colleagues, is looking for his next promotion. He will call himself a conservative outsider, but in reality, he's just another Congressman. No matter how hard a Congressman tries to say he is anti-Washington, a Congressman is still a Congressman. And what do Washington politicians do when they get scared of a real outsider, they sling mud and attack. Washington-insider Ron DeSantis' mud-slinging shows he is worried about Carlos Beruff because he is a conservative businessman who isn't a politician. As this race plays out, Floridians will see Carlos Beruff as the conservative outsider in the campaign."
DeSantis has had the distinction of being the king of fundraising in the contest to date, raising $2.5 million. But Beruff is expected to raise whatever it takes to try to win the nomination. National Review reports that he's rumored "to have $15 million on hand already" for the race.
Todd Wilcox and Carlos Lopez-Cantera are the other Republicans in the contest.