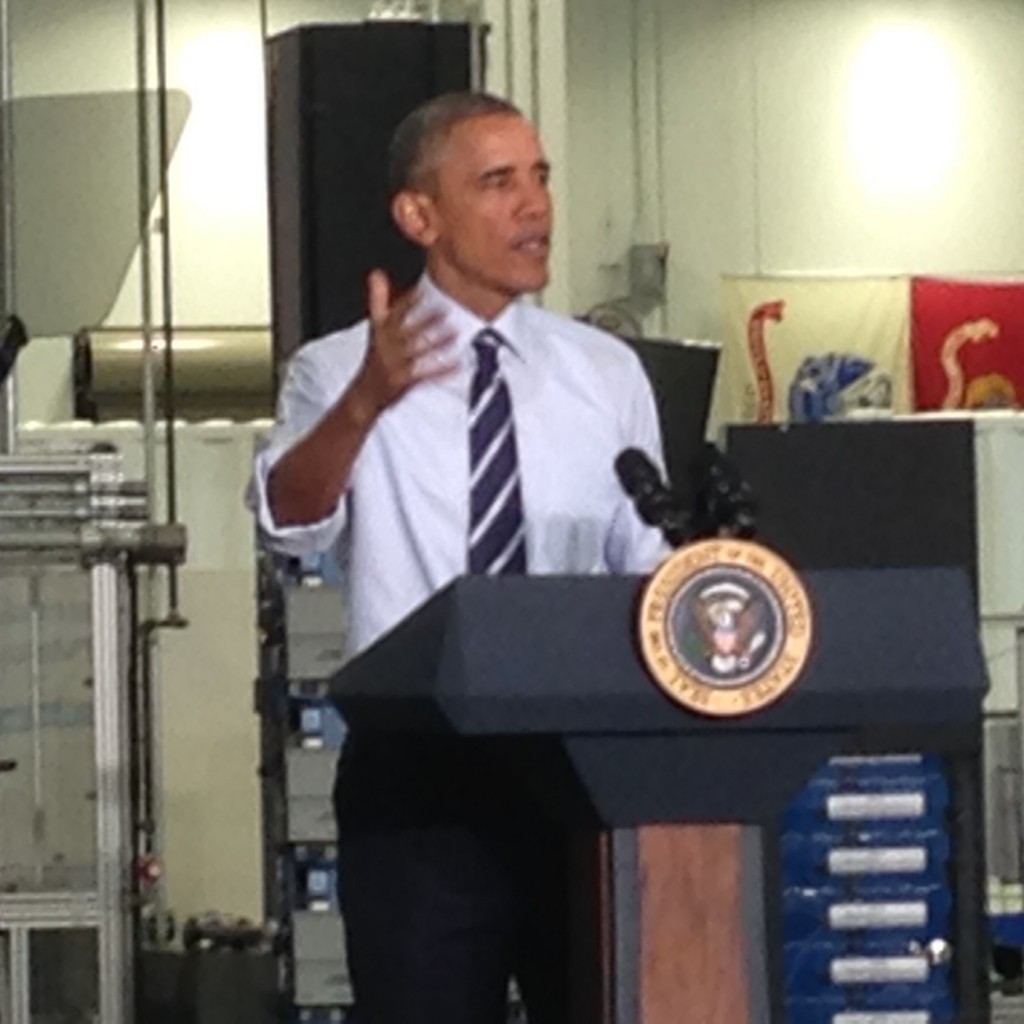 On Friday, President Barack Obama visited the Jacksonville Saft America Batteries facility, a success story from his first-term Recovery Act, and the stimulus dollars allocated to this facility and others like it.
In what could be President Obama's last visit to Jacksonville as President, he looked back at the challenges of the early months of his first term, with a country gripped by recession.
Obama talked about his "bucket list" including "getting to the World's Largest Cocktail Party," using the Florida/Georgia game as his local flavor, then recognized Representatives Corrine Brown and Patrick Murphy, both in the house.
Before Obama began his prepared remarks, he addressed the most recent mass shooting in Hesston, Kansas, one in a series.
"These acts may not dominate the news today, but these are two more communities dominated by grief."
"We cannot become numb to this," Obama continued. "Right now this Congress may not have any appetite to do anything about this, but we need one that does."
The President got more emotional, as he said "the real tragedy is that this becomes routine… once a week, we have these shootings, and they don't dominate the news."
Then the President pivoted to the work Saft and other companies did "to bring us back from one of the worst financial tragedies in history." He noted that "seven years ago, this was a plot of empty swampland… ignored for a decade after the Navy base closed."
Obama spoke of the recession, which hit especially hard in Florida, with an unemployment rate of 11.2 percent.
Since then, the unemployment rate has been cut in more than half, with manufacturing gains, gains in the automobile industry, and so on.
Obama, in the midst of his litany of accomplishments, noted Florida's failure to expand Medicaid, before pivoting back to the good news, saying that while it's not mentioned on the campaign trail, "anybody who says we're not better off than seven years ago, they're not telling you the truth."
"Jacksonville is better off… and none of this is an accident," Obama said.
It's a product of his policies, the President said, which are "paying off in big, tangible ways."
"If we don't talk about how things are getting better," Obama said, policies may change "and they may get worse."
Without "recognizing the progress we've made," Obama said, slipping into his drawl, "we may get sold some snake oil."
Integral to that progress: "the Recovery Act. That Recovery Plan has been a success," Obama said, and without it, "we could have fallen into another Great Depression."
Obama spotlighted Europe, which did not take these steps, with "some of these countries still facing double digit unemployment. We're doing better than them by every measure."
Tax cuts, for families and businesses, were integral.
"We helped states and communities keep… teachers and first responders on the job… we put people back to work preparing our roads and our bridges and our ports…" Obama said about one of the most "transparent, above the board pieces of legislation in history."
Obama said the act was a "foundation for a stronger, smarter economy… a future that's solid, where prosperity is shared by a skilled, productive workforce."
"I came here to Saft to show what it means to invest in the future," Obama said.
"When I took office, we were hopelessly addicted to foreign oil," and the "renewable energy industry's future was pretty cloudy."
As China and Germany were creating the jobs related to clean energy, "we were falling behind."
Solar power, wind power, geothermal power… all of these "promising new technologies" have been key, and "almost 98 percent of the investments we made under these loan programs are paying off," both in financial return and jobs, "the fruits of those investments that we made."
Solar jobs, said Obama, are growing. Net imports of foreign oil: down 60 percent.
"Thanks to the investments we've made… we're seeing huge investments in our advanced battery industry," Obama said.
Advanced batteries for cars are being made, as well as bigger batteries, "the size of trailer parks, that are helping to stabilize our energy grid."
"Clean energy's about unleashing the potential of all these new technologies," said Obama, adding "just think what we can do with solar in the Sunshine State."
The benefits include "thousands of jobs for veterans, including vets we've brought home from Iraq and Afghanistan."
A third of Saft employees are veterans, including the majority in the room, which gave him a standing ovation.
"Things are changing fast, and that's scary sometimes… the economy is interconnected, and what happens on the other side of the world can affect us."
However, "there's so much possibility." Obama framed his legacy as one of embracing change, "because we're a nation of innovators and risk takers."
"We can see real tangible evidence of what a new economy looks like. It looks like this facility right here."
"The future is ours. But to finish the job requires steady, persistent effort," Obama added.
"I've never been more optimistic than I am now that we'll get to the place we need to go… our best days are ahead."
In a mini press gaggle after the event, Press Secretary Josh Earnest said that the Jacksonville trip was a "good symbol" of how these "investments have paid off in a tangible way," and how "this facility is a testament" to the cooperation between government and the private sector.
For Jacksonville, the Obama years have been a success. That said, Obama's history with Jacksonville has been an interesting one.
The day before the Presidential election of 2008, Obama was in town, talking of the hope and change he would bring. Perhaps the most notable political convergence was when he campaigned here for reelection in 2012, and then-Mayor Alvin Brown, a Democrat, opted not to appear with the President.
That failure to appear ended up being reciprocated during Brown's re-election campaign, when the campaign's courtship of Michelle Obama to come to town on Brown's behalf came to nothing.
Current Republican Mayor Lenny Curry missed Friday's appearance also; he chose instead to take his son deep sea fishing. In attendance from City Council: John Crescimbeni, Joyce Morgan, and Doyle Carter, the district Councilman at the deep Westside Cecil Commerce Center, home of the 280 employee, 235,000 square foot Saft facility since 2011. Also seen: Jax Chamber Chair Audrey Moran and State Rep. Reggie Fullwood.
Obama's landing, via Air Force One, was more sparsely attended. Pool reporter David Bauerlein notes that the only local dignitary who showed was Howard Wannamaker, the Commanding Officer of NAS Jax.
Ahead of the event, Hillary Clinton issued a statement:
"President Obama helped bring our economy back from the brink of depression, in part by making smart investments in projects like the Saft America Advanced Batteries Plant that helped put the people of Jacksonville back to work. We need to build on this progress. We need to tear down all the barriers that are holding communities back and build ladders of opportunity for all people. Making America the clean energy superpower of the 21st century will help us achieve these goals. That means both setting bold national goals for clean energy and creating more good-paying clean energy jobs. My Clean Energy Challenge will work with states, rural communities, and cities like Jacksonville that want to go further to cut carbon pollution, boost energy efficiency, and provide pathways of opportunity for those that are too often left out and left behind."