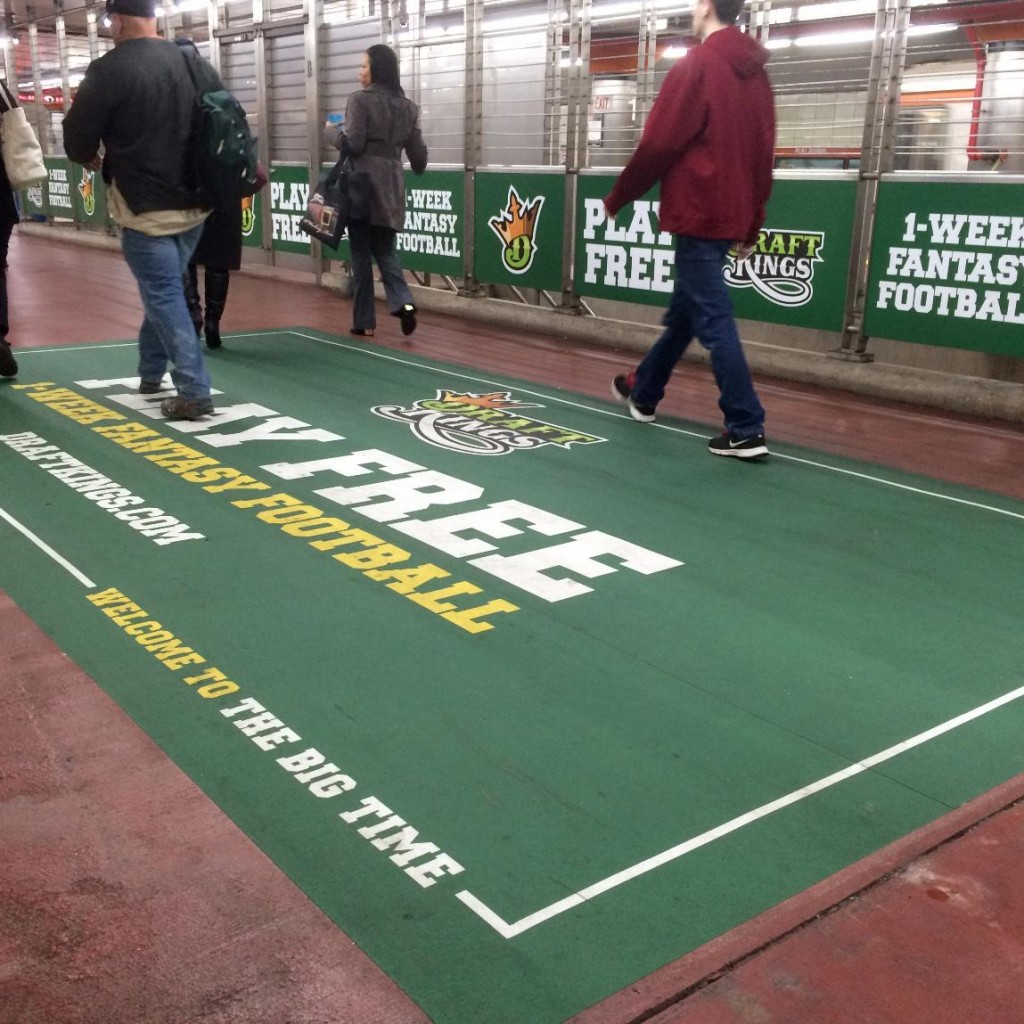 The daily fantasy sports debate has spilled into state capitols nationwide, with nearly 30 legislatures including Arizona's considering proposals to regulate, ban or affirm the games played by millions of Americans.
The flurry of recent legislative activity represents a sea change for the industry, which for years was content to operate largely unregulated.
"We've been operating in this gray area for a long time, and, up until now, it hasn't really been a problem," said Peter Schoenke, chairman of the Fantasy Sports Trade Association, which hired about 65 lobbying firms in 44 states to push bills favorable to the industry. "What we want to do in all of these states is to clarify that it is legal."
A 2006 federal law banned online gambling but specifically exempted fantasy sports, paving the way for the creation of the niche industry that's since exploded in popularity, prompting policymakers to take a closer look.
Companies like Boston's DraftKings and New York's FanDuel have argued their contests aren't gambling because the games require more skill than luck. But where it once shied away from heavy oversight, the industry is now embracing limited regulation, so long as it isn't subjected to the same exacting standards as traditional gambling operations.
"The laws of skill gaming and gambling were written like a hundred years ago and they don't really fit fantasy sports," Schoenke said.
This year's tally of 30 states with pending bills is up from roughly 16 states last year and two in 2014, according to GamblingCompliance Research Services, which has been tracking the legislation.
In Arizona, state lawmakers have been moving to spell out that the "fantasy sports" leagues being advertised heavily on TV — and the wagering around them — are legal even as prosecutors in some other states are trying to close them down.
Current Arizona law makes it illegal to spend money to participate in any game or contest of chance of skill. That includes betting on the outcome of a future event.
SB1515 would specifically exclude "fantasy sports league competitions."
But Kelsey Lundy, who lobbies for the Fantasy Sports Trade Association, insisted that the legislation her group is pushing does not, in fact, legalize anything. Instead, she told members of the Senate Judiciary Committee this simply seeks to clarify the law.
That, however, is not the conclusion of Attorney General Mark Brnovich.
In a letter to the chief executive of DraftKings, Brnovich noted the company is soliciting players nationwide. But in the letter, obtained by Capitol Media Services, Brnovich told Jason Robins that DraftKings is apparently failing to warn Arizonans that they would be breaking the law.
Lundy said Arizonans have been participating in online fantasy leagues since the early 1990s. The problem, she said, is state law spells out exceptions from its ban on gambling, ranging from bingo nights at churches to the games of skill at places like Dave and Buster's.
"But the law is silent on fantasy sports in Arizona which has created this legal gray zone that my client would like to clarify," Lundy said.
The 'poison pill'
That contention that fantasy sports always has been legal is crucial to what happens even if the measure is approved by the Legislature and signed by the governor.
In 2002, the state signed a deal giving Indian tribes the exclusive right to operate certain kinds of gambling. That compact includes limits on types of gaming, the number of casinos and the number of machines.
More significant, that deal says if the state expands the kinds of gaming allowed off reservation it triggers a "poison pill" in that compact that eliminates any limits on what the tribes can do. And that also would absolve the tribes of any further obligation to share profits with the state.
Gaming interests crafted the legislation to have a specific legislative finding that the competitions have been in Arizona since the 1990s, "providing business and fan opportunities."
"The Legislature has never considered fantasy sports league competitions to be a form of gambling," reads the language approved by the committee.
But Valerie Spicer, executive director of the Indian Gaming Association of Arizona, said her members believe the law would trigger the "poison pill," even with the legislative disclaimer.
Proponents said they don't need to resolve that: The legislation contains language saying the law goes away if a court ultimately determines that it does, in fact, expand gaming in Arizona.
Spicer said by that point, it will be too late. She said simply approving the law — even if can be voided later — triggers the provision.
And she derided the premise of the measure and its wording.
"Simply stating that it is not gambling doesn't mean that it's not gambling," Spicer said, pointing out actions taking place across the nation by attorneys general in other states to review the issue, a review she said is likely to end the daily fantasy sports operations.
That's the conclusion that Brnovich already has reached.
"Participation in your games for monetary winnings violates Arizona law," he wrote to Robins.
And even if Arizona cannot shut down DrafKings, Brnovich warned Robins his firm could be in violation of the state's Consumer Fraud Act for failing to warn Arizona consumers "that they are ineligible to play for monetary winnings."
Gambling exemptions
Around the country, at least half the bills represent variations of an industry-backed proposal exempting the games from state gambling regulations and imposing requirements meant to protect consumers, according to an Associated Press review.
Among them is a Virginia bill that's the first headed to the governor for approval this year, following passage by the legislature last week.
About 14 states are weighing bills requiring a player be at least 18 years old. California and Maryland are considering bills with a minimum age of 21, as is Massachusetts through a rule-making initiative taking place outside the legislative process.
Most bills filed so far seek to impose licensing and registration fees on fantasy sports companies.
The payments range from a one-time, $2,500 fee proposed in Oklahoma to a one-time fee of up to $500,000 plus an annual renewal fee of up to $100,000 called for in a Florida bill.
At least two states — California and New York — have proposals to tax revenues from games.
"We feel strongly that there ought to be some revenues to help offset any negative consequences," said California Rep. Adam Gray, the Democrat who submitted the proposal. "There are legitimate concerns that gambling and other gaming activities create significant personal challenges for people."
In terms of oversight, the industry-backed bills generally call for companies to hire a third party to conduct a compliance audit, which is then reviewed by the state attorney general.
At least two states — Indiana and Maryland — are considering bills placing oversight directly in the hands of state agencies that regulate gambling, horse racing and lotteries.
Two others — Massachusetts and Rhode Island — are weighing bills that simply authorize their state lotteries to develop fantasy sports games but steer clear of the regulatory debate.
Industry watchers are concerned that some of the bills are still too vague.
Chris Grove, editor of the Legal Sports Report, a Nevada-based publication, said the definition of "fantasy contests" used in many of the industry-backed bills doesn't specifically limit competitions to sports. Fantasy contests based on award shows, political debates, even spelling bees could theoretically be permissible, he says.
"The broader and vaguer the definition, the more likely it becomes that operators will push the limits of that definition," Grove wrote in a recent analysis.
Schoenke, of the trade association, says the industry isn't opposed to bills refining that language, as some lawmakers have already done.
"The intent of my legislation is to define daily fantasy contests as those involving sports," said Illinois Rep. Michael Zalewski, a Democrat who introduced a version of the industry bill that includes the "fantasy contests" definition in question. "I'm confident through corrective drafting and legislative intent, we can address concerns addressed."
Advocates for problem gamblers, meanwhile, are concerned the bills don't go far enough to protect consumers.
"They're absolutely inadequate," says Keith Whyte, head of the National Council on Problem Gambling. "Regulating fantasy sports without decent minimum standards will exacerbate gambling addiction problems."
The industry-backed bill, introduced in many states as the "Fantasy Contests Act," requires companies to verify players are 18 or older, ban employees and their relatives from competing in cash contests, allow players with gambling problems to limit or restrict their play and segregate player funds from the company's operational funds, among other things.
The National Council on Problem Gambling suggests lawmakers impose more stringent age verification measures and require operators to prominently post gambling addiction resources on their websites.
Schoenke says the industry is open to more specific legislative requirements. DraftKings and FanDuel say they already use a multistep process to verify the age and location of players, post gambling addiction information online and allow players to limit their play.
It's too early to say which bills will ultimately pass, but Jeremy Kudon, a New York-based lawyer coordinating the trade association's lobbying effort, says up to eight states could pass legislation favorable to the industry. Most, he acknowledges, will take years of work.
"Passing legislation is like getting into the Hall of Fame," Kudon says. "Very few are first-ballot Hall of Famers."
Republished with permission of the Associated Press.