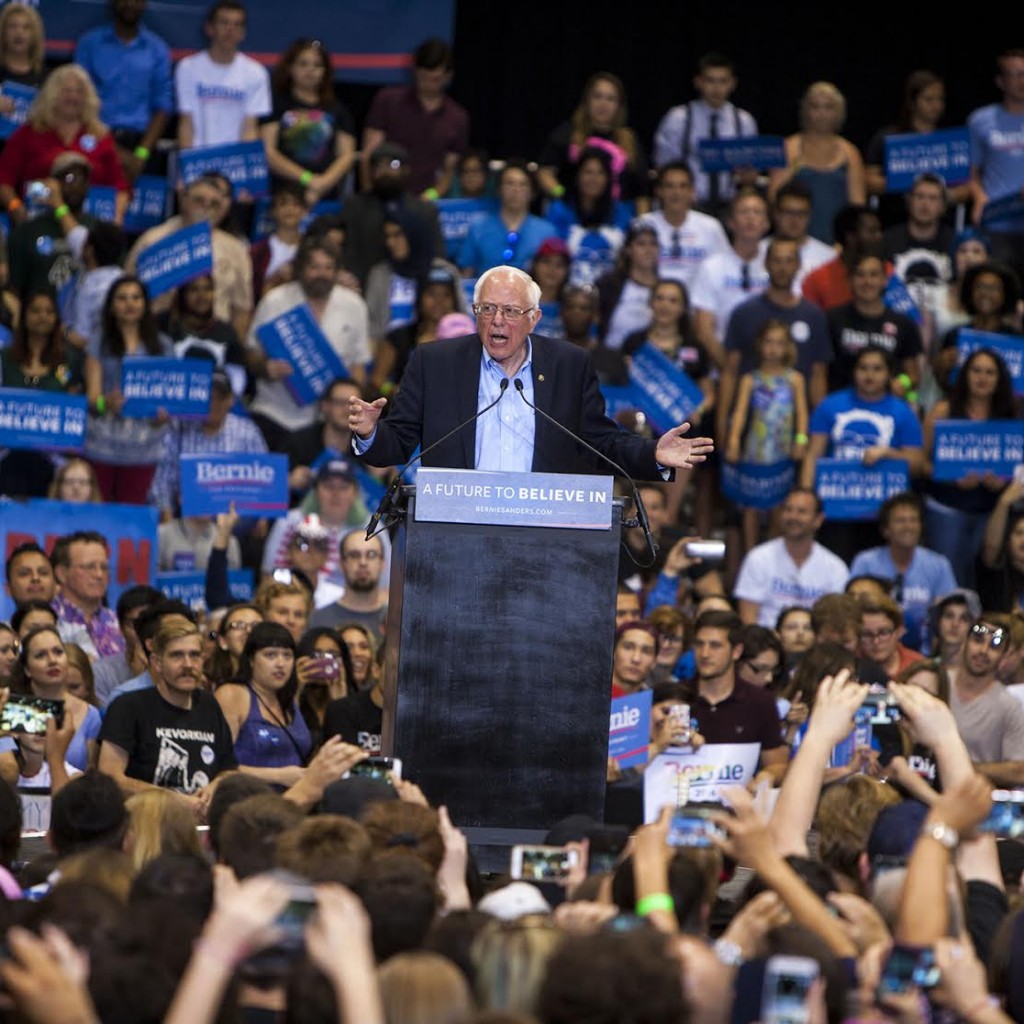 A multicultural mix of citizens – many under the age of 30 – flocked to the Florida State Fairgrounds on Thursday afternoon to see the unlikely progressive icon from 2016 – Bernie Sanders, the 74-year-old Jewish socialist from Vermont who is bringing excitement and passion to a Democratic presidential race that otherwise seemingly would a be non- eventful  coronation for Hillary Clinton.
"On Tuesday there is going to be a very important primary here in Florida," Sanders said in giving the windup to his 40-minute long speech before 9,000 people at Expo Hall. "If there is a large voter turnout, we will win."
That's not what the polls say, with most surveys showing him severely behind Clinton.
Then again, that was supposed to happen on Tuesday night in Michigan. Instead he shocked the political world (and perhaps even his own campaign) by defeating Clinton by less than two percentage points.
"Win or lose, I think he's created a revolution in as much as he's demonstrated that it's possible to have a successful campaign without the money from Wall Street," said retired college Philosophy professor Jack Brush, who lives in The Villages. "I didn't think it was possible to have a campaign like this, but it is."
It is indeed. Sanders has shown the ability to raise big money from small donations. After his stunning victory in the Michigan Primary, Sanders raised $5 million from 175,000 different contributors.
However, Sanders has been a stranger in the Sunshine State until this week, with his only previous appearance coming in Broward County last summer at the National Urban League's annual meeting.
The candidate added a stop in Gainesville on Thursday to his previously scheduled appearances in Kissimmee and Tampa, which were just announced earlier this week. Sanders organizers held meetings in Tampa in December and January to coordinate volunteers locally who wanted to be involved, but the campaign suffers from a lack of infrastructure compared to the Clinton campaign. "The turnout has been unbelievable," he responded after being greeted with a thunderous reception when he took the stage at approximately 7:25 p.m.
"I'm afraid that this is too late," Sanders supporter Jim Shirk from Tampa said regarding his chances in Florida. "The victory in Michigan came from disaffected independents and crossover voters. We don't have that option in Florida, so our drive to get people to change from NPA (independent) to Democrat was crucial."
Florida is a closed primary, meaning unlike states like Michigan or New Hampshire, only people registered as a Democrat on February 16 can vote in next week's primary. And nearly half the electorate has already early voting or by absentee ballot.
Sanders was feeling feisty on Thursday. He declared that not only can he beat Clinton in the race for the nomination, but the GOP front-runner as well.
"I have been criticized," he said. "'Bernie, you're a nice guy. You cannot defeat a Republican in the general election."
He then paused.
"So let me just mention to you, that almost every poll that has been done in the last several months have me beating Donald Trump, and beating him by a wide margin," he said, as the crowd erupted.
"We're doing something pretty radical in American politics," he said early on his address. "We're telling the truth."
Sanders then went into his standard stump speech, which is familiar to anyone who has caught his act on cable news or on YouTube replays. About how a corrupt political system is rotting our democracy, turning it into an oligarchy.
He hit upon the economic inequality that mars personal growth with the middle class,  and he blasted the criminal justice system in America.
"What this campaign is about is aksing people to think outside of the box, to think outside of the status quo, to think ideas that the televison people and the newspaper and the radio people do not talk about," he said. "We ask a simple question: Why in this great country should we have more people in jail than any other country on earth, why are are spending $80 billion dollars a year locking up 2.2 million people?"
He said he had bad news for the Republicans regarding Social Security. Not only would he not be cutting funding for the program, "we're going to expand Social Security!"
Sanders says people mock him as sounding like Santa Claus when he talks about such a program, but he says he'll pay for it with a tax on Wall Street speculation.
"I'm voting for my nephew," said  a self described Republican Socialist African-American named Brad from Largo. Brad said his nephew is $80,000 in the hole because of outstanding college debts.
Not everyone in the crowd thought that was a winner, though.
"I think it's a stretch, but that isn't my big thing about him. Nothing's free," said Sarasota citizen Ally Martin. "If he's nominated though, I think he has a better chance to beat Donald Trump than Hillary."
Gary Metz from Zephyrhills summed up why he said Sanders is connecting with the public.
"He's truthful. He's been walking the walk and talking the talk for forty years now, " he said.
Sanders take his campaign to Ohio on Friday, which is other big state voting on March 15.