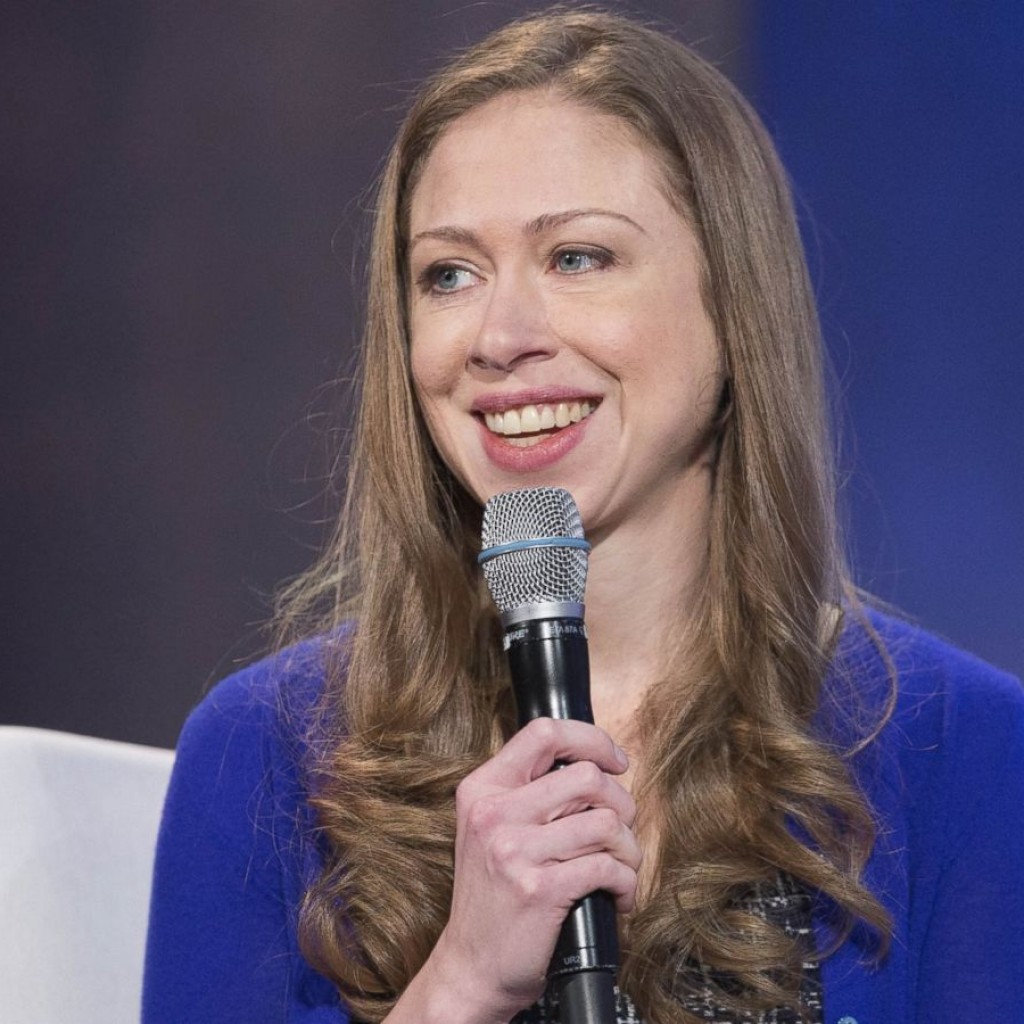 Chelsea Clinton may be a campaign surrogate for her mother. But in terms of political savvy, Chelsea is her father's daughter.
An event Thursday evening at the All Saints Early Learning and Community Care Center saw Clinton, who has a young child herself, demonstrate an ability to deftly pivot from conversations with children about whether Pluto is a planet to coherent analyses of her mother's policy positions to those in the audience over the age of 5.
The pivots were fascinating in and of themselves. One minute a kid would be handing her a flower and giving her a hug. The next minute, a policy dissertation … delivered, at least once, in a soothing singalong voice.
The common thread? Tuesday's primary between Hillary Clinton and Bernie Sanders.
"When I think about my mother, I couldn't imagine a better grandmother … or a better president."
For Chelsea, born to an Arkansas governor who was always in office, except for two years, between her birth and the year 2000, politics is in the blood. And the White House was the home in which she came of age. Growing up at 1600 Pennsylvania Ave., Clinton said, was "both really extraordinary and really ordinary," and having "walked into the White House after school" was "amazing."
Of course, Chelsea wasn't in Jacksonville to show Northeast Florida her Sidwell Friends yearbook. She came to town to sell the candidacy of her mother, who's way ahead in every poll, to a primary base that has been low-turnout this season compared with the GOP side. And, incidentally, to do a $250-a-head fundraising event.
There was plenty of red meat for the base.
Regarding the Affordable Care Act, Clinton said that "we can't give the Republicans any space to push back" and that, in terms of providing health care to as many Americans as possible, the ACA is "the best way to do that."
Chelsea Clinton had words for Rick Scott also, noting that "your governor actually cut funding for public education."
Clinton, fully aware of being in a primary that is more contested than anyone expected six months ago, was also willing to attack Bernie Sanders.
"Her opponent supports VPK," Clinton said, but "he doesn't tell you how he's going to pay for it."
Hillary Clinton, added her daughter, "believes that people from the lower and middle classes should go to public universities for free," yet "she doesn't think that government should pay for everyone."
These swipes at Sanders didn't mollify concerns of the media on hand, however.
During a press gaggle after the event, Clinton said, regarding her mother's lack of draw with young voters, that her campaign is "reaching out to everyone" and the intent was to "talk to as many people as we can," before pivoting to her mother's "strong record" on issues like Head Start and Early Childhood Education.
Clinton spoke very specifically on policy, offering faithful recitations of her mother's familiar positions on issues ranging from teacher pay to finding ways to rein in prices on prescription drugs, the highest in the world.
She was conversant in policy. But more than that, there is something I will remember from her event.
Despite Clinton's self assurance, there was a poignant coda when she was asked by one of the dozens of toddlers in attendance if she was happy.
"Am I happy? I don't think anyone's ever asked me that at a public event," Clinton said.
Clinton grew up in the public eye, objectified and demonized by talking heads on the right years before she learned to drive.
Happiness in the conventional sense: a tradeoff for an extraordinary life.
In that sense, her friendship with Ivanka Trump, which Clinton told us will endure through and past November, makes the most sense.
Both grew up in the fishbowl. And despite that, both are nurturing mothers, who necessarily balance that with the constant whirl of the political calendar.