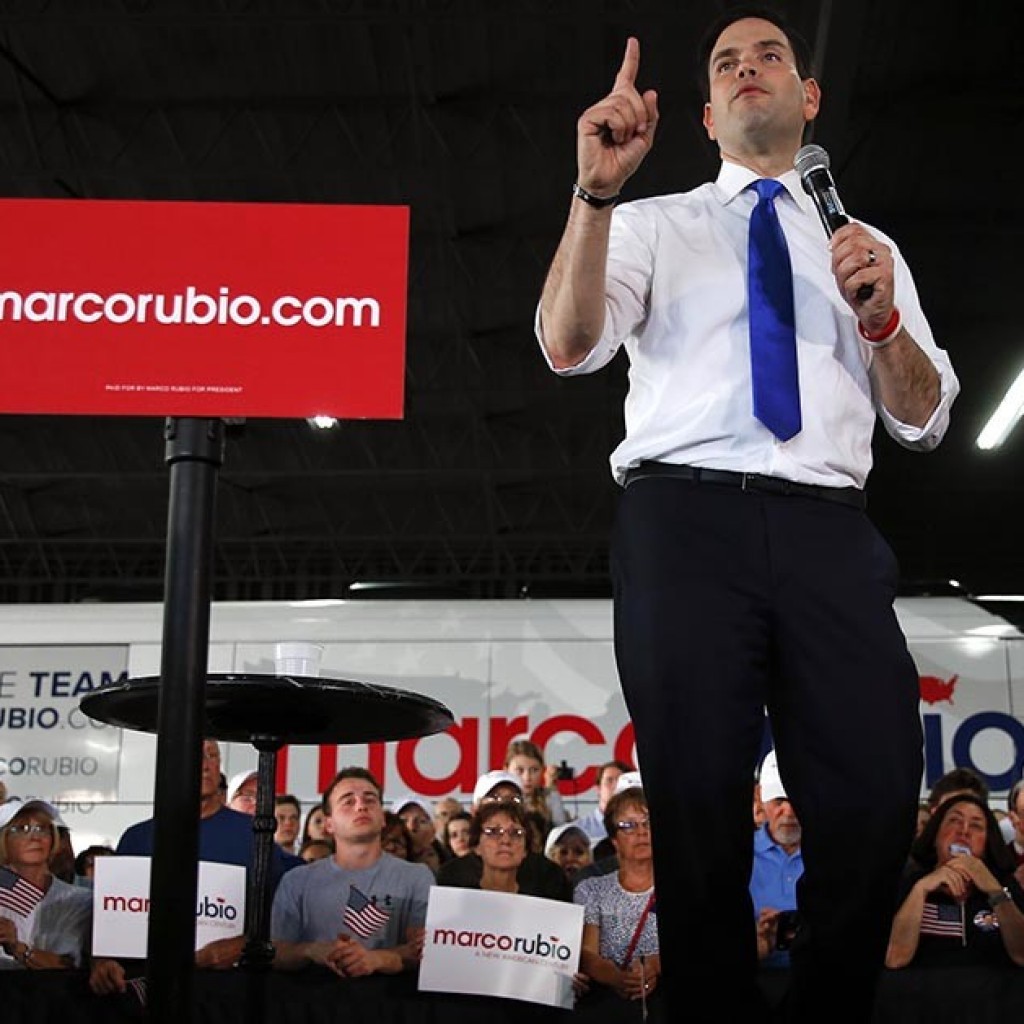 In the closing days of the Florida Primary campaign, Marco Rubio feels increasingly emboldened to deliver real talk about the violence at Donald Trump rallies.
"I think it is sad all the way around. To see these images. It clearly, there's some level of ethnic and racial divide in how this is playing out on television. I just think it reflects very poorly on our country. I think it's sad all the way around tonight, I really do. I'm very sad for our country," Rubio said early in his Friday night segment on the Megyn Kelly show.
Without directly naming the Trump demographic, Rubio eventually described the Trump appeal better than anyone in the GOP race so far.
"Look, one of the appeals of Donald Trump, I believe, is that he says what a lot of people wish they could say, but it's not politically correct to say, or it's not polite to say, and he says it, he says it on a big platform and people love it, it's cathartic. The problem is that when you're going to be President of the United States or when you're running for President or when you are president, you can't just say whatever you want, these words have real consequences," Rubio said.
Soon after that, Rubio expanded further on this theme.
"I am saying he does bear responsibility for some of the other things that have happened at his events, including people being punched in the face, allegedly a reporter also being roughed up the other day. I think there's blame to go around here and I think it reflects – we are entering a kind of very disturbing moment in our political discourse in this country that is reaching a boiling point that I believe has very significant repercussions, not just for this election," Rubio said, "but for the future of this country."
Rubio went on to add that "there's real significant anger and frustration at the direction of our country. People feel every major institution has let them down. The media, academia, organized religion, the political parties, the political process. People are hurting, and they're upset, and they're angry, and I think it's the job of leaders not to stoke that anger, but to use that anger and channel it in a way that allows us to reach solutions."
Rubio amplified these comments Saturday in a presser in Largo, saying that he didn't know if he could support Trump as the GOP nominee ("I still at this moment intend to support the Republican nominee, but … it's getting harder every day), and accusing Trump of stoking the "anger" of his supporters.
Rubio showed a precision and clarity about the Trump "dangerous style of leadership," noting that while a number of factors converged to make the protests of the left happen, Trump is ultimately responsible, the linchpin for a movement that could see the country devolve further into "chaos and anarchy."
"This is what happens when a leading presidential candidate goes around feeding into a narrative of bitterness and anger and frustration," Rubio said, ironically channeling Barack Obama descriptions of some GOP voters as "bitter" and "clinging to guns and religion."
"In many ways, he doesn't want to say anything to his supporters because he doesn't want to turn them off."