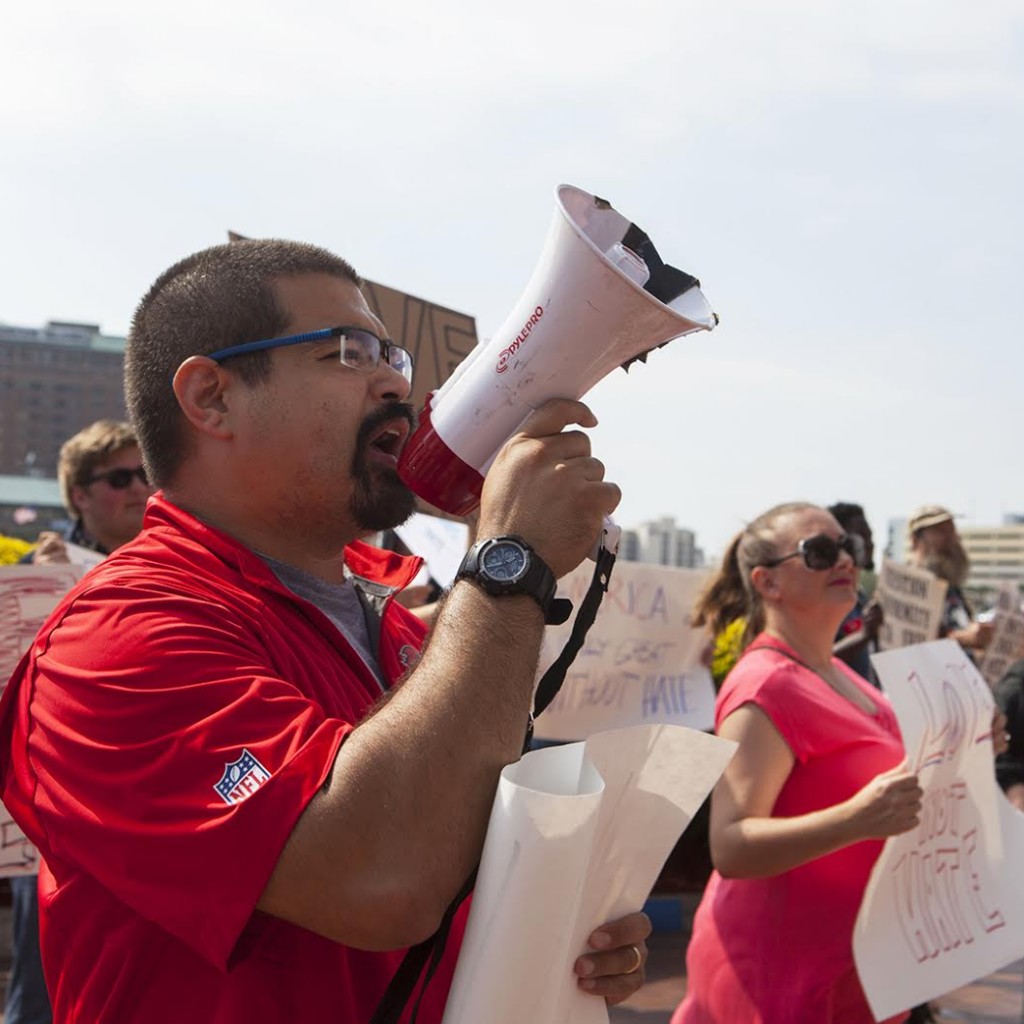 More than four hours before Donald Trump convened a town-hall meeting at the Tampa Convention Center, people held their own counter rally at MacDill Park on the Riverwalk. It's a short distance from where the once -hyped "Trump Tower Tampa" was to be built nearly a decade ago.
"Donald Trump is calling for the mass surveillance of Muslim-Americans, he's suggesting closing down Muslim-American faith institutions, he is openly on the record advocating war crimes against individuals. This is a dangerous man spreading a dangerous message, and I think that as concerned citizens and as Americans we should stand against Donald Trump and his hateful message," said Leila Abdelaziz,  the Legislative and Government Affairs director with the Council on American-Islamic Relations (CAIR) in Florida.
The two most racially provocative things that Trump has said during his campaign for president were about the above mentioned bans on Muslims, as well as his comment regarding illegal immigration. On the day he announced last June, the former "Apprentice" host specifically said that Mexicans were "bringing drugs. They're bringing crime. They're rapists. And some, I assume, are good people."
Couple that with an incident in North Carolina last week where a 78-year-old white man sucker-punched a black protester, and the anger has accelerated among his critics, which include plenty in the Republican Party.
"He wants to create a literal wall with Mexico, and he's creating walls within our country and inciting violence, and that's the last thing our country needs," said Sarasota resident Travis Barrows. "It's already divided enough and it's time for us to show up and be part of things like this."
Tampa resident Rebecca Collins saw the posting about an anti-Trump rally on Facebook on Sunday night and said she had to participate in it. "I feel passionate about this," she said. "A lot of things that he's said in interviews and debates has really given me chills for how anti-American it's been. Because America is about inclusiveness and opportunities for all. We're supposed to care for one another  and have opportunities, but he's singling out groups of people, he's appealing to only one demographic, essentially, and I find that completely un-American, because the  president is supposed to represent all Americans."
Collins added that she's still in a state of disbelief over the fact that Trump looks unstoppable as the GOP presidential candidate his year. "This goes way beyond my expectations from what I thought we'd be capable of. And I want to believe we're capable of much better, not worse."
"We need to be united, and what I see happening is that the Trump campaign is trying to separate us, so I feel the need to stand up," said St. Petersburg resident Fred Clare.
Some political analysts have predicted that if and when Trump becomes the Republican Party nominee, he will clean up his act to a certain degree.
The Rev. Russell Meyer isn't buying it.
"He's not speaking to the broad American public right now and he knows that, he's a marketing genius," Meyer said of Trump's success with GOP voters. "He knows exactly who his audience is. He knows what he needs to do in order to get a third of one side of a political party to show up and vote for him, that's all he needs, that's all he's appealing to."
At about 11 a.m., the group began walking the four blocks or so to the Convention Center, where they then got into a spirited exchange with pro-Trump supporters. There were no reports of violence or any other incidents.
During the town-hall itself, about six protesters were removed  after they made anti-Trump shouts.
(Photo credit to Kim DeFalco).