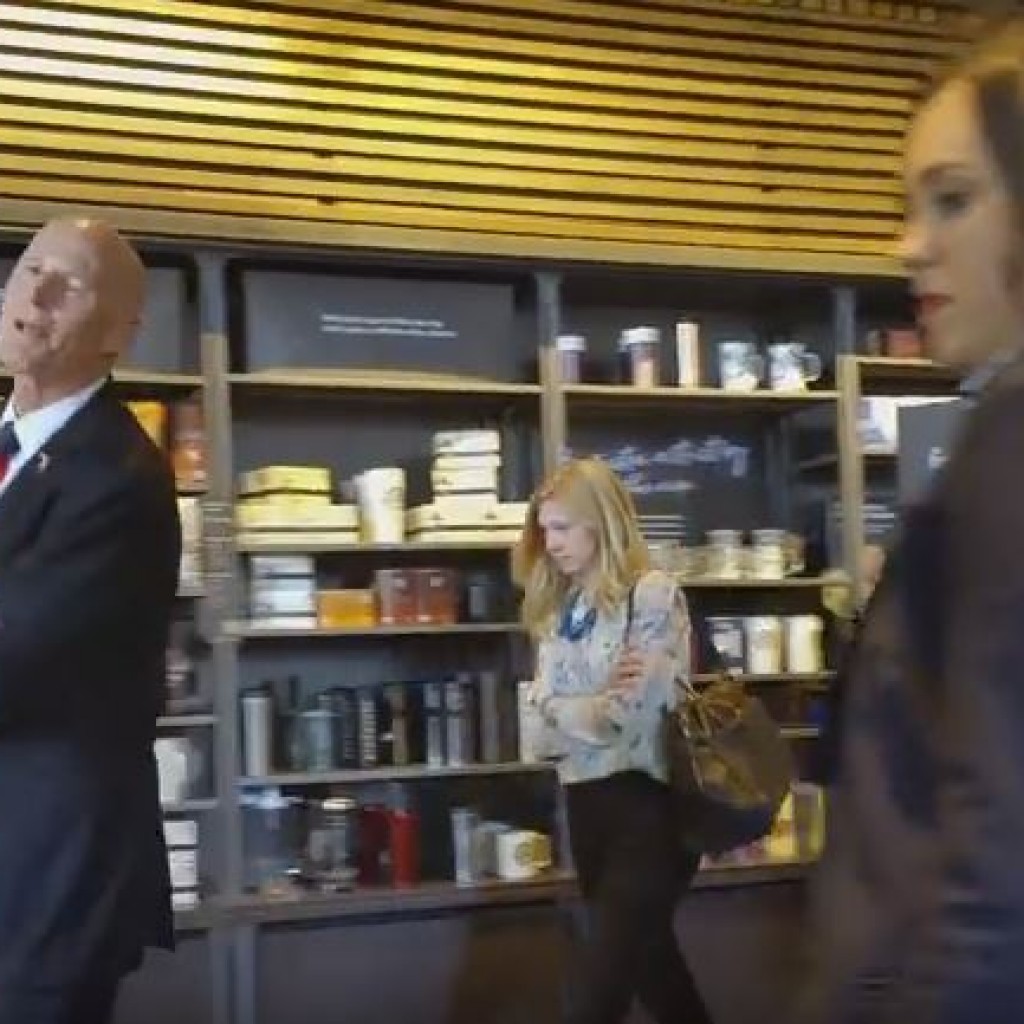 During a visit to a Starbucks in downtown Gainesville, Gov. Rick Scott got an earful from an angry woman over his refusal to expand Medicaid to low-income Floridians.
"You cut Medicaid so I couldn't get Obamacare," the woman, identified as former Lake Worth City Commissioner Cara Jennings, yells at Scott. "You're an asshole. You don't care about working people. You should be ashamed to show your face around here."
The 47-second video was captured by another patron and uploaded by YouTube user Stephen Bender.
When Scott responded that he created 1 million jobs, Jennings was less than impressed.
"A million jobs?" she answered incredulously while looking around. "Great, who here has a great job? I was looking forward to finishing school. You really feel you have a job coming up?"
Jennings then scolded the governor for stripping money and assets of public health care.
"Shame on you Rick Scott," she added. "We depend on those services. Rich people like you don't know what to do."
As Scott walked out the door, Jennings called him an "embarrassment to our state."
Jennings is no stranger to controversy. Before serving two terms as a Lake Worth City Commissioner, she was one of the founding members of the "Radical Cheerleaders," a mostly female group of protesters for a variety of political causes.
Writing for In These Times, Andrew Stelzer described the Cheerleaders in 2006 as such:
"Their fishnet-stocking, punked-out leather outfits and shredded garbage bag pom-poms caught on, as did their obscenity-laced chants against the neo-liberal agenda, the WTO and various other political causes. As the worldwide protest movement rose in the late '90s, the radical cheerleaders became fixtures at anti-globalization rallies, and cheerleading troupes have sprung up around the world."
Jennings, a self-described "anarchist," won a seat on the Lake Worth City Commission in 2006 to the surprise of some, serving through 2010. She told The Palm Beach Post that she remains an active participant in city meetings and civil discussions after leaving office.
With her background of political activism, it is less than surprising that Jennings took the golden opportunity to accost Scott in the Starbucks, being in the right place at the right time.
The video is now available on YouTube.