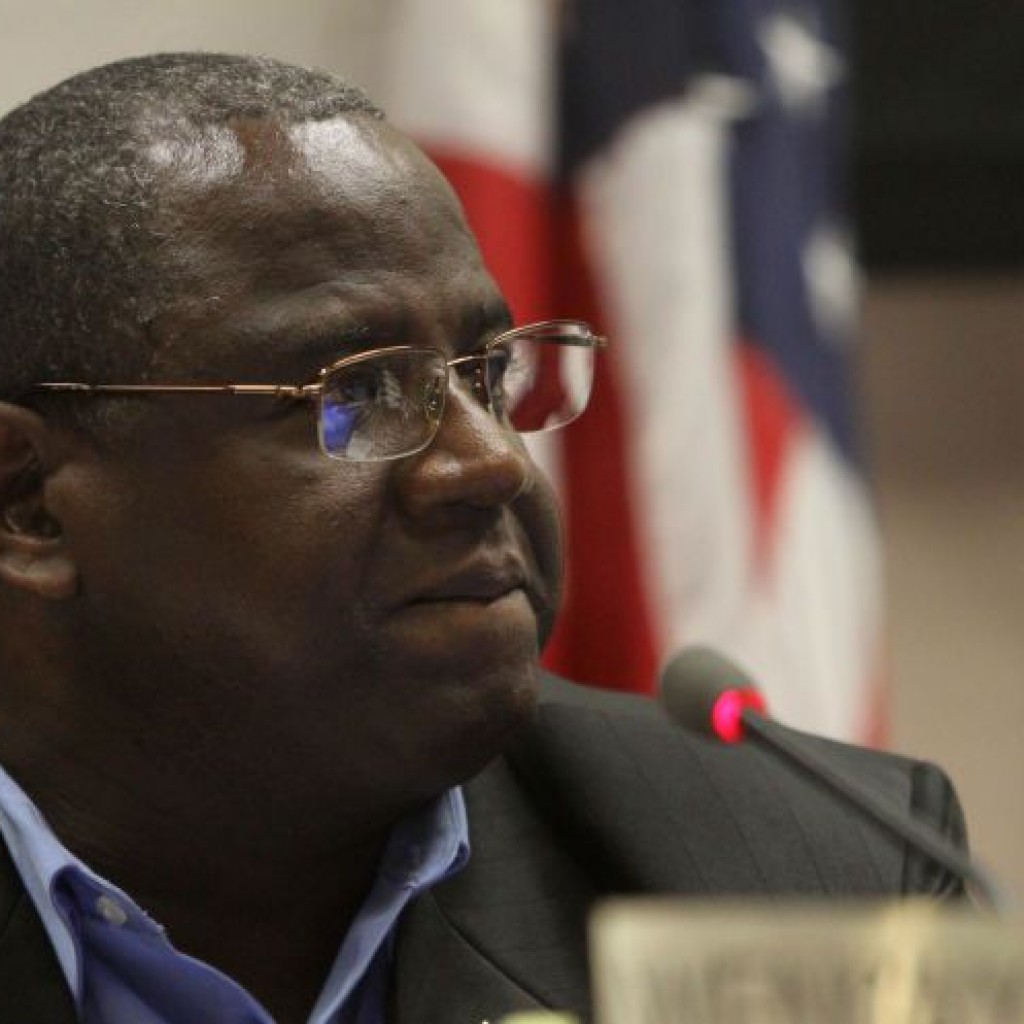 Wengay Newton didn't shy away from discussing his Tallahassee plans during an April 12 reception for his House District 70 campaign.
"I want to try and promote good legislation," the former St. Petersburg City Councilman said in his opening remarks. "And any bad legislation, I want to try and get that amended."
From there he went into specifics, first touching on what he sees as an outdated dollar amount assigned to Florida's felony grand theft law.
As state law now stands, a stolen item valued $299 and below is misdemeanor petty theft. Anything valued at $300 and above is considered felony grand theft.
"I'm not talking about getting rid of that law," said Newton, "but it should be amended to reflect 2016 prices […] Make it maybe $1,000 [for grand theft]."
As an example of why the law should be modified, he used cellphone theft. When young children — especially middle and high school ages — get caught stealing phones valued at over $300, they end up with a felony on their record; a punishment Newton feels doesn't fit the crime.
From there, he discussed equal pay for women.
"Women make 79 cents on the dollar," said Newton. "It's not equal. So that's got to change […] Women get less when they retire too — to live on. So it continues [after] their working years as well."
A minimum wage debate followed. Newton briefly, but bluntly, brought subsidies into the conversation.
"If you don't want to pay people enough money to work and enough money to live," he said, "then you're going to have to subsidize it. That's the bottom line."
Thanking two of his former fellow city council members — Darden Rice and Bill Dudley, both in attendance — Newton next spoke on what he believes is a flawed aspect of the Florida Sunshine Laws, one's designed to guarantee public access to public records of governmental bodies throughout the state.
"We [members of City Council] could not get in a room and talk about issues that were germane to what was happening in the city," said Newton, referring to gatherings between council members outside of official meetings.
"If we [would have done] that," he said, "we would have been [in violation of the] Sunshine Law."
But, in Tallahassee, Newton said there can bed 20 legislators in a room, talking about what they're going to do, and then they "already have a game plan once they get out [on the floor]."
Newton acknowledged the loftiness of his goals, given Florida's House of Representatives is quite comfortably controlled by Republicans, saying that he realized, "Rome wasn't built in a day." But he also made sure to keep the big picture in mind before finishing, concluding his remarks on a bipartisan note.
"When you've got a problem and you just focus on solutions," said Newton, "that's when you get things done."
The heavily-Democratic HD 70 encompasses Sarasota, Manatee and Hillsborough counties.
So far, Newton has drawn a single challenger, who is no stranger to Pinellas politics: Republican activist and perennial candidate, Sharon Russ,
Russ ran for St. Petersburg mayor in 2009, as well as challenging Karl Nurse for City Council in 2013. She failed to make the ballot in the mayoral race and lost to Nurse — 69 to 18 — in the three-way Republican primary for the council seat.
The general election is in November.