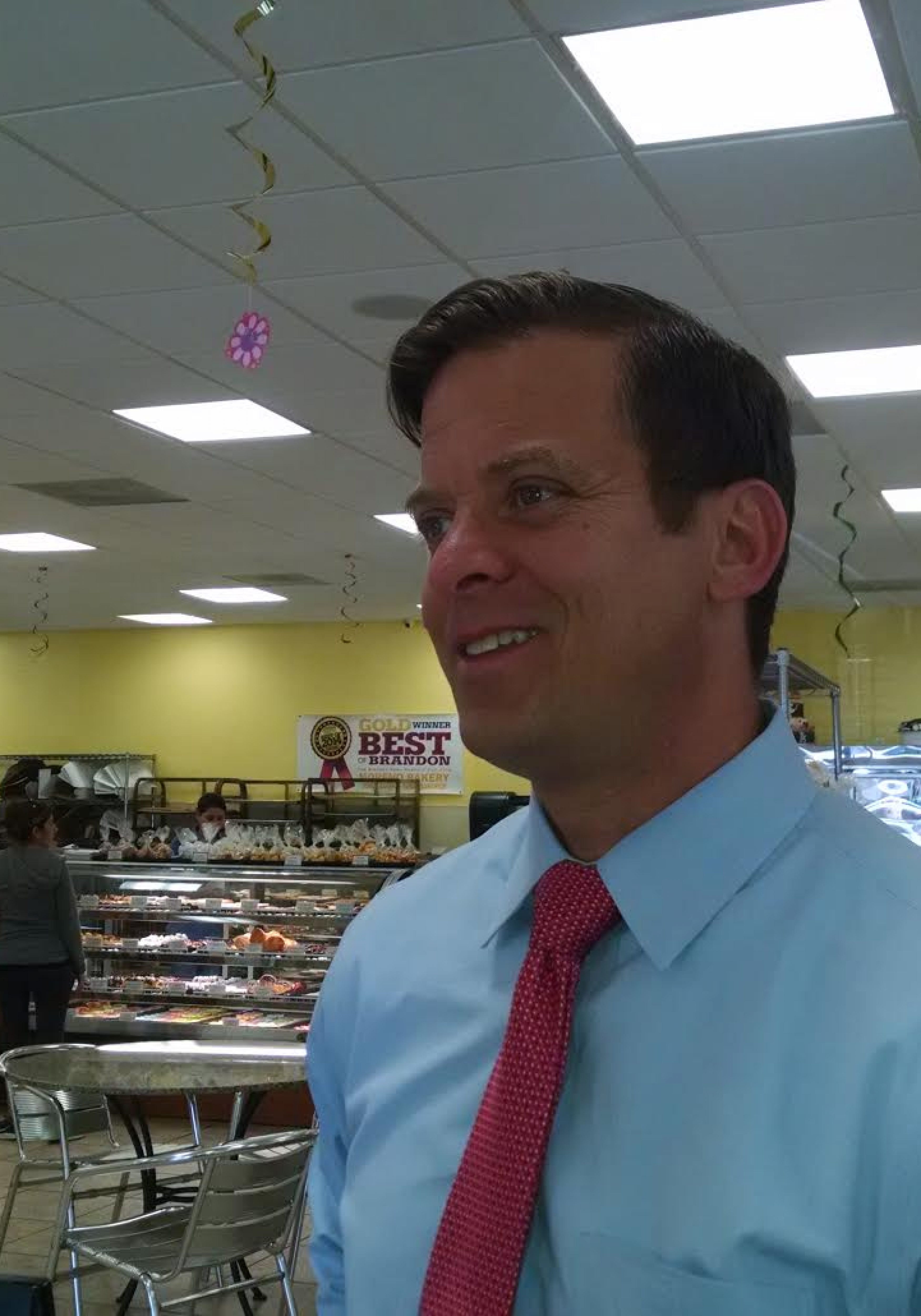 Fresh off his trip to Israel, GOP Senate candidate Carlos Lopez-Cantera was in campaign mode on Tuesday, speaking with voters at a Brandon Cuban bakery as part of his "Florida First Tour," the first stop of his month-long tour planned around the Sunshine State.
The Lieutenant Governor scoffs at the notion that his trip overseas was intended to shore up his foreign policy credentials versus some of his Republican opponents, two of whom – Todd Wilcox and Ron DeSantis – served in the military.
"I think I match up just fine," he told two reporters who greeted him before his meetup with voters Tuesday afternoon.
He said his main intention if elected will be to represent Floridians, and says he still can't believe he's the only candidate to declare that he'd hold town hall meetings each month (to be fair, neither do Bill Nelson nor Marco Rubio currently).
"That's part of the problem with D.C.," he said. "People go up to D.C. and get so caught up with everything that the echo chamber in D.C. wants to talk about and tend to forget about the issues back home, and this state is the third largest state in the country and it should be heard and its needs should be met."
On the campaign trail, Lopez-Cantera emphasizes that he is a Florida Republican, not a Washington one, a dig at DeSantis and Pinellas County Congressman David Jolly. He says that people he meets do understand the difference – and says he has a powerful story to tell.
"We're proud of our state and we're proud of what we've done. It hasn't been easy, but the results speak for themselves. Over a million new jobs, unemployment at an eight-year low, we still have surpluses. There are states who still haven't come out of the recession."
How much credit should go to Lopez-Cantera for the state's economic prowess will have to be decided by the voters, of course. He's been in his job for the past two years, replacing Jennifer Carroll in 2014. The position had remained vacant for nearly a year as Gov. Rick Scott took his time choosing a replacement. It led some critics to note the relative insignificance of the job, but Lopez-Cantera has never seemed to be concerned about that.
When asked about his opponents on both sides of the aisle, the LG isn't afraid to speak straight.
When asked if Democratic Senate candidate Patrick Murphy was guilty of hypocrisy for saying he "hates Super PACS" on the same day it was reported that his own super PAC received $300,000 from a business headed by his father, Lopez-Cantera says, "Sure sounds like he is."
Lopez-Cantera has his own Super PAC. "In this environment, it doesn't hurt to have an independent group who's going to be engaged," he says.
Earlier Tuesday, Jolly and Democrat Alan Grayson formally announced the first of two senate debates that only they will be engaging in. Lopez-Cantera says he remains surprised that the first person Jolly set up an agreement with is Grayson, the voluble liberal firebrand.
"I think it speaks volumes," he says. When asked about the recent report that a campaign staffer erased sections of Jolly's Wikipedia page referring to his being a lobbyist and proponent of same-sex marriage, Lopez-Cantera says, "I think it speaks more to how he the level of respect he has for the voters and I'll let his staff's actions speak for themselves. I think it's pretty clear."
Lopez-Cantera's eyes grew wide as he described his trip to Israel, a trip where he was part of a group of seven Republican Lieutenant Governors.
"We were in Tel Aviv, Jerusalem, and down to the border with Gaza, right up to the wall, literally." He also said he did some economic development work, meeting with one company that is opening an office in Florida and an airline that may ultimately book direct flights to Miami.
Lopez-Cantera says he's looking forward to debating his Republican rivals, but says nothing has been planned as of yet that he's aware of.