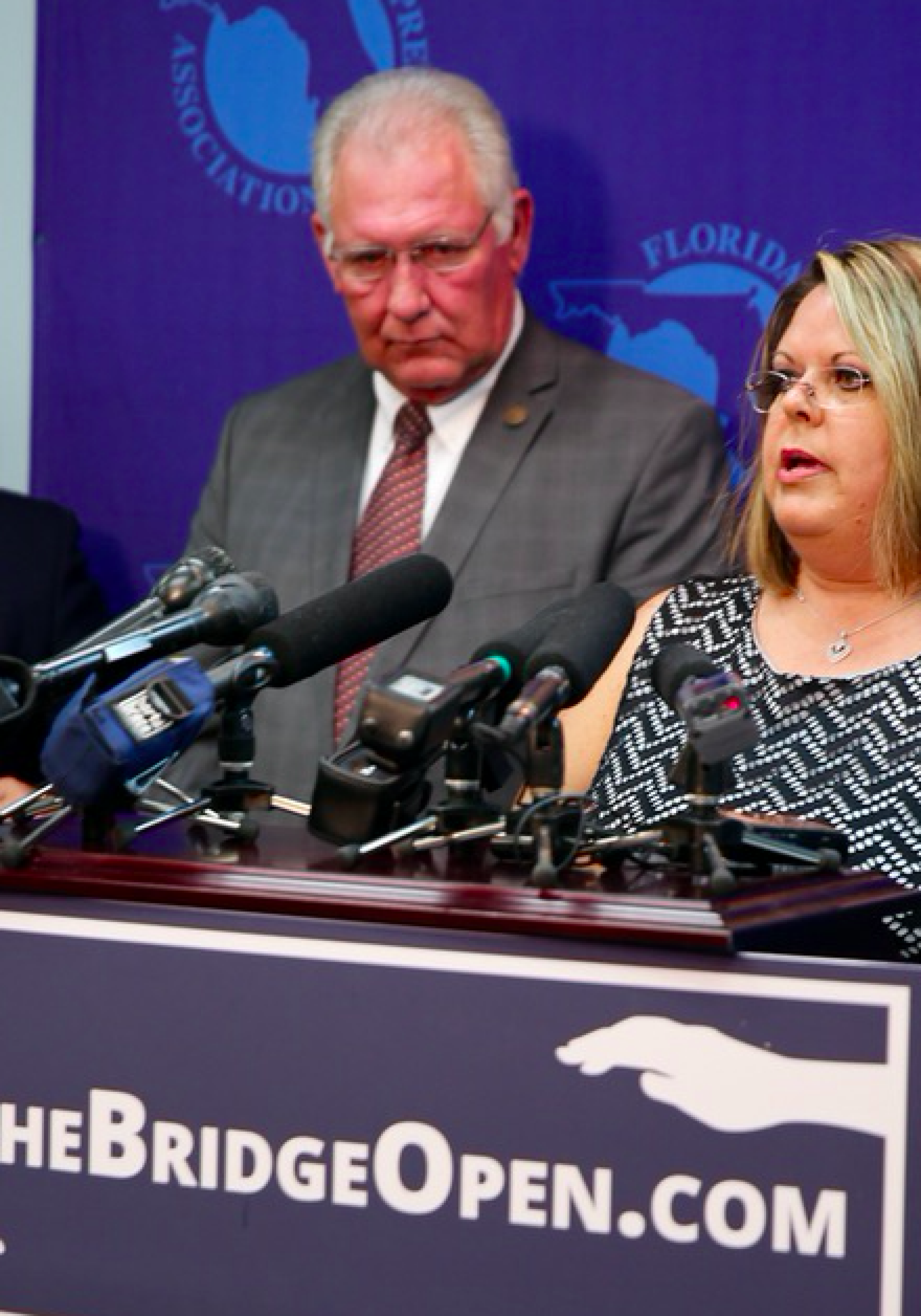 A state senator says the Department of Corrections "lied" to him about the closure of a prisoner re-entry program.
But a department spokesman says he may have misunderstood the conversation.
Greg Evers, the Baker Republican who heads his chamber's Criminal Justice Committee, spoke at a Tallahassee news conference on Monday.
Evers told reporters he wanted to insert special language into the 2016-17 state budget — but was talked out of it.
He said he wanted to ensure the Department of Corrections could not unilaterally shut down programs meant to help prisoners adjust to life "outside the gate," in prison lingo.
When asked to name who lied to him, Evers wouldn't say.
"It came from the Department of Corrections," he said, before being asked whether it was Corrections Secretary Julie Jones herself.
"I'm not going to answer that, OK?" said Evers, who also is a candidate for his north Florida Congressional seat. "But I will tell you it was (somebody) high in the hierarchy of the department."
DOC spokesman McKinley P. Lewis confirmed Monday that the officials Evers spoke with were Jones and the department's legislative affairs director, Jared Torres. 
But he said they had a different takeaway from the exchange. The budget language Evers mentioned was a technical change about "shifting funding categories" for the re-entry programs. The Broward program itself was not discussed, Lewis said.
Technically, the budget language Evers said he wanted would not have mattered. The department acted before the 2016-17 budget year starts on June 1.
The Orlando-based Bridges of America called the news conference to further draw attention to the state's shutdown of its Broward County prisoner re-entry program.
The organization has provided transitional counseling and drug treatment to prisoners on work release who need help returning to society.
The department announced it was letting the Broward contract with Bridges of America end on the May 16 end date. It's not renewing it. Officials said they needed the program's space for more DOC employee offices.
"Our agency will continue in its commitment to our inmates to provide services that ensure a successful transition into Florida's communities," Jones said in a statement. "Taking any action that reverses or stalls an inmate's re-entry progress is counter to the Department's mission and something that we will absolutely not allow to happen."
She did not address Evers' accusation about being lied to in the statement.
Jones added, "We appreciate the concerns that Bridges has for inmates who are housed at Broward Bridge. The Department looks forward to working as a partner with Bridges to address the needs of these inmates and to ensure that their current status in treatment and work release are accounted for in their future placement. No other centers will be closed, and there will be no interruption in services for any of these inmates."
Jones also blamed the Broward County Sheriff's Office, saying it "ceased the transport of offenders with active arrest warrants" in February.
"This action, or rather inaction, has resulted in a serious public safety issue which further motivates the Department to resolve the issues surrounding the current location of our probation offices," she said. "We are working with the BCSO to facilitate a meeting with the City of Lauderdale Lakes to bring clarity and resolution to ensure that the community is being served in a safe and effective manner."
Florida's prison system has been under fire because of reports of corruption and abuse by some corrections officers, some resulting in inmate deaths, as well as allegations of retaliation against whistleblowers.
Lawmakers held hearings about ensuring the integrity of the corrections department, with Evers even making a couple of unannounced visits to state prisons in north Florida. He said he found deteriorating buildings and low staffing.
---
Jim Rosica ([email protected]) covers the Florida Legislature, state agencies and courts from Tallahassee.