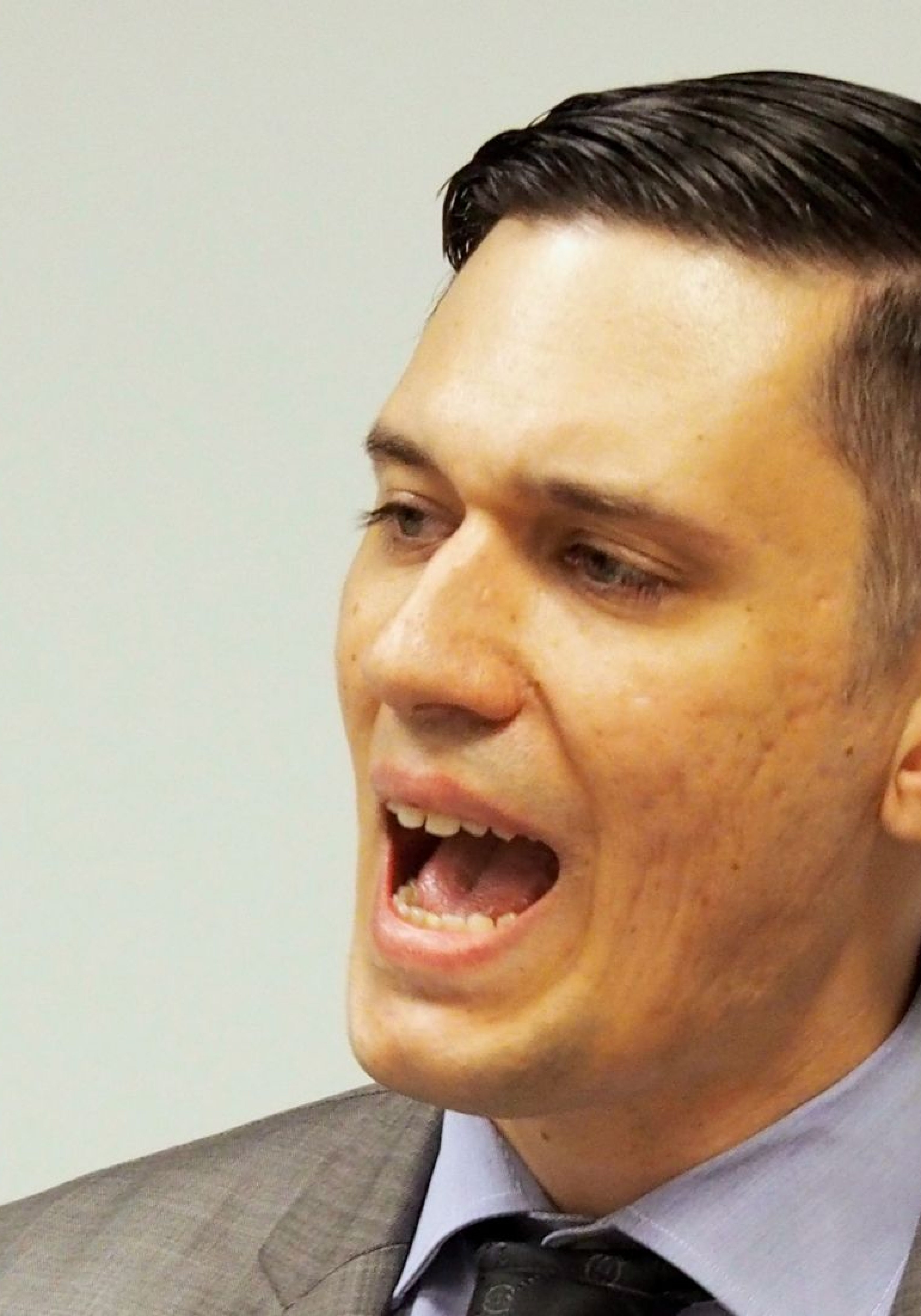 Augustus Sol Invictus says he is on the run.
Florida's wannabe Libertarian U.S. Senate candidate claims he is being pursued by anti-fascist groups targeting him for violence, while the FBI is also after him for possible prosecution.
Invictus is the uncertified candidate of the Libertarian Party of Florida from Orlando whose rhetoric and symbolism have critics calling him a neo-fascist. His bizarre confessed behaviors, including sacrificing a goat and drinking its blood, and frequent LSD use, have others dismissing him as a political crackpot.
Yet he continues to actively campaign, giving fiery speeches both in Florida and elsewhere when he is invited, from Vancouver and Washington to Chicago.
And he is making a big push this month to re-establish himself with the Libertarian Party in advance of its national convention in Orlando at the end of the month. He has formally applied now for the party's backing, though the Libertarian Party of Florida is preparing to introduce a second candidate and perhaps force a primary battle on Aug. 30.
Invictus began a Florida speaking tour in Orlando Monday night in front of a tiny audience, perhaps no more than a dozen people not including his family. He also has scheduled speeches or candidate meet-and-greets in the next few days in Jacksonville, Tallahassee, Pensacola, Gainesville, Tampa, Sarasota, Fort Myers and Miami.
And he is doing so partly in secrecy, only revealing the locations of his speeches at the last hour, to vetted invitees, because he says he fears violence from anti-fascist groups at his appearances. He claims he has received death threats, and alleges that after an informal meet-and-greet in a Portland, Oregon bar in March, one of his supporters was jumped by a mob waiting outside and struck with a two-by-four as Invictus waited for a police escort to get out of the bar.
He also claimed during his Orlando speech that one of his campaign volunteers left and confessed, via text to him, that he had been secretly gathering information on Invictus for an FBI file, possibly for a racketeering prosecution.
All of it feeds into the image Invictus fosters as the self-described "most dangerous Libertarian in America" — someone martyred by both liberals and the media.
Some of it may be real.
The anti-fascist movement, known within its own circles and within fascist circles as "Antifas," is an underground network of groups and individuals calling for action to stop fascists and white supremacists in America. Some in the movement do advocate, at least online, violence against fascists, just as Invictus himself advocates violence against what he sees as tyranny.
On its website, an Oregon group called the Rose City Antifa posted a narrative of the March 1 incident that quoted from Invictus's own description of the event, and did not deny the violence he alleged. "The events of March 1st are a victory in that they show that Portlanders are willing to come together at short notice to confront neo-fascists," the post states.
By email, a representative of the Rose City Antifa declined to comment to FloridaPolitics.com.
As Invictus campaigns, the shadowy worlds of American fascism and Antifa may move with him.
In an interview before his speech, he bristled at being called a fascist, saying it's a misnomer used by liberals and the media to put him down. He conceded some of his past writings, rhetoric, beliefs, his work as an Orlando attorney defending alleged Central Florida white supremacists, and his symbolism, including his campaign logo, which incorporates Mussolini's "fasces" logo, open him to accusations of being fascist.
In one post on his campaign website, for example, he decries as "a lie" that fascism in Germany or Spain was as bad as described by the media or American schools.
"If you think the death toll at the hands of the fascists is higher than that of the communists or liberals, think again," he declared in one recording on his website.
Still, he said he preferred the term "nationalist."
"I would describe them as 'nationalist,'" Invictus said. "To me, the left has taken anything resembling nationalism, and calls it 'fascism.'"
In his speech, Invictus steered clear of much of the harsher rhetoric found on his campaign website, except through vague references to what he called a tyrannical government and to his belief that immigration is destroying America. He did not, as he has done in the past, belittle Jews or immigrants or express eugenic ideas.
On his website, he called for war against the government. In his speech, he merely said people need to be willing for such.
"Never will a tyrannical government reign over a fearsome people. No wolf would suffer beneath a farmer's boot, and no farmer would dare kick a wolf. It is only a nation of well-trained, domesticated dogs that would allow a government such as ours terrorize them, especially with such soft threats as blacklisting and media scandals and lawsuits," Invictus said. "The tyranny of our government is testament to how little a threat they consider the American people to be.
"Brothers and sisters, all I ask of you is that you stand up for yourselves, for your families, for your country. And failing this, if you insist on turning a blind eye, and clinging to your jobs, and your televisions and your social lives, then I ask that you stand out of our way," he concluded.
Meanwhile, the Libertarian Party of Florida is prepared to announce, on Saturday, that it has a second candidate for the U.S. Senate. Earlier this month, Invictus formally applied for certification from the party and, if that is granted, the Libertarians could be headed for a primary showdown.
Last year when Invictus first filed to run, it did not go over well. LPF Chairman Adrian Wyllie objected and eventually resigned over the party's refusal to disavow Invictus outright.
Current LPF Chairman Char-Lez Braden of Bradenton said "there was certainly some friction" but otherwise characterized the concerns over Invictus as Wyllie's cause, not the party's. The party's selection committee will review Invictus like any other candidate who has applied for the party's backing, and decide whether to certify him as a libertarian candidate, Braden said.