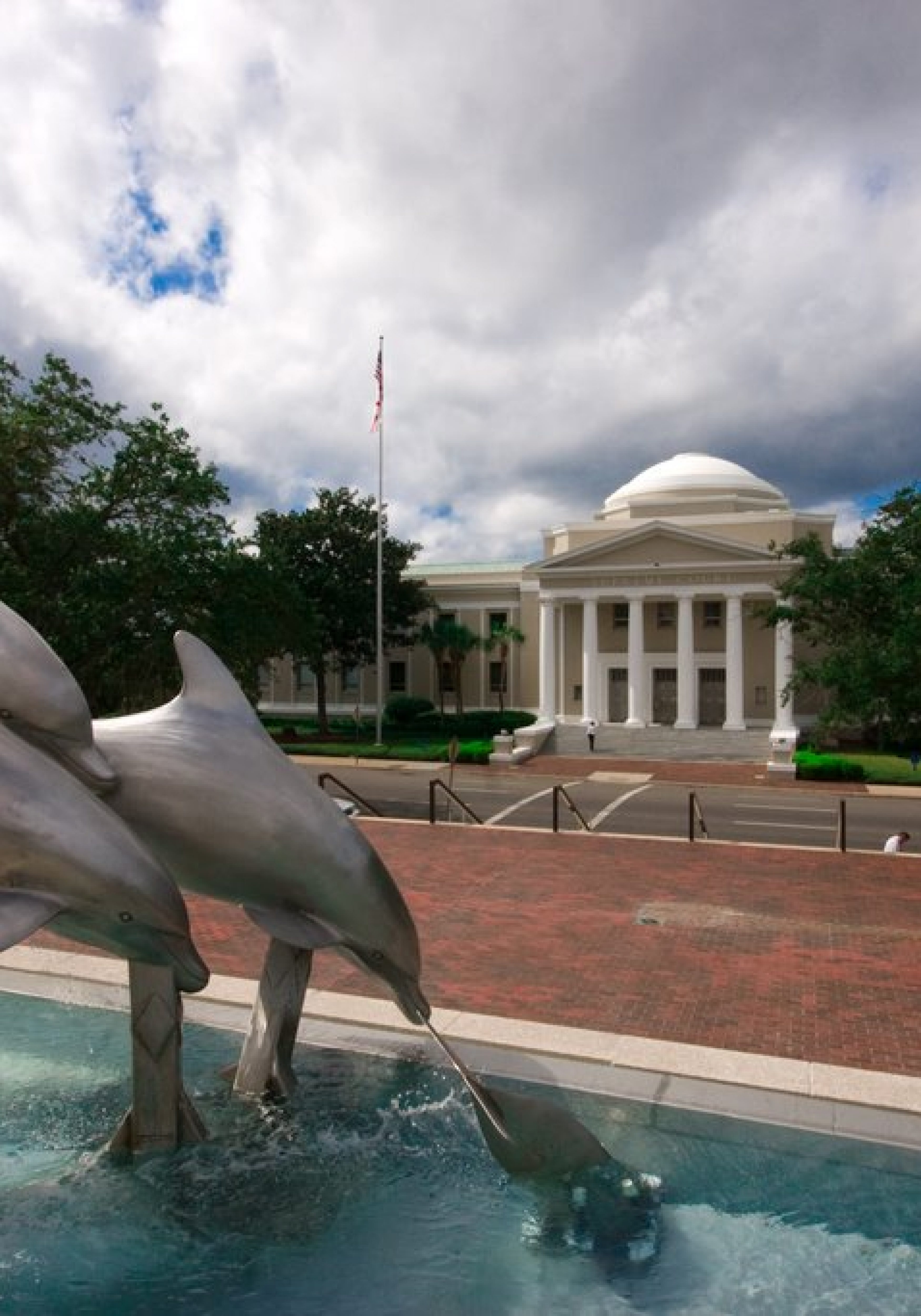 A plethora of high-profile matters is scheduled for argument before the Florida Supreme Court next week.
The state's justices will consider questions related to gambling, guns, capital punishment and medical malpractice.
Another case involves claim bills, passed by lawmakers to pay people for injuries suffered at the hands of government or a public entity.
Still two others involve attorneys fighting to keep their law licenses following accusations they set up an opposing lawyer to be arrested on a drunk-driving charge.
First up on June 7 is a case on whether to expand slot machines in the state. Gretna Racing, the Gadsden County track seeking to add slot machines, brought the matter against state gambling regulators. The track is run by The Poarch Band of Creek Indians.
The Creeks argue they should be allowed to offer slot machines because voters approved them in a local referendum in 2012. They're supported by the county and the city of Gretna.
A favorable ruling by the court could expand slot machines to all six counties where voters passed slots referendums: Brevard, Gadsden, Hamilton, Lee, Palm Beach, and Washington.
But opponents, such as No Casinos and former Governor and U.S. Senator Bob Graham, have said slots are illegal "lotteries" banned by the state constitution unless expressly permitted by law.
Justice Peggy Ann Quince will be the only justice not hearing the case. She recused herself; a reason was not given. Judges generally recuse themselves because of a conflict of interest.
The case is Gretna Racing v. Florida Department of Business and Professional Regulation, No. SC15-1929.
That same day, justices will hear from a lawyer for Larry Darnell Perry, a Central Florida man who maintains that Florida's death penalty is unconstitutional.
Perry was charged with murder in 2013 in the death of his infant son. His trial had been set for February and prosecutors said they would seek the death penalty.
The U.S. Supreme Court, however, earlier this year, invalidated Florida's capital punishment regime. The court said juries, not judges, must determine mitigating and aggravating factors.
According to court filings, Perry now wants the state Supreme Court, among other things, to clarify whether capital punishment in Florida is now forbidden. If not, he's asking whether the U.S. Supreme Court decision is retroactive to earlier crimes.
He also questions the legality of a new law, passed this legislative session as a quick fix, that requires at least 10 out of 12 jurors to recommend execution, as opposed to a simple majority of jurors.
The case is Larry Darnell Perry v. State of Florida, No. SC16-547.
On June 8, the court will hear the case of Dale Lee Norman, which could uphold or overturn Florida's ban on openly carrying a firearm. The National Rifle Association has filed a friend-of-the-court brief.
Norman was arrested by Fort Pierce police in February 2012 after having gotten his concealed weapon license earlier that day, according to his initial brief.
"A concerned citizen noticed Mr. Norman's firearm on his right hip and called police," the brief said. "The State's sole allegation in this case is that Mr. Norman carried a firearm conspicuously and openly rather than concealed."
His attorney, gun-rights activist Eric Friday, says the ban should be stricken because it "infringe(s) on the fundamental individual rights of citizens to bear arms in defense of themselves, their families, and the State."
The case is Dale Lee Norman v. State of Florida, No. SC15-650.
On June 9, a law firm goes to court over the state's claim bill process.
Florida law limits local governments and other public bodies to paying no more than $200,000 per person in damages unless lawmakers pass a claim bill, also known as a relief act, for extra money.
Lawmakers in 2012 passed such a bill for Aaron Edwards, who born brain-damaged in 1997 because of medical malpractice at Lee Memorial Health System, his brief says. The legislation directs Lee Memorial to pay $15 million "of its own funds" toward the $30 million total.
But a provision in the bill says the "total amount paid for attorney's fees, lobbying fees, costs, and other similar expenses relating to the claim may not exceed $100,000."
The law firm who helped him through the process says that's unconstitutional and refers to the "contingency fee contract" between the firm and Edward's mother for attorney fees of 25 percent.
The Legislature can choose to pass a claim bill or not, but if it does, "it cannot … impair a pre-existing attorney's fee contract between the plaintiff and his or her attorney," according to a brief.
The case is Searcy, Denny, Scarola, Barnhart & Shipley v. State of Florida, No. SC15-1747.
That same day, the court will consider whether limits on certain damages in medical malpractice lawsuits apply in personal injury cases.
The Legislature in 2003 established $500,000 limits on non­-economic damages for such cases. The Supreme Court previously ruled they don't apply in medical malpractice cases involving wrongful death.
The 4th District Court of Appeal extended that decision to personal injury cases.
The appeals court's decision reinstates a $4.7 million damage award to Susan Kalitan, who sued North Broward Hospital District and others over complications from carpal tunnel syndrome surgery, namely that her esophagus was punctured during the administering of anesthesia.
The case is North Broward Hospital District v. Susan Kalitan, No. SC15-1858.
Finally, justices will hear arguments also on June 9 whether to disbar two Tampa attorneys involved in an alleged setup of a rival lawyer.
Robert Adams and Adam Filthaut represented radio personality Bubba "the Love Sponge" Clem in a slander suit brought by another radio personality, Todd "MJ" Schnitt.
During the trial in 2013, Schnitt lawyer C. Phillip Campbell was arrested on a DUI charge. Reports later surfaced that Adams, Filthaut and their law partner, Stephen Diaco, conspired to set up Campbell to get arrested.
They allegedly encouraged their female paralegal to go undercover and drink with Campbell at a downtown Tampa bar. Afterward, Campbell was caught in a police DUI stakeout set up through a Tampa police sergeant who was friends with one of the attorneys, according to reports.
Schnitt lost the case. Diaco was disbarred earlier this year. They have denied the accusations.
The cases are The Florida Bar v. Robert D. Adams, No. SC14-1054, and The Florida Bar v. Adam Robert Filthaut, No. SC14-1056.
---
 This post contains reporting by The Associated Press, reprinted with permission.