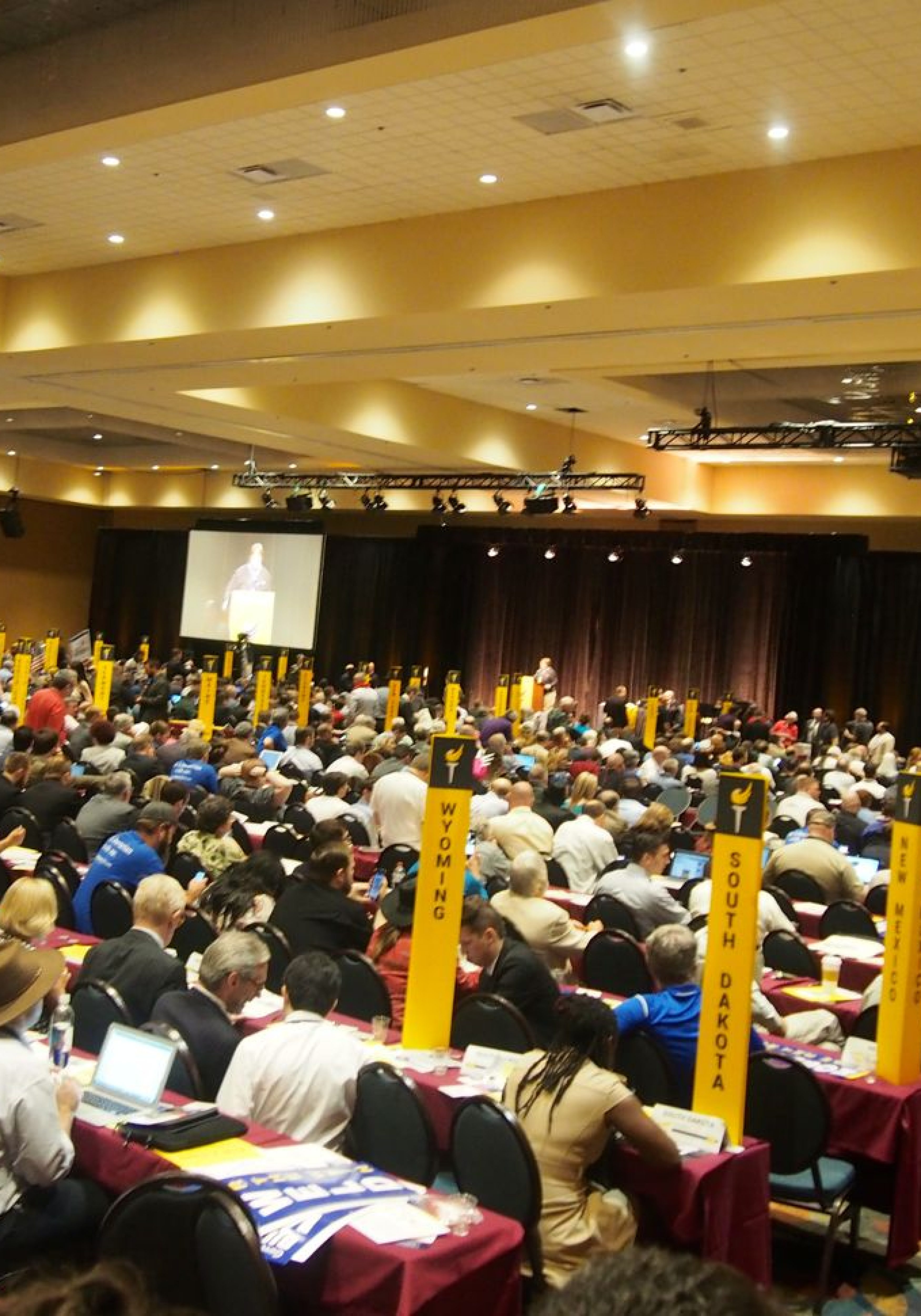 About 1,000 Libertarians from throughout the country descended on Orlando this weekend thinking this is the presidential election year they'll finally play ball with the big boys.
Since most people know very little about Libertarians, or the Libertarian Party [because Libertarians have never really played ball with the big boys before] I'm offering up this FAQ, based on what I learned after spending the weekend with them at the Rosen Centre. These are the questions I suspect are on most people's minds when they think about the Libertarians as a possible alternative this fall to the Republicans or Democrats.
Question: Do all Libertarian men strip down to a thong in the middle of a big meeting, just to make a point about individual freedom?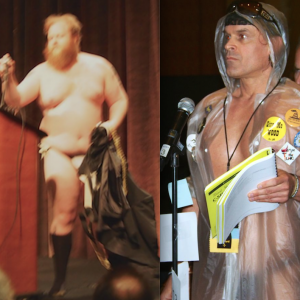 Answer: Some do. But most wear business attire and keep their clothes on. What all Libertarians do is defend someone's right to strip down to a thong in public. Unless, as was the case with the second guy who did so last weekend in Orlando, he is middle-age and obese and does so while performing a strip tease on stage instead of the speech he was supposed to make. Then they just boo.
Question: Do Libertarians boo a lot?
Answer: They're certainly not afraid to, or to heckle, especially when members of the Radical Caucus are listening to presidential nominee Gary Johnson defend the government's authority to perform functions like issuing driver's licenses, regulating drugs for children, or imposing any taxes whatsoever.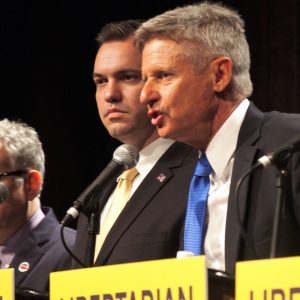 Question: So, their convention scene was chaotic?
Answer: Not at all. Libertarians love free speech. The reactions energized the proceedings. Even when candidates attacked one another with zingers in debates, the offended parties usually smiled and clapped. Good one. The convention featured lots of music. Not the in-your-face patriotic and gospel songs of Republican meetings, or the rockers-love-us rock songs of Democratic meetings, but original, Woody-Guthrie-would-be-proud folk music about peace and liberty and open prairies that the damn government owns. Their color yellow was everywhere. Their new logo is either a Statue of Liberty's torch flame transforming into an eagle, or an eagle burning up in the Statute of Liberty's torch flame. There were no flags — a point of considerable debate. Libertarians prefer not to pledge to anything other than liberty.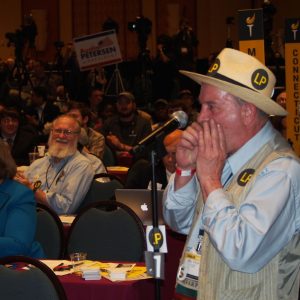 Question: Did those attacks get personal as at Republican debates?
Answer: No, of course not. Libertarians believe their personal lives are no one else's damn business. Which is probably a good thing, considering some of them clearly are not angels, and not even not international fugitives from overseas murder investigations. When the Radical Caucus candidates attack, they have plenty of ammunition without going there.
Question: Wait! There it is again. The Libertarian Party needs a Radical Caucus?
Answer: Why not? Democrats have their Progressive Caucus; Republicans have their Tea Party Caucus. These are the people who believe in virtually no government. Charity and families should replace Social Security. Roads and bridges and such should all be privately built. Medical care unregulated until we see Gall Bladders R Us stores pop up in shopping centers. Pot and crystal meth as legal as tomatoes. Every gay couple with the right to use automatic weapons to defend their marijuana crops. Polygamy. That sort of thing.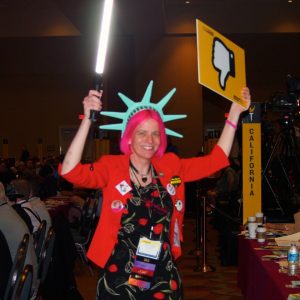 Question: So what do mainstream Libertarians believe?
Answer: Two slogans kept coming up over and over: "Tax is theft." And "You have the right to live your life however you want so long as you don't hurt somebody or take someone else's stuff." Extend those out to just about any issue and you can probably write the Libertarian Party's official platform. Reduce taxes as close to zero as possible. Reduce government to bare minimum to support national defense and public safety. Make legal every behavior that's not going to hurt some other person.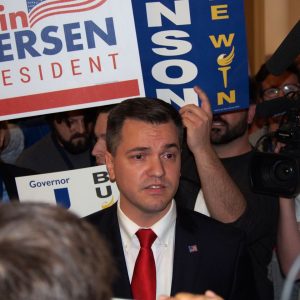 Question: Will Johnson and vice presidential nominee Bill Weld really campaign on those sorts of positions?
Answer: Both of them are former state governors with ample experience in the complexities of society and legislatures that hate them. So both talk very pragmatically about simply applying Libertarian principles to the decisions they must make, not about turning out the lights. Which is why the Radical Caucus tried very hard to derail both of their nominations.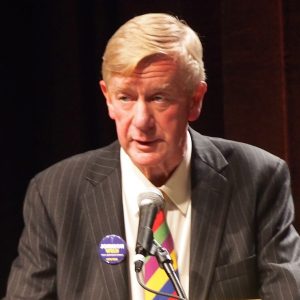 Question: And they think they can get elected?
Answer: Winning elections is a touchy subject for Libertarians, on account of they hardly ever do. Their highest elected office holders are a state lawmaker in Minnesota and a small town mayor in California. Yes, Johnson and Weld plan to win, though their plan involves a long string of "if"s. That's one reason they got nominated; many other candidates refused to go there. But those other candidates received significant support because purists in the party don't like to talk about winning. They like to talk about maintaining a pure message of liberty, to be the beacon of light, promoting ideas until Americans adopt those ideas, even without actual government participation by their party. I recall hearing the same argument from a leader I interviewed from the American Communist Party.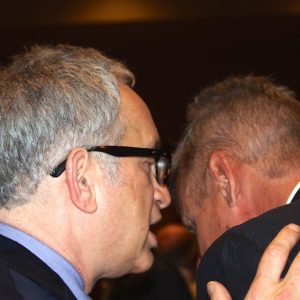 Question: What about foreign policy?
Answer: Most foreign policy is alien to Libertarians. Except for this: Peace, baby. Other countries' problems are none of our business. Radical Muslims hate us because we drop drone bombs on their weddings and hospitals. So if we want to reduce terrorism, we should stop dropping drone bombs on their weddings and hospitals. Libertarians even tried to pass a platform plank declaring that America's wars in the Middle East were all about securing oil, and therefore immoral. The language failed because Libertarians thought it redundant to other planks, and Libertarians hate redundancy. We don't need walls; we need to open our borders. Immigrants should be welcomed, as the economic market regulates their opportunity and volume. International trade should be unfettered, even by another country's politics: Kill 'em with capitalism.
Question: Are all Libertarians 60-something-year-old white guys?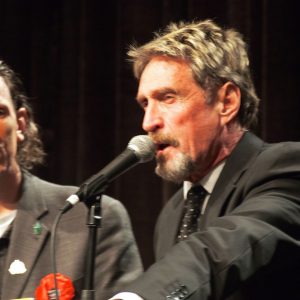 Answer: Too many are, at least for the party's own taste. Software mogul John McAfee, who placed third in the presidential nomination vote, scolded the party over this lack of diversity in his consolation speech, "Shame on you!" Yet, diversity was on display at the Libertarian National Convention. There were many millennials. Women looked like they made up at least a third of the delegates. Several openly-gay men and woman spoke on stage. The five vice presidential finalists included a woman, a Muslim and two black men, one of whom finished a close second to the 60-something white man, Weld.