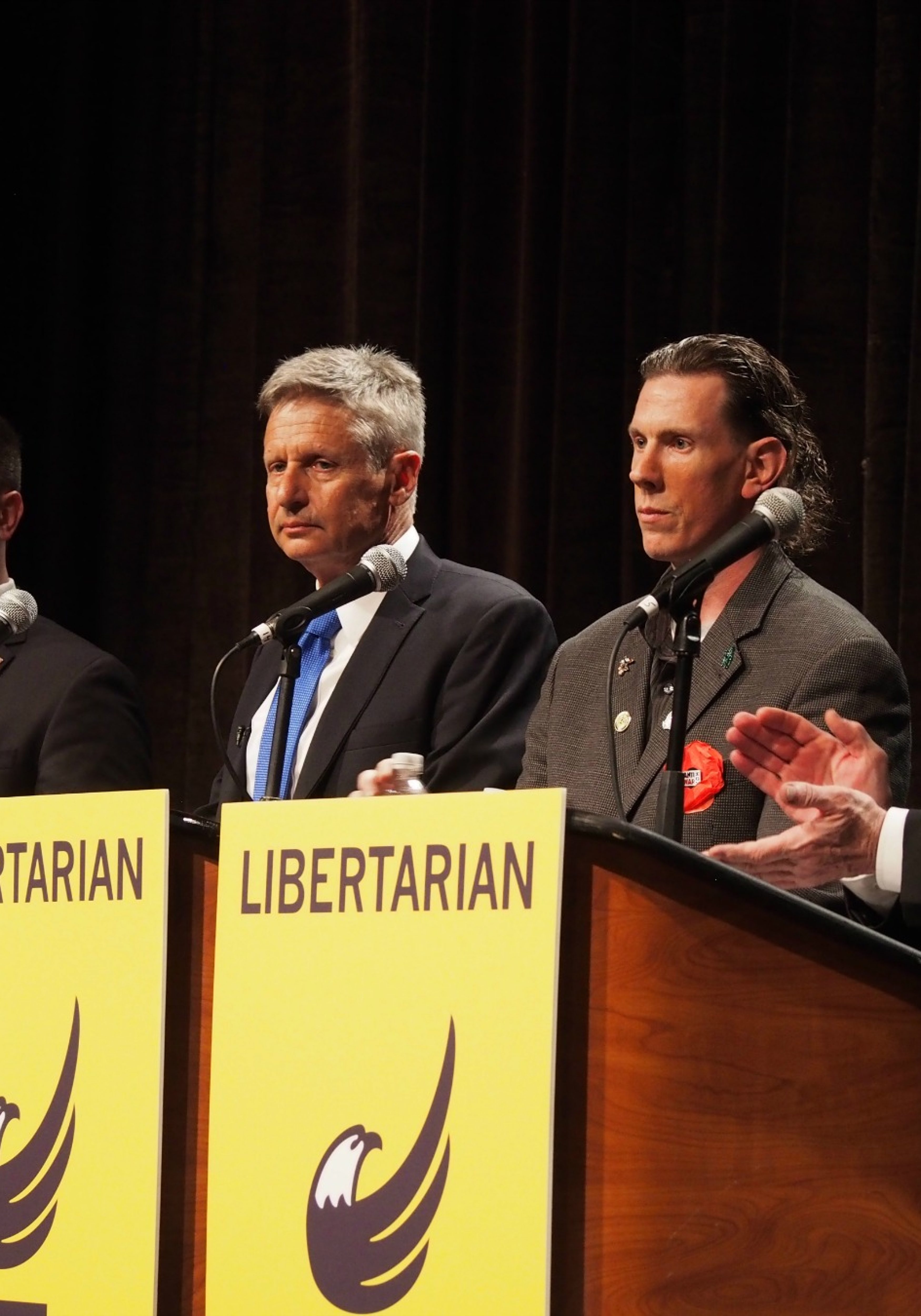 If Gary Johnson is to win a second consecutive nomination to be the Libertarian Party's presidential nominee, he'll likely have to do it without what Libertarian hard-liners call the Libertarian wing of the Libertarian Party.
In a five-way presidential candidate debate Saturday night in Orlando, Johnson espoused practical means toward Libertarian ends, which set him apart from the other candidates on most issues, but also consistently drawing boo choruses from the large part of the crowd that wants government out of everything.
Johnson would support driver's licenses. Boo. Johnson would support replacing income taxes with either a flat tax or consumption taxes. Boo. Johnson believes the market, not government, is bankrupting the coal industry. Boo. Johnson pushed charter schools and school choice to compete with public education, rather than abolish public education outright. Boo. Johnson believes the federal government can be dismantled only piecemeal, with the help of Congress. Boo. And what about the 1964 Civil Rights Act, which many Libertarians think is the government telling private businesses who they should serve?
"I would have signed that law," Johnson said.
Boo.
Johnson, the former New Mexico governor who won the Libertarian nomination in 2012, agreed with his fellow Libertarian candidates on most issues and basic Libertarian principals during the two-hour debate at the Rosen Centre.
Yet in many ways, he appeared to be the outsider on a stage that included hard line Libertarian Austin Petersen, a former broadcaster and publisher from Missouri, and ultra-hardliners Darryl Perry, a radio and TV host from New Hampshire, and Marc Allen Feldman, a doctor from Ohio.
The quintet of finalists in the Libertarian presidential race also includes the wild card, John McAfee, the software mogul whose views often were closer to Johnson's, but whose style is more, in Feldman's words, "world-class badass."
Libertarians will select their presidential and vice presidential nominees Sunday.
Saturday's debate set all five candidates clearly apart from the Democrats and Republicans by taking the Republicans' fiscal positions and the Democrats' social policies to extremes, and by taking on some issues neither party would dare address.
All want to pull out of all wars and international interventions. All want totally free trade. All want to abolish the Federal Reserve. All want to decriminalize drugs fully, though Johnson and McAfee allowed that some prohibitions would be required for children. All opposed any minimum wage. All wanted to do away with Medicare and Medicaid, though Johnson suggested they should be turned over to states. All even said the government not only has no business telling people who they can marry, government really has no business telling people how many spouses they might have.
"Licenses? For love?" McAfee mused. "What right does anyone have in this bedroom? It doesn't matter what the sex is, or how many people may or may not be there."
On a few issues, one or more candidates broke with the pack. Petersen was the only one who espoused anti-abortion views, saying every individual has rights, and he believes those rights begin at conception. Only McAfee said he believed global warming is real, and man is contributing, but added, "Government can't do anything about it."
On other issues, each had a chance to go further than the others. Most of the candidates espoused allowing private money, such as Bitcoin. Perry demonstrated his opposition to all government money by tearing up a dollar bill. "I believe that was a felony," he declared over cheers. Petersen suggested the only good tax would be a lottery. Perry wouldn't even support that, suggesting that taxes should be voluntary contributions.
"If you want to give money to the U.S. military to drone-bomb children, go ahead, but don't make me pay for it," Perry said.
And while they regularly took shots at both parties, and started with some soft shots at Democratic candidate Hillary Clinton, they unloaded on Republican candidate Donald Trump.
Petersen said, "a man who is truly a fascist sits atop the Republican ticket."
Feldman called Trump an asshole.
Johnson laid in too, getting his loudest applause of the night: "When Donald Trump talks about deporting 11 million illegal immigrants, that's just wrong. When he talks about building a fence across the border, that is just wrong. When he talks about killing the families of Muslim terrorists, that is just wrong. When he talks free markets, but he's going to force Apple to make their iPads and iPhones in the United States, that is just wrong. When he talks about bringing back enhanced interrogation or torture or whatever, that's just wrong. He's wrong. He's wrong!"
Time and time again, Feldman got the laugh lines. In his closing remarks, he also summed up each of his competitors in a few words, and brought down the house, even as each of his competitors nodded or smiled, or gave thumbs-up in agreement.
"I am that Libertarian. I am that 'be what you want to be' Libertarian," he shouted in a long rant about different kinds of Libertarians that ended with, "that 'Darryl no-apologies Perry' Libertarian, that 'Gary Johnson knows success' Libertarian, that 'Austin Petersen real-victory' Libertarian, that 'John McAfee world-class badass' Libertarian."