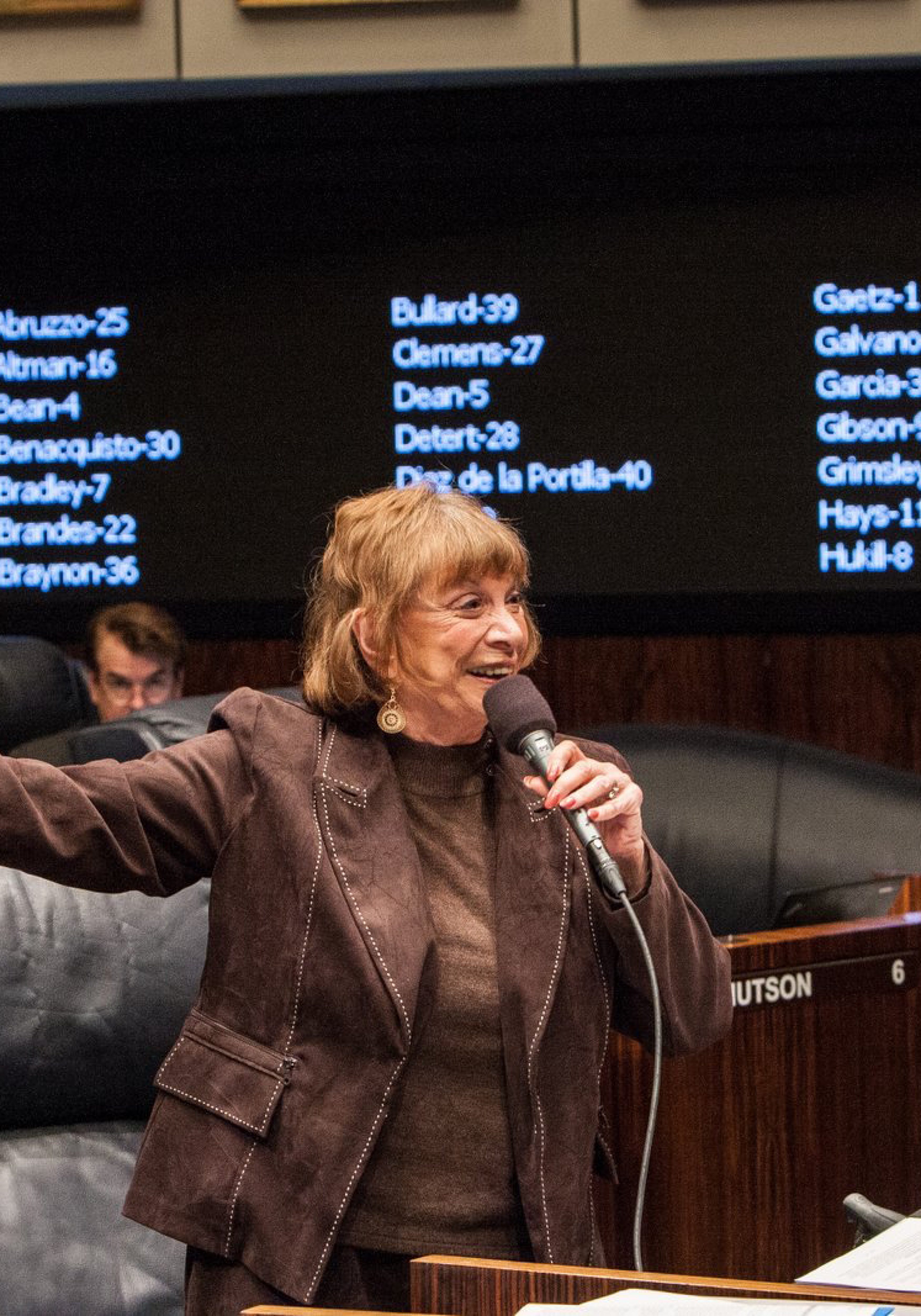 Gwen Margolis has dropped her re-election bid, announcing Thursday she plans to retire from the Florida Senate.
The decision ends a more than 40-year career in public service. Margolis, a Miami-Dade County Democrat, is 81.
"My passion has been to serve the people of Florida and my commitment from day one was to make our community a better place for all," she said in a statement Thursday. "I look back at the 40 years of public service with great humility and joy as I reflect on all the work we accomplished to empower people's lives. It has been a remarkable journey and one that has allowed me to see how our country, state, and nation evolved on so many issues."
Margolis was first elected to the Florida House in 1974. She served in the House until 1980, when she was first elected to the Florida Senate. She spent 12 years in the Senate, serving until 1992.
In 1990, Margolis became the first woman to lead the chamber as the Senate president. She served in that role until 1992.
"Sen. Margolis shattered glass ceilings in 1990 when she ascended, with the support of her peers, as the first woman to serve as Senate president," said Allison Tant, chairwoman of the state Democratic Party. "She set a mark in history that will always be remembered and one that the Democratic Party is forever grateful for."
In a statement Thursday, Senate President Andy Gardiner said Margolis is "a dedicated public servant for more than 40 years, and she has a special place in Florida's history as the first woman to lead the Senate."
"Gwen has been a wonderful friend to our family, and I wish her well in all her future endeavors," he continued.
Margolis spent about a decade — from 1993 until 2002 — on the Miami-Dade County Commission, where she served as the board's chairwoman for six years. She returned to the Florida Senate in 2002 and served for six years.
Margolis returned to the Florida Senate in 2010, and was in the midst of another re-election bid. But she found herself in hot water this week after making disparaging comments about her rivals.
According to the Miami Herald, Margolis referred to three of her opponents as "Haitians" and dismissed two others during a local Democratic meeting Monday. At least one of her opponents denounced her comments, and a local party official called on Margolis to apologize.
In a statement Thursday, the state's Democratic leaders lauded her years of service, but did not make mention of the incident.
"Serving with Gwen Margolis has been a true treasure because of her passion to be a fierce advocate for our community," said incoming Senate Minority Leader Oscar Braynon. "There are few leaders in our state with the leadership and the presence like Gwen Margolis, and the Florida Senate and the Democratic Caucus will always be grateful for her service. I know I will continue to see Gwen lend her passion to important causes in our community of Miami-Dade County."
Christian Ulvert, the senator's campaign consultant, said Margolis has "never been afraid to stand up for the values and principles that make us all proud Democrats."
"She was an early voice in the fight for equality and justice and it's because of leaders like Gwen that LGBT Floridians today have been able to knock down barriers," said Ulvert. "She is a role model to many and a friend to all."
Her decision now throws the Senate District 38 race into a state of flux. Five other Democrats — Anis Blemur, Philip Brutus, Daphne Campbell, Don Festge and Jason Pizzo — have all filed to run for the seat. The qualifying deadline is June 24.